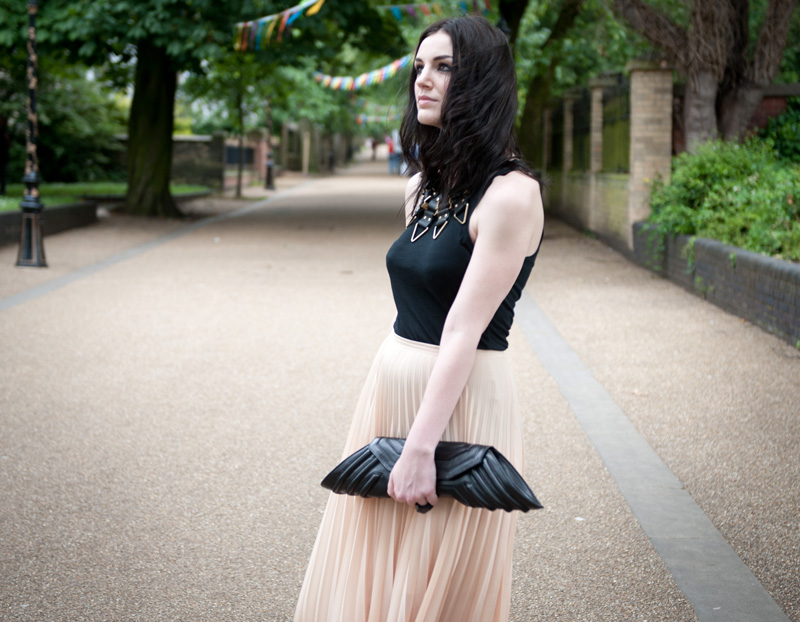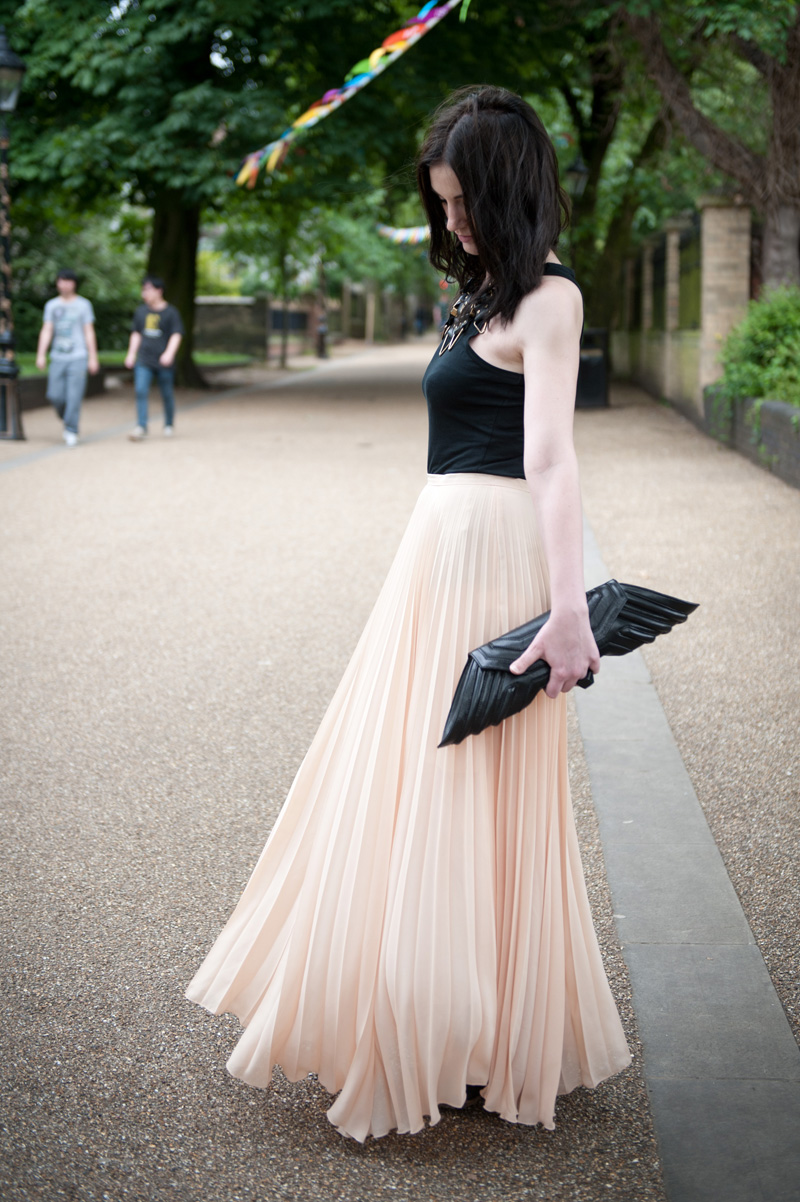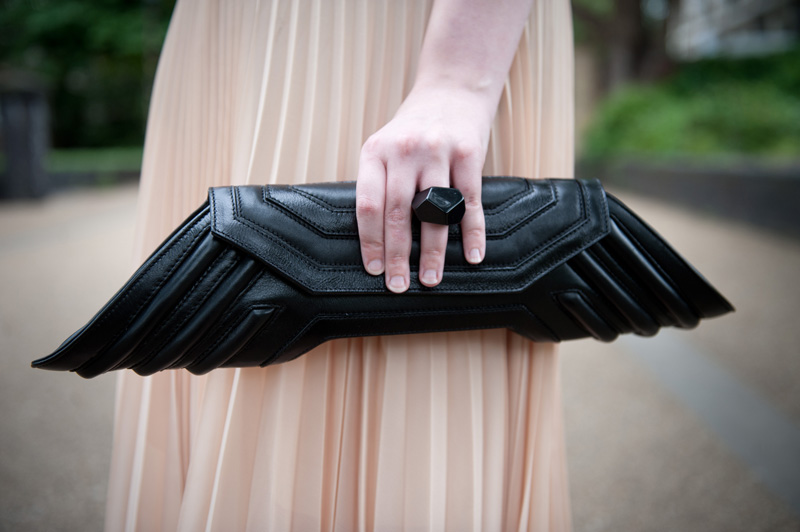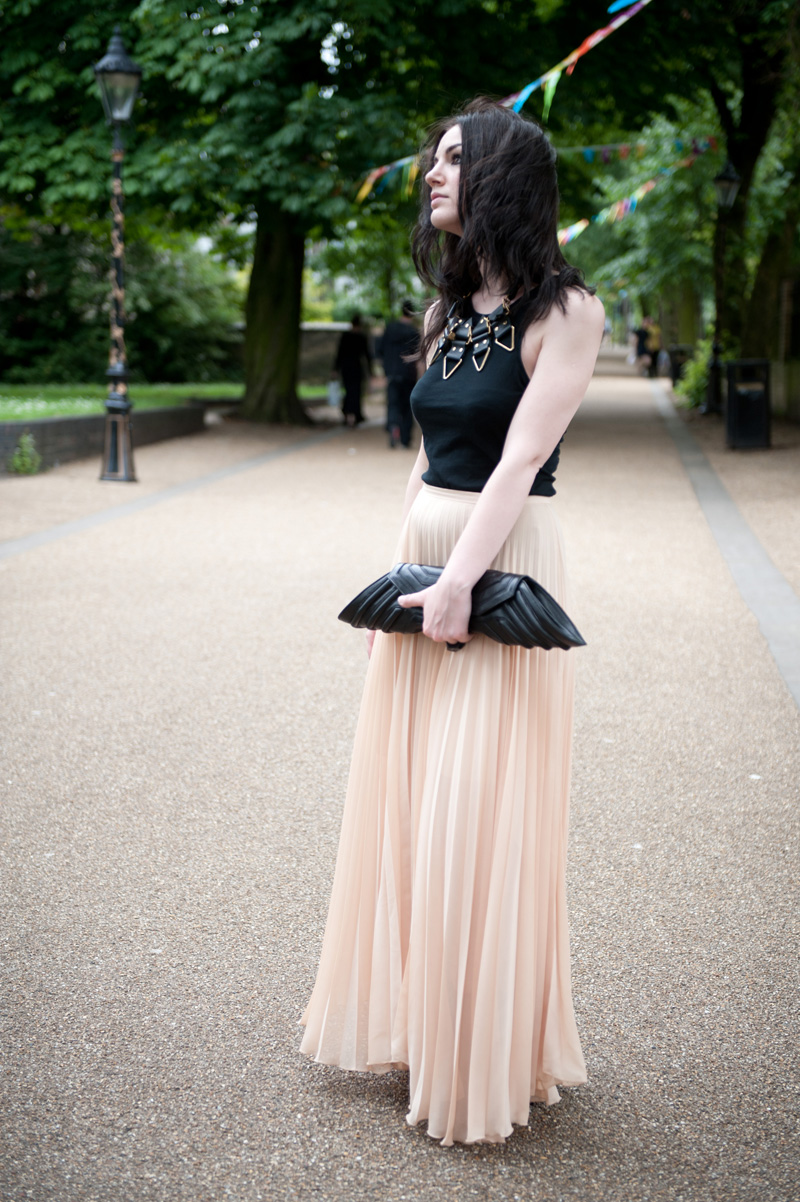 Moxham 'Anubis' Necklace / ASOS Tank Top / Jovonnista Pleated Nude Maxi Skirt * / Angie Gooderham Chunky Ring / Topshop Boots /
Bracher Emden for Jean-Pierre Braganza 'Geo' Clutch *
Incase you hadn't already noticed from the layout, black & nude is one of my favourite colour combinations. Nude is usually the closest I get to wearing a colour that could be considered 'girly', though I think it has an edgyness to it also, especially when paired with black. I love wearing a nude tank top or dress that is almost too close of a match to your skin tone, add black accessories & I think it looks so striking & beautiful, plus it's always fun to watch people in the distance gawk at you thinking you have nothing on!
I haven't been able to stop staring at this Bracher Emden clutch since I received it last week, I think I'm in love. As I've mentioned many times before, I'm not much of a bag person, it's usually shoes that make my heart go weak, but this is a different story. I think in part it's is due to the strong Sci-Fi feel about it, I'm a huge nerd & love anything science fiction related, but mostly I'm a massive fan of HR Giger's work & that was my first thought when I saw this clutch. It doesn't help that I've recently watched Prometheus & the Alien quadrology (no, not including those awful Alien Vs. Predator movies!) a fair few times in the last month either! But then adding to that the beautiful construction & the fact it's part of a collaboration with Jean-Pierre Braganza, one of my current favourite British designers (& I would guess also a huge Sci-Fi nerd!) & I was smitten!
And yes, I'm wearing my Moxham again! I couldn't resist though, it is such a perfect match for this pleated maxi from Jovonnista, toughening it up & giving it that little bit of edginess that I always like to have when wearing anything overly feminine. I have way too many maxi dresses / skirts already, but I couldn't say no to this one, the pleats, uneven hem & the ideal my-arm-almost-blends-into-it nude… Perfect!