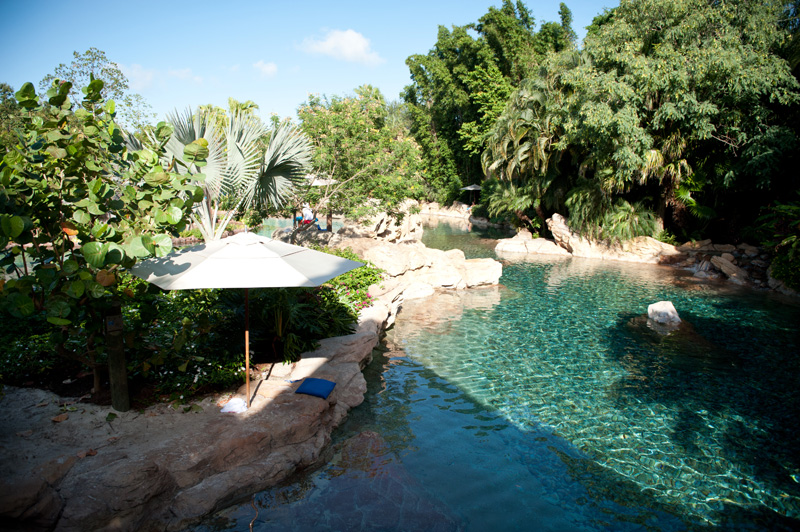 In the previous post I mentioned that Epcot was my favourite Disney park, but our day at Discovery Cove was easily the one I enjoyed most from the whole trip. The park only admits around 1000 people per day, meaning there are no queues & with the tranquil atmosphere it feels more like a little private getaway than a theme park. The park also provides everything you could need for the entire day, from unlimited food & drinks to your wetsuit, snorkeling gear & even animal friendly suncream! Styled to look like a perfect island retreat, the park is covered in flawless white sandy beaches, lush tropical plants & crystal clear blue rivers & lagoons. It is such a beautiful place & one of the best experiences of my life, I could have easily spent my entire two weeks here!
The 'Dolphin Swim' & 'Sea Venture' packages are additional extras you can add to your standard admission ticket, we decided to do both as it seemed a shame to go all the way there & not do everything! All of the other animal encounters & attractions are included in the price of admission.
Swimming with the dolphins was obviously my favourite part of the day, I have always adored them right from childhood & getting to interact with them definitely lived up to my expectations! Our dolphin was an almost 1 year old baby boy called Axle (his mother was Rose!) who was starting to be taught the routine of interacting with the guests. We were asked if we minded, as he wasn't fully trained & offered a chance to do it with an older dolphin if we preferred, but there was no way I was turning down the chance to cuddle a baby dolphin! As expected he was extremely cheeky & naughty, swimming off to beg for fish from the other trainers & trying to join in with the other older dolphins interactions! We had plenty of strokes & kisses with him though & he even showed us some of his tricks! We thought he was absolutely adorable but his trainer thought he was being way too hyper, so he was sent back into the enclosure half way through our slot & instead we had the pleasure of meeting two other dolphins Jenny & Luna to finish off the interaction! They are such amazing creatures & it was truly an honor getting to interact with them so closely.
We also did the 'Sea Venture' experience where using a diving bell you get a walking tour along the bottom of the huge coral reef. The helmets were hard to get used to at first, but I was soon totally immersed in the experience once I began walking amongst the schools of beautiful fish & rays that would glide right past your face. It was surreal walking along the floor instead of swimming, it makes you kind of forget you're underwater & I guess it feels more like some sort of alien planet! The reef is teeming with coral & plants, thousands of multicoloured fish, huge rays & all sorts of other undersea life, there are even sharks – safely behind an underwater glass wall! You don't have to do Sea Venture to experience the reef either, you can snorkel alongside the animals anytime you like & I must have spent most of my day exploring here & diving in amongst the rays.
My other favourite part of the day was the free-flight aviary, there are so many stunning birds here & they are all more than happy to come sit on your shoulder & be stroked for a piece of fruit! I also got to meet a parrot, who I accidentally assisted in its escape plot, she had great pleasure flying around taunting her trainer before finally coming back!