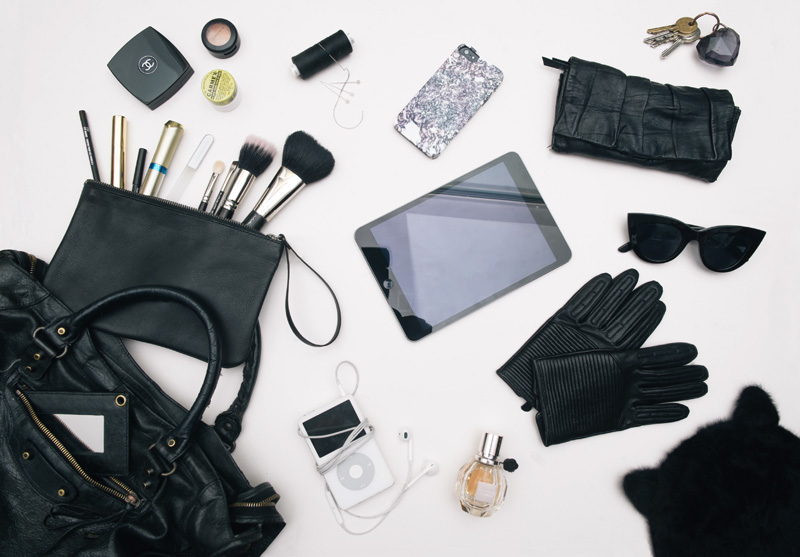 Balenciaga City / Pieces Leather Pouch / Makeup + Brushes / Needle & Thread + Pins / iPhone 5 + Iconemesis Case * / Topshop Leather Purse /
Keys / iPad Mini / ASOS Cateye Sunglasses / 5th Gen iPod / Viktor & Rolf Flowerbomb Perfume / Topshop Leather Gloves / Next Cat Ear Hat *
I always enjoy when other people do these 'what's in my bag' type posts, and I know a lot of you do too, I guess it must appeal to our curious nature! I think getting a glimpse into something which is usually quite private can tell you a lot about a person. I thought it'd be fun to do one myself, seeing as the weather has been too awful lately to go outside & shoot the usual Friday outfit.
My bag has recently become a bit of a haven for Apple products, my iPhone is permanently with me wherever I am (I actually feel lost with out it, as pathetic as that sounds!) & I recently got a new iPad mini from Argos too, which has now joined it. I've so been enjoying the larger screen of the iPad & the space it saves instead of carrying a book everywhere with me is a huge plus too, but I'm still trying to get used to using it as much as I should at home. The one thing I really can't live without though, esepcially as I'm always on public transport, is music. I know I can use both of those things for this, and yes I pay for a Spotify account also, but I still love my ancient iPod! I've had this one since 2005, it's scratched to pieces, dirty & going a little yellow, but it still works perfectly & is full of my favourite albums, and what more could you want?
I never leave home without my makeup bag, I have to admit there is a lot more makeup inside there which you can't see, and I lug the whole lot around with me every single day. I hate to be caught out without something I might need, and it's become a bit of a running joke amongst my girl friends that I carry virtually every makeup product ever with me! They're always thankful when they need to borrow some powder or concealer though! I also like to have some perfume too, I usually alternate between Flowerbomb & Carolina Herrera's 212 Sexy, both very sweet, and I think it surprises people that I smell of roses, cotton candy & vanilla!
Even though it's winter I still carry my sunglasses with me, as my eyes are pretty sensitive to the wind & when you wear as much eyeliner as I do the last thing you want is them watering and smudging it everywhere! It's freezing now so the gloves are also always in there, along with my new favourite hat, how cute are those ears?! The cute factor is quite subtle with it, which I like, and it makes me feel kind of like catwoman when I'm wearing it too!