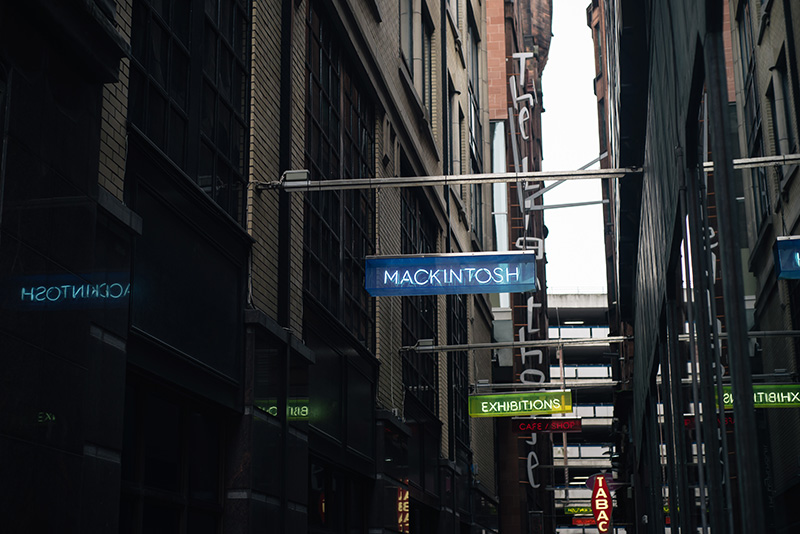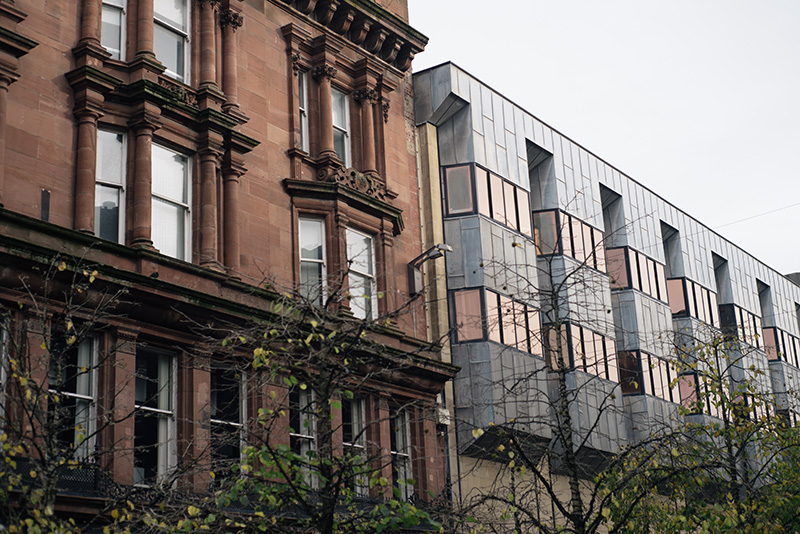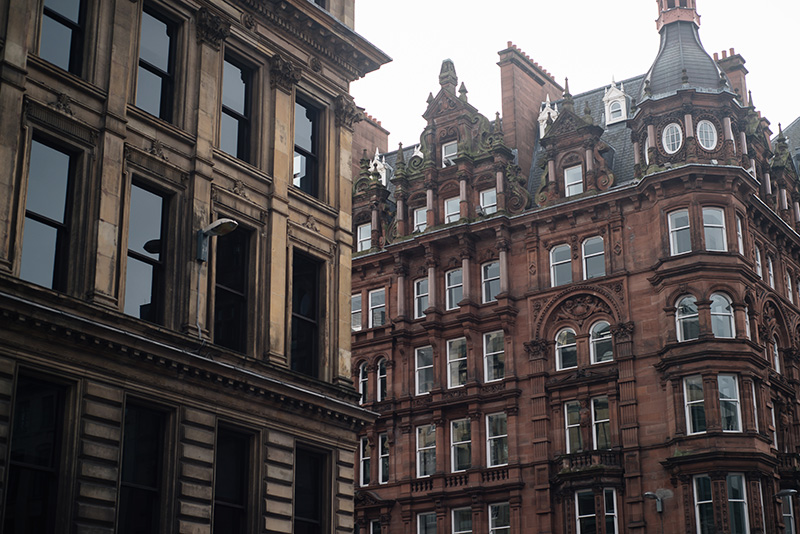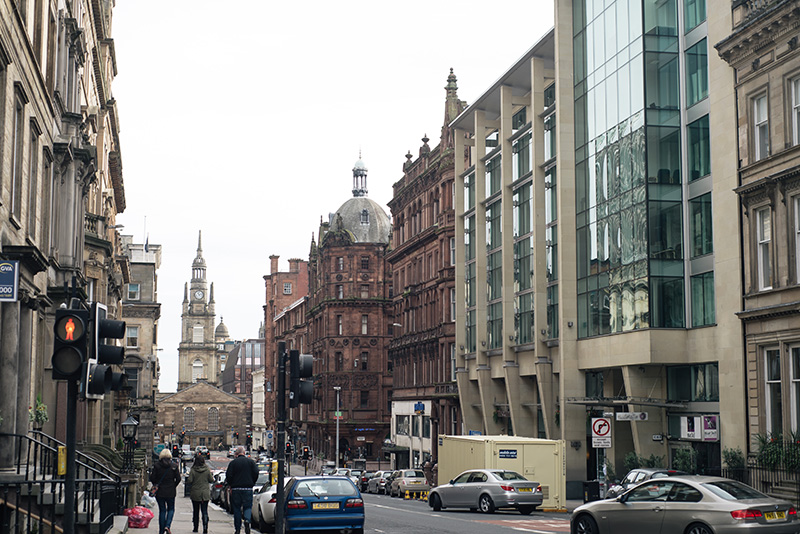 Feeling a little worse for wear after last nights Scottish Style Awards we were up bright and early for our second day in Glasgow. We all met in the cafeteria for a long breakfast, once again making the most of fry up, pastries and plenty of coffee to ease our hangovers, before meeting Fiona in the lobby for another packed day.
Our day started off with a walking tour exploring Glasgow's distinct architecture, from it's Victorian influences to Charles Rennie Mackintosh's innovative designs and the output of his contemporaries working in the Glasgow Style of Art Nouveau. Our wonderful guides from the Glasgow School of Art were incredibly knowledgeable, showing us around all the key buildings, telling us their history, significance and plenty of interesting little bits of information about them and the city too. One of the things I loved most as we were walking around was the blend of old and new, beautiful Victorian buildings sitting right beside more modern, glass and metal structures so harmoniously it was as if it had always been like this. I really enjoyed this opportunity to have a proper look around and look up and take notice of things I would have otherwise walked straight past without any idea of their importance and I'd highly recommend booking a tour if you're visiting the city.
After a brief stop for a cup of tea, our original plan had been to go see Iona Crawford at her studio, which I was super excited for as I loved her 'Lilly's Leaf' and 'Beauty and the Beasts' collections. Sadly she ended up having to cancel due to unfortunate circumstances and so instead Fiona arranged for us to go along to the Cambridge Satchel Company's Glasgow store to check out their exclusive Scottish pieces.
Cambridge Satchel Company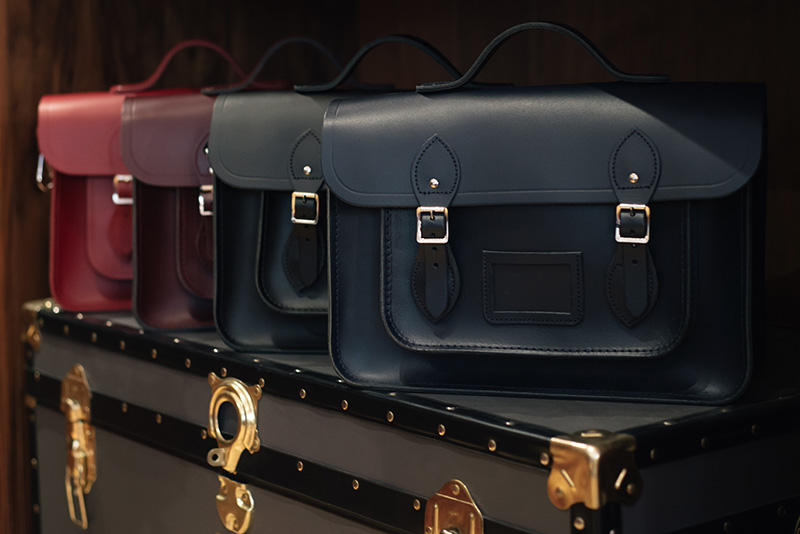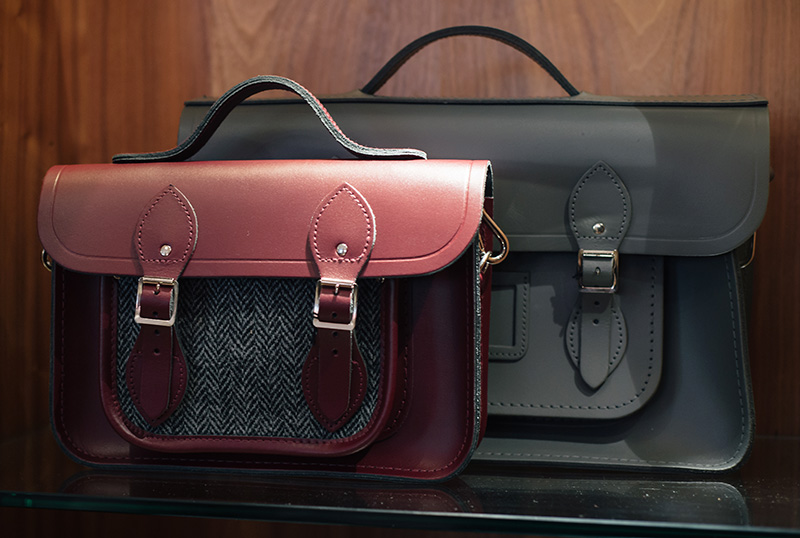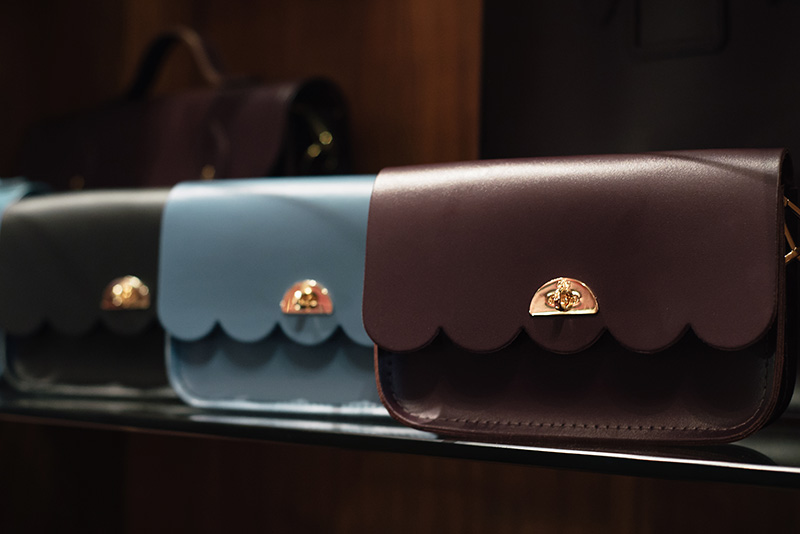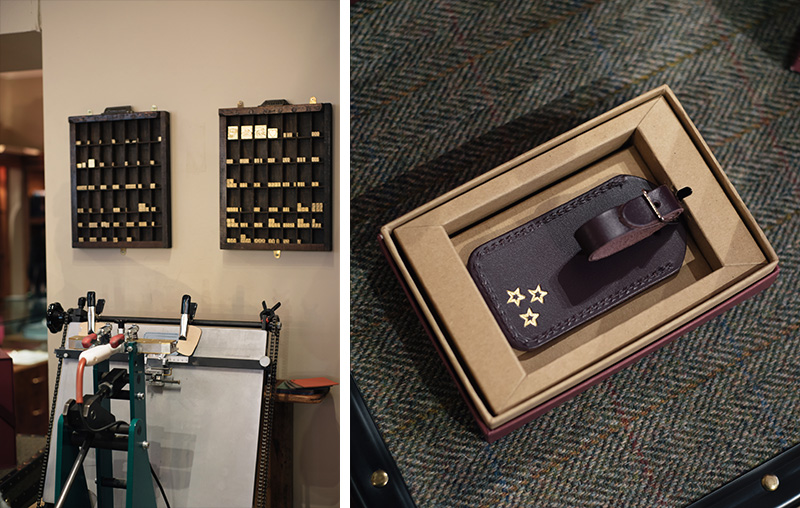 I'm sure most of you know all about the Cambridge Satchel Company by now, they've become pretty iconic especially amongst the blogging community and it always makes me happy to see brands like this that have gone from being sewn in home studios to now having stand alone stores, and this is their first outside of England. It's home to their Harris Tweed collection which is available exclusively from this store, fusing classic English design with traditional Scottish fabrics.
They also had lots of their new styles and colourways on show for us to coo over, my favourite has to be this deep plum colour and I loved the new scalloped edge 'cloud' bags too. There's also an embossing machine in store, so that you can have your purchases monogrammed while you wait, it only takes a few minutes and really makes your purchase feel that extra bit special, it would be perfect for gifts. We were treated to a luggage tag with our choice of embossing to show us how it worked, the other girls went with initials, blog names and hashtags, but as soon as I saw the star stamp I knew I was going to have to get that and I love the way it came out.
Adventure Everywhere with Trakke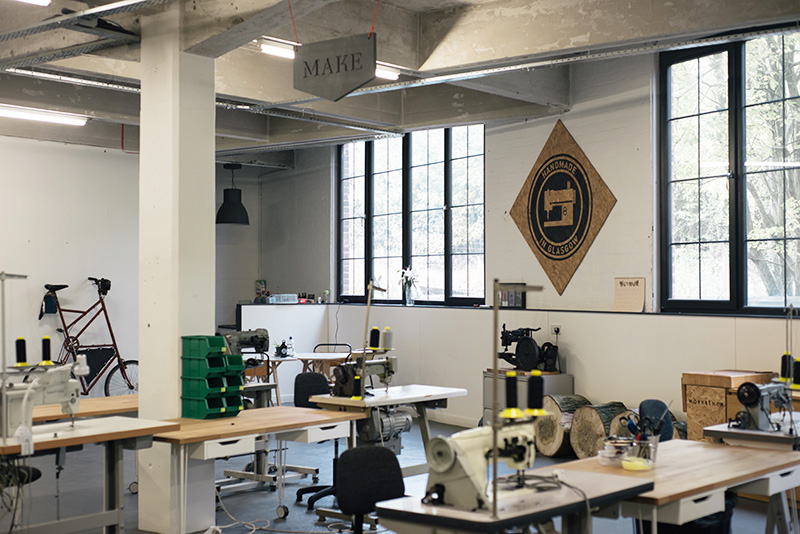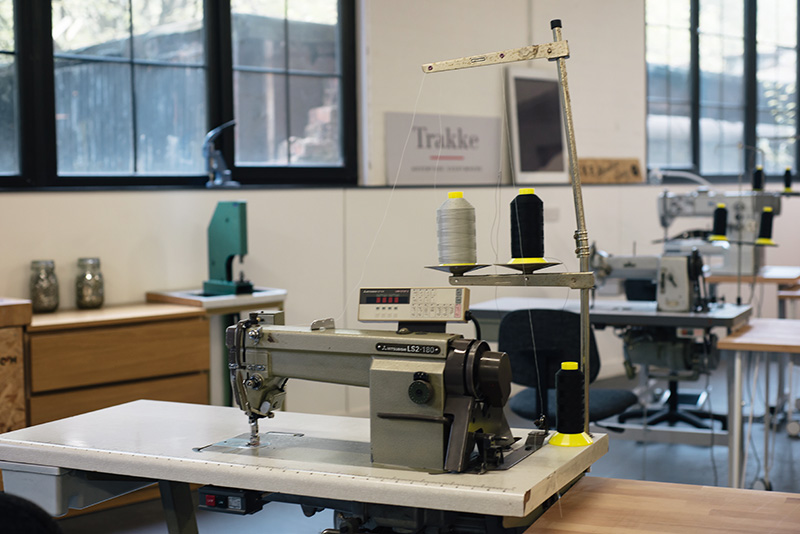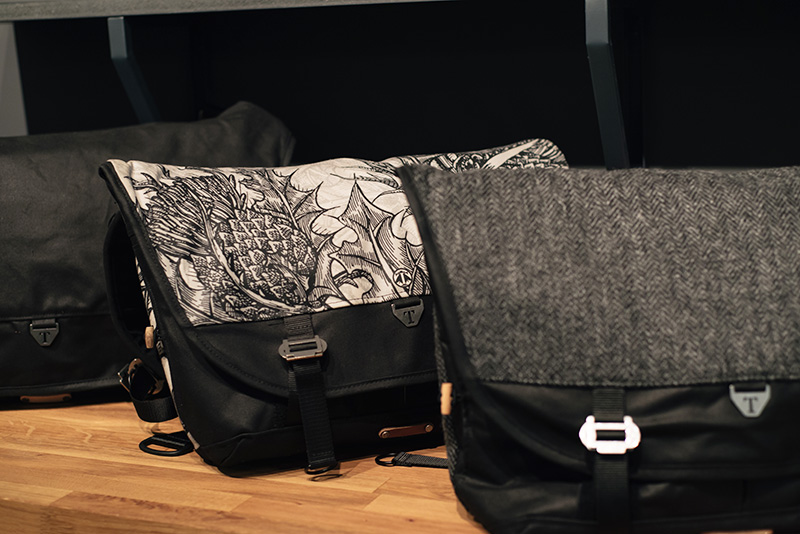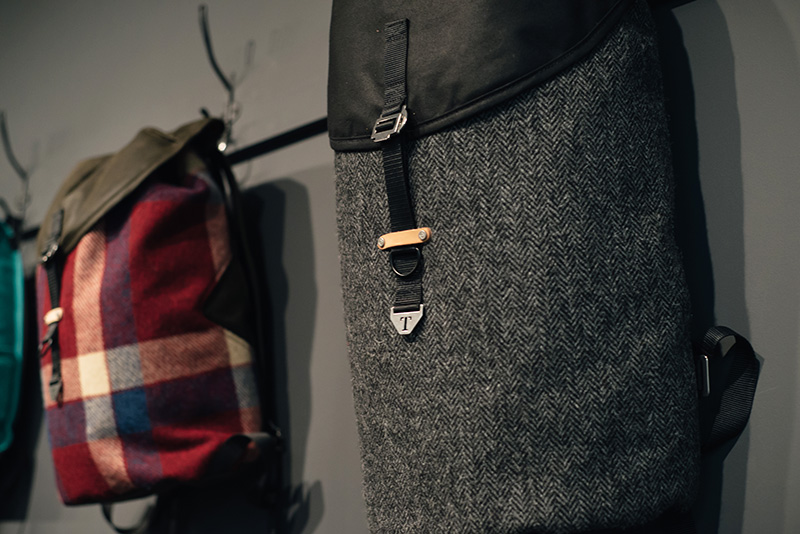 Housed at SWG3 in Glasgow's West End is Trakke, a small team of people who are truly passionate about their brand and it's ethos. They create timeless, functional bags for the everyday adventurer, whether that's hiking, biking or just navigating the urban jungle. Their products are handmade in Britain from British materials and are made to last, these are pieces that only get better with age, telling the story of their adventures and developing a character all of their own.
My personal favourites were the Wee Lug in classic waxed black cotton, the Krukke in beautiful grey herringbone Harris Tweed and the smaller, limited edition Bairn messenger featuring a gorgeous Timorous Beasties thistle print. They've really hit it out of the park in creating pieces which you'll want to cherish forever, beautifully and simply designed to give them a timeless edge but with great little details that give them their own signature too, plus they are truly functional with plenty of pockets, durable buckles and fastenings, hard wearing materials and roomy enough to carry everything you'd need.
Champagne Sundays at The Gannet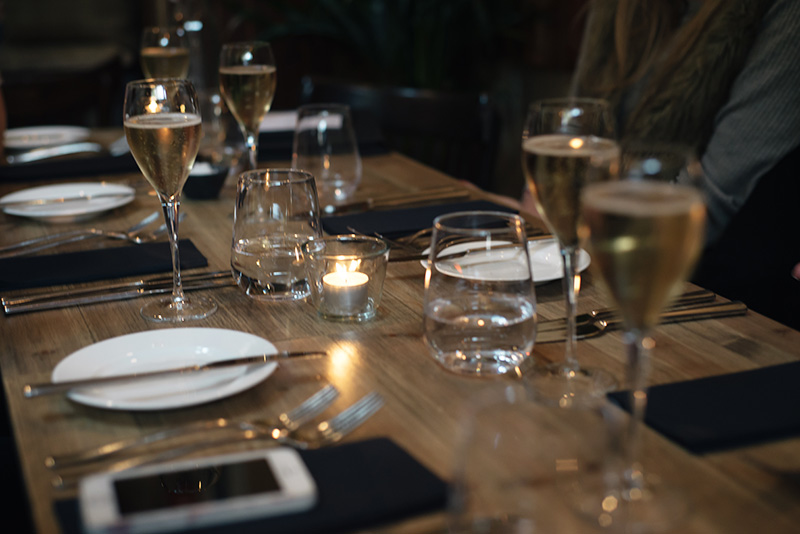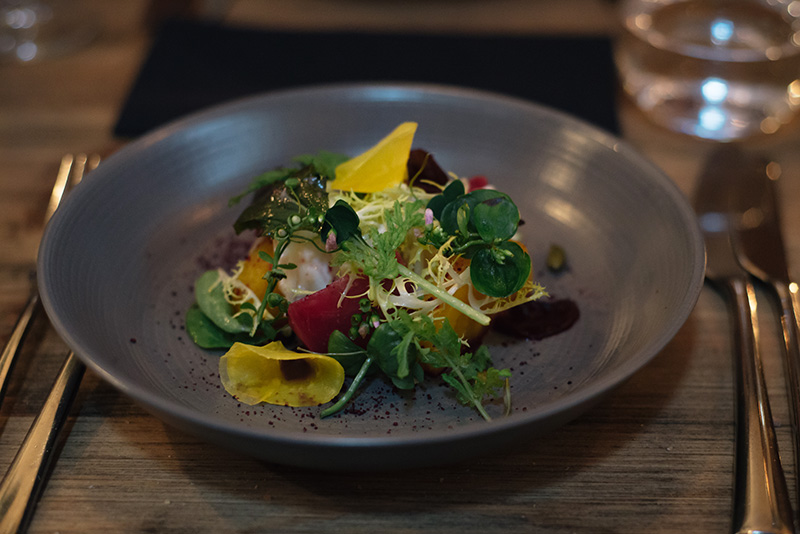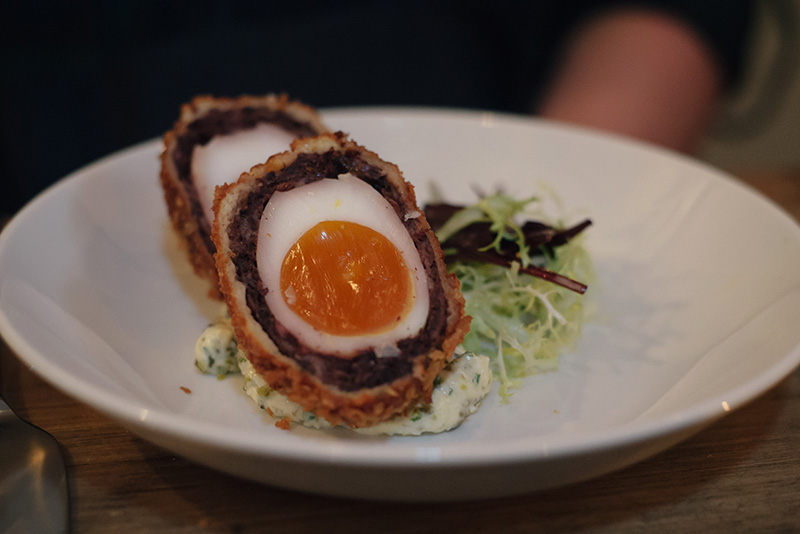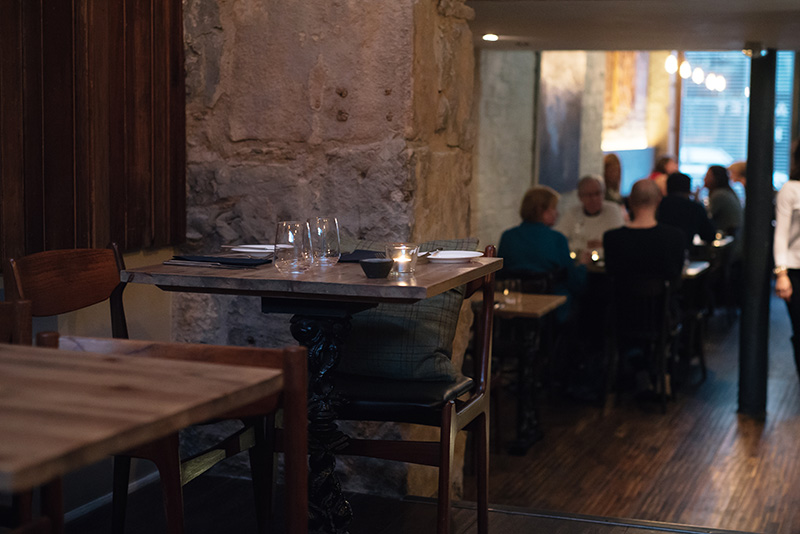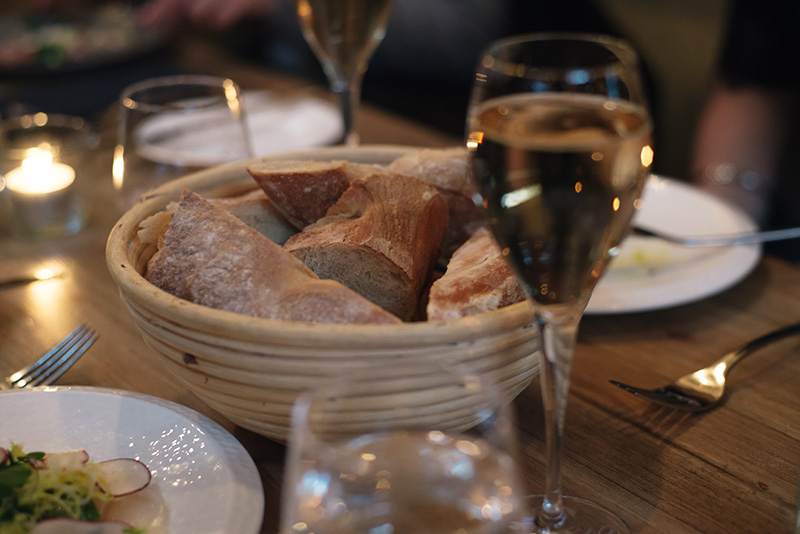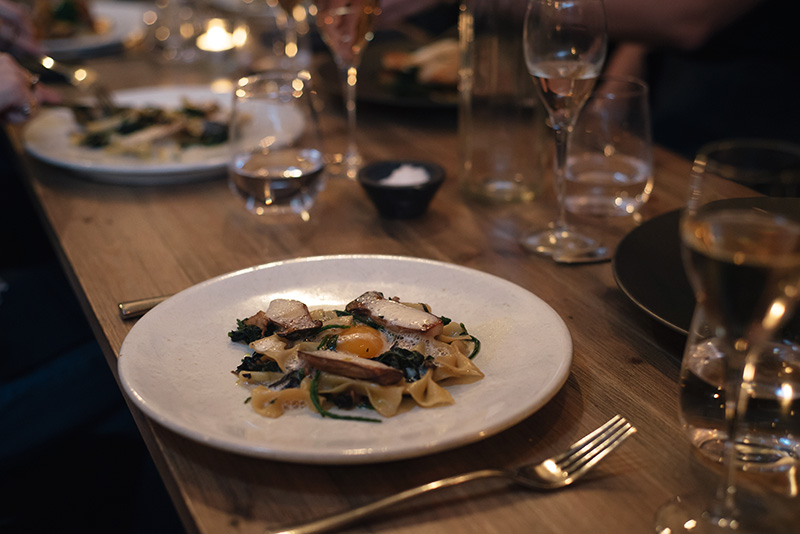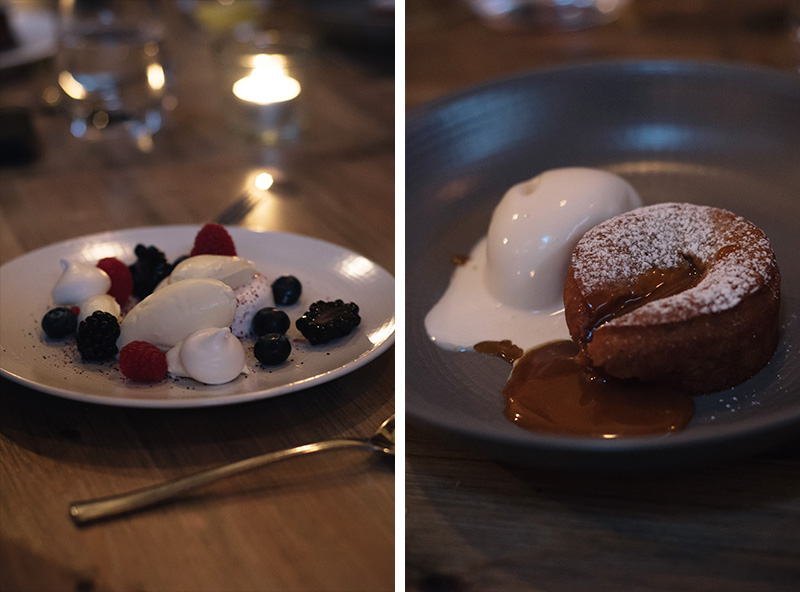 Our last stop before saying goodbye to Glasgow and catching our flights back home was The Gannet to sample their Champagne Sundays menu. I'm not sure if we were just lucky enough to be taken to two exceptional places to eat, or if Glasgow actually has some of the best food around, but I haven't enjoyed eating out this much in ages.
The Gannet focuses on fine dining without the faff and on celebrating the best of Scottish produce with all ingredients coming directly from sustainable sources. Set in a beautiful grade II listed tenement building the atmosphere is casual and relaxed, we enjoyed sipping on champagne and tucking into some of the most delicious fresh bread (seriously, my mouth is watering just thinking about it!) whilst we chatted about all of the things we'd gotten upto over the past 2 days. The menu was short and sweet, with one vegetarian option for each course I didn't really need to choose but I was pleased to see they were interesting dishes, so no complaints here. I went with a beetroot salad (isn't that just the prettiest salad you ever saw?) for starter, followed by farfalle with mushrooms and egg and finishing up with the most incredible melt in the middle salted caramel fondant and tonka bean ice cream. The others had scallops, pig's head croquette, scotch beef, pan fried cod and black pudding scotch duck eggs, and all said how great and beautifully cooked everything was too. I love this type of food, it's unfussy, warm and comforting and so perfect for this time of the year.
After the perfect way to end the day, we hugged Fiona goodbye thanking her for showing us around and headed back to the hotel to catch our taxis to the airport. I had the best time, falling a little in love with Glasgow in the process and I genuinely can't wait to go back to explore this city a little more. It's made me realise that I really do need to visit more of the UK, we have such a lot of amazing places here and they're right on my doorstep, so there's just no excuse.
Huge thanks again to Fiona, Erin and the People Make Glasgow team for a wonderful weekend. If you'd like further information on booking a trip to Glasgow visit www.peoplemakeglasgow.com.