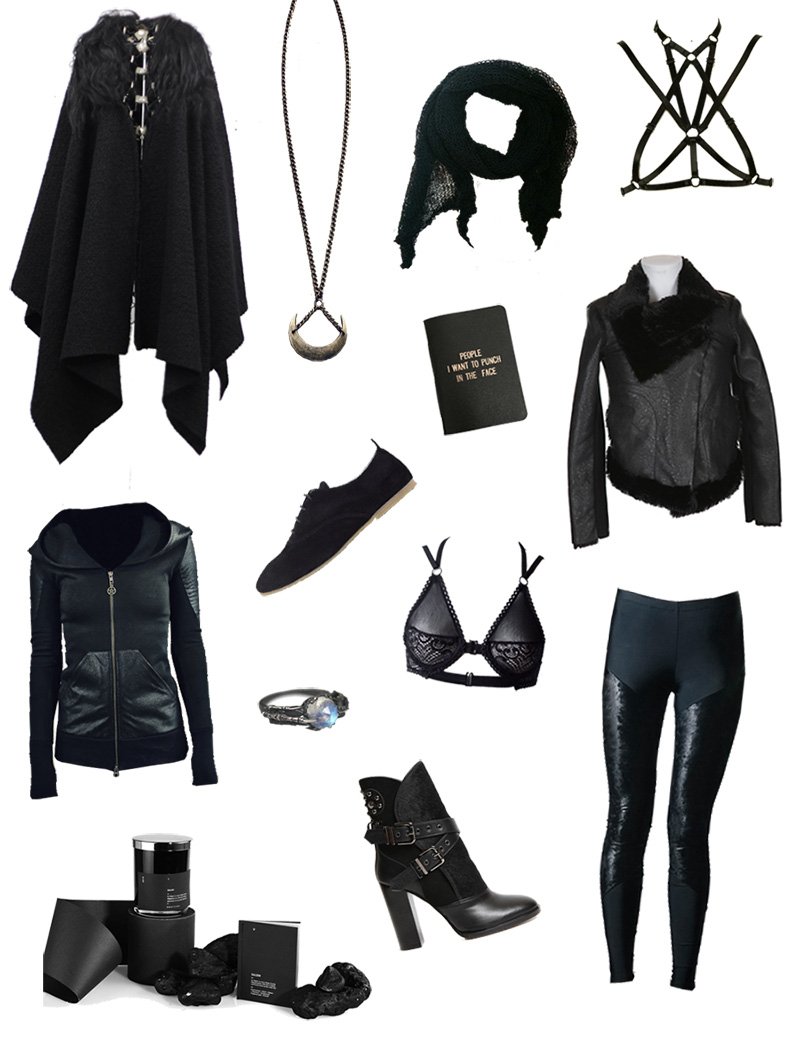 Nuit Wool Cape with Icelandic Sheepskin Collar / Osteal Brass Moon Necklace / Maude Nibelungen Hand Knitted Shawl / Agashi 'Josephine' Harness /
Helmouth Apparel Hoodie / Fred's Suede Brogues / A Weathered Penny Notebook / Rokit BCBG Max Azria Vintage Leather Jacket /
BloodMilk 'Belonging To The Underworld' Ring / Eustratia 'Morgana' Bra / Sophi Reaptress Crushed Velvet Leggings /
Nocturna 'Salem' Coconut & Soy Wax Candle / Havva 'Presley' Ankle Boots
Following on from the indie jewellery wishlist I put together last week, here's the second instalment featuring a few of my favourite pieces of clothing and accessories – and yes, some jewellery too, I couldn't resist! I had such a hard time picking which pieces to feature for this, so please go and check out their stores for even more wonderful things, I promise you won't be disappointed and will probably end up with a wishlist twice as long as this one after!
I've been wanting to get some pieces from Nuit for the longest time, Anastasia's pieces are so effortless, simple yet beautifully designed and timeless enough to know I'd still be wearing them for many years to come. I've become obsessed with finding a good cape lately and I think this might be the one, the heavy boucle wool and that fluffy sheepskin collar, it's just too perfect and I can already see myself swishing around in it paired with Maude Nibelungen's beautifully delicate cobwebby knitted shawl. I also hear that the raw leather and bamboo cardigan I've been drooling over for the past few months has just been restocked in super limited numbers after selling out and now I am so wishing I could justify another Christmas present to myself right now!
Another thing I've become obsessed with lately is fragrances and candles, with the most beautiful sleek black packaging and names like Salem and Nyctophiliac, obviously Nocturna's candles are high on my wishlist to try. Made from a blend of sustainably sourced coconut and soy waxes with a wooden wick, they are high quality, clean burning and free of unnecessary additives and dyes too.
Not technically indie, but I had to include this vintage BCBG jacket from Rokit, purely as a heads up for you guys, I'm absolutely gutted that it isn't my size otherwise I'd have brought it already! Probably half a good thing, with my current overflowing jacket collection situation, but maybe one of you can snap it up and make me jealous.