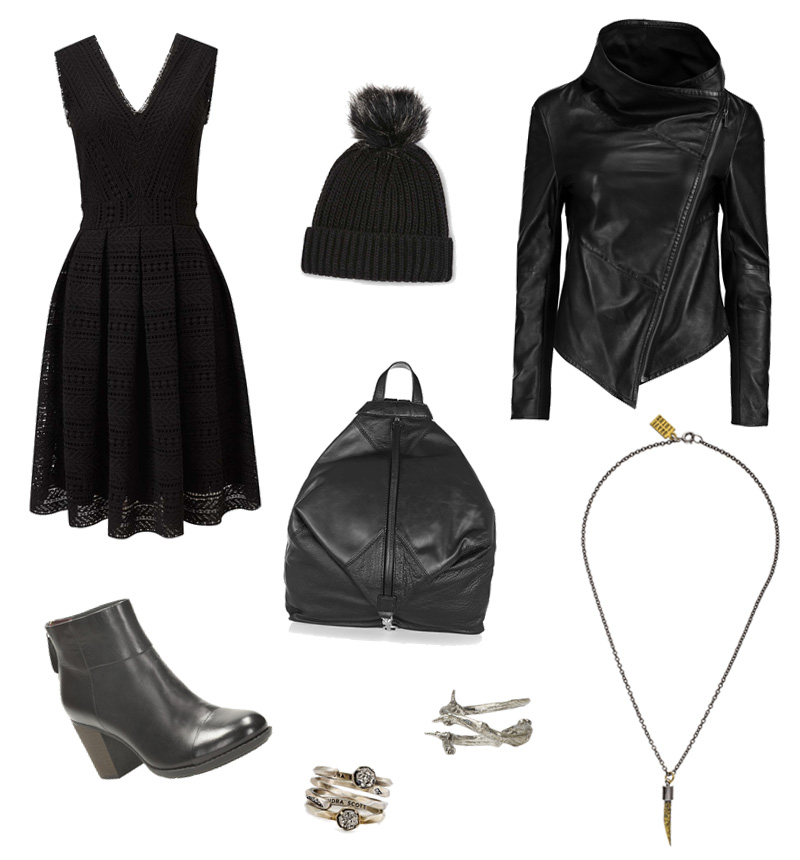 Miss Selfridge Lace Dress / Topshop Faux Fur Beanie / MuuBaa Asymmetric 'Sabina' Leather Jacket /
Clarks Boots / Topshop Backpack / Kendra Scott 'Warren' Rings / Pearls Before Swine Thorn Ring / Brave Lotus Vial Necklace
Cooler weather calls for heavier fabrics, interesting textures for layering and stand out jewellery to add a little sparkle to the upcoming grey days. I live for Autumn dressing, and despite being sad to say goodbye to the warmth and sunshine for the year, getting to shop for cosy knits and accessories never fails to put a smile back on my face.
I've already begun searching for a good replacement for my favourite pom pom beanie, it's starting to look pretty tatty now but I just can't bring myself to get rid of it. It's the cosiest hat I've ever owned, and I love the chunky knit and giant pom pom. Seriously, if you guys see anything like it please drop me a link! For now, the closest I've found is this ribbed beanie from Topshop with a cute faux fur one. I'm hoping that when it arrives it's at least half as snug as my favourite, otherwise I'll just have to continue wearing the old one until it falls to pieces!
I know this is a wishlist, but I've actually already brought another item on this list too. As soon as I saw the triangular backpack it went straight in my basket. I've been craving an interesting looking backpack for years now, one that effortlessly combined function and practicality with style, and this is exactly what I'd been searching for. Sometimes it pays to wait for the perfect piece and it's come along just in time for my trip to Thailand, where I know this is going to come in super handy when it comes to lugging my camera around.
A great pair of ankle boots are my favourite no matter what the season, but they really come into their own in the Autumn. I have too many pairs to count, but I love the ultra classic shape of this pair, plus the addition of the padded soles for extra comfort. I think my days of putting up with pretty but uncomfortable heels are long gone now!