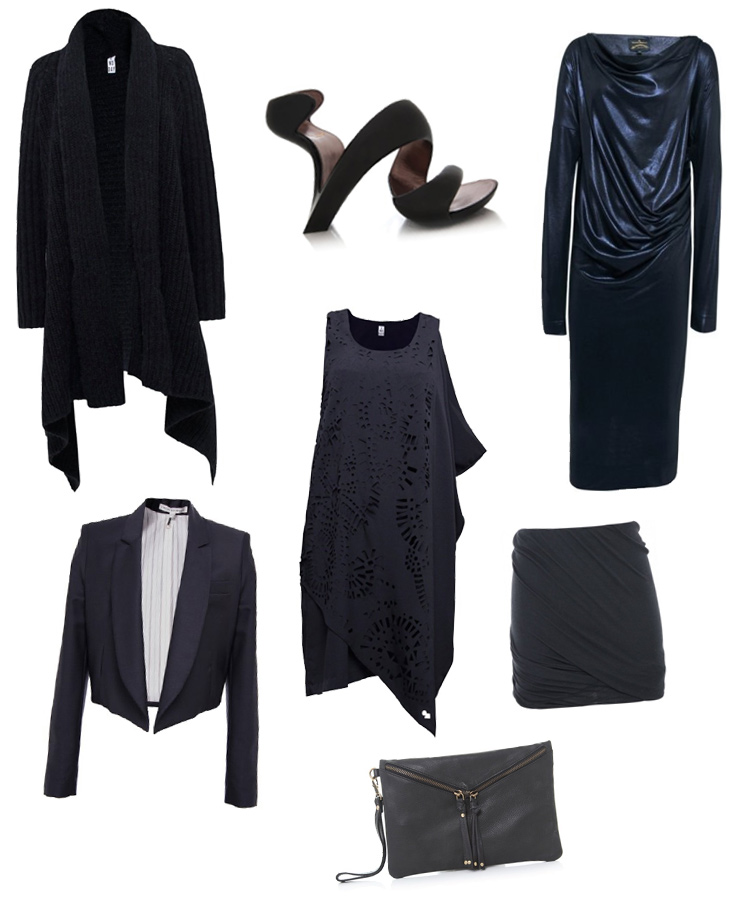 2nd Day Chunky Knit Cardigan / Julian Hakes 'Mojito' Shoes / Vivienne Westwood Anglomania Draped Metallic Dress / Twenty8Twelve Cropped Tux / 2nd Day Laser Cut Dress / T by Alexander Wang Wrap Skirt / Depeche Zip Clutch
I think January has to be my least favourite month of the year. Christmas, New Year & all of the festivities that go along with it are over, I'm always flat broke & the days are cold, dark & miserable. There is one tiny plus side to make up for all of that though, January sales! This year I'm trying to wait until final markdowns before I get anything, as I always end up kicking myself for being too eager & missing all the real steals.
Top of the list are these 'Mojito' heels created by architect Julian Hakes, so called because the single ribbon of leather that wraps around the foot resembles a twist of lime skin. Despite having no foot plate they offer all the support needed & this quirky detail paired with the flowing, organic lines & elegant wrapped shape make for such a unique looking pair. I so want to get my hands on some to try on & test out!
Another favourite is the draped laser cut dress by 2nd Day, I'll always be a sucker for anything laser cut or draped & this dress has both of those in one! I'm also very tempted by the wrapped skirt from T by Alexander Wang & the cropped tux by Twenty8Twelve, both such staple pieces in my wardrobe & something I can never buy enough versions of, they're currently at 50% off too & proving to be pretty hard to resist!
Disclaimer: This post is supported by Jules B