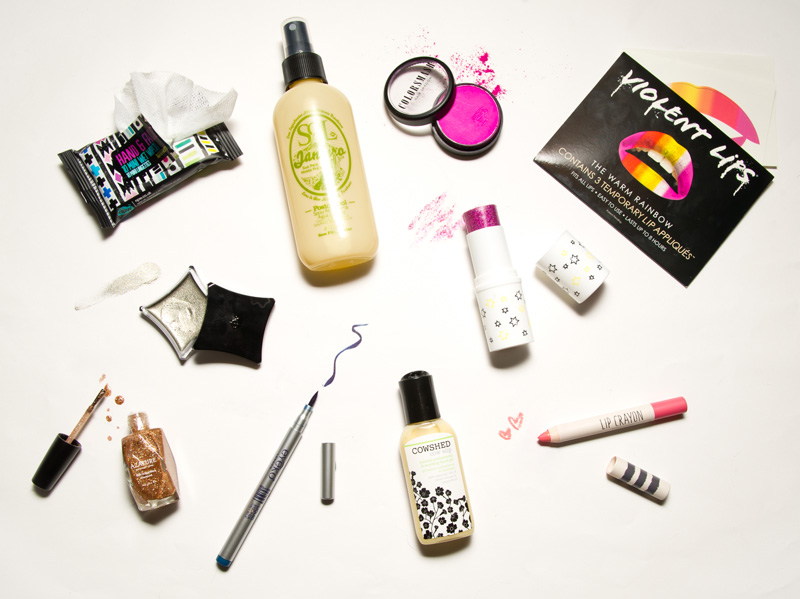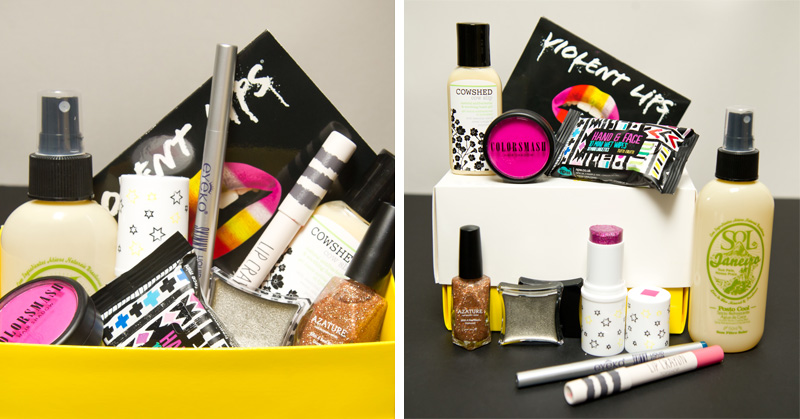 Selfridges Festival Beauty Box *
NPW Mini Scented Hand & Face Wipes / Sol de Janeiro Coconut Water Cooling Mist / Coloursmash Hair Shadow (Je Ne Sais Quoi) / Violent Lips Lip Appliques (Warm Rainbow) / Illamasqua Liquid Metal (Surge) / NPW Chubby Glitter Stick (Pink) / Azature Nail Polish (Champagne) / Eyeko Skinny Liquid Eyeliner (Navy) / Cowshed Anti-Bacterial Hand Gel / Topshop Lip Crayon (Powder Room)
Due to being rather ill over the past few weeks I've had to miss out on all of the festivals I had planned to go along to with Ollie. Most people will know that festivals are one of my favourite things to do & it doesn't feel like a proper summer to me without going to at least one, so obviously I was pretty upset to be missing out.
This little package from Selfridges really cheered me up though, crammed full of a mixture of necessities, staples & a couple of really fun products too, it's the ultimate girly festival kit & I've loved playing around with & testing them all out whilst stuck at home. The boxes are super limited edition & have a total product value of £110, but Selfridges are selling them for a tiny £25! Get one here before they sell out!
Despite most of these products being things I wouldn't usually choose, as they're not my usual 'look', I've found some new favourites amongst them. The Illamasqua liquid metal is beautiful used subtly as a highlighter for cheek & brow bones, the golden tinged pewter colour makes it super flattering & it has just the right amount of shimmer too. I really want to try it as a base for a nighttime smokey eye also, with lots of black shadow layered over the top. The Azature nail polish is possibly my favourite thing in the box, a lovely golden nude, I love that the colour is so subtle & neutral, yet it has the most over the top shimmer when the light hits it. I've been wearing it since it arrived & the magpie in me is making it impossible to stop staring at my nails! The Eyeko eyeliner is another stand out – obviously I love eyeliner, but it's always been black for me, so who knew I would find this navy one so appealing. It is an almost black-ish blue, so very wearable, but that hint of colour makes it seem really modern & a nice alternative to the usual black.
I've also had more fun than I probably should have giving myself a faux pink ombre with the Coloursmash hair shadow. I've had the spray versions of this in goodie bags before, but they never show up on my almost-black hair, this one however is super bright (though more purple on my dark hair) & washed out effortlessly too.
PS: Sorry for the lack of outfit posts this week, I've barely left my house with this awful week long migraine & lack of sleep. Things will be back to normal next week!