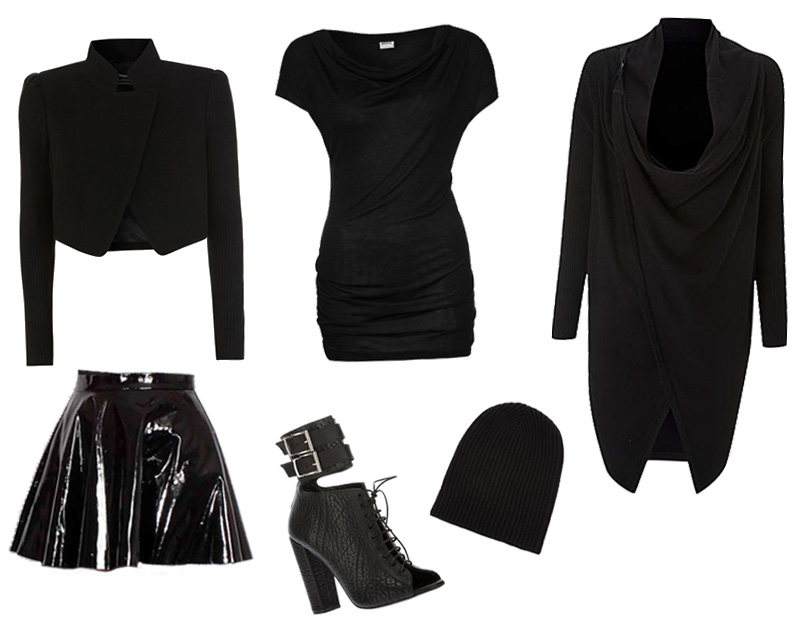 Mint Velvet Cropped Jacket / Vero Moda Drape Tee / Label Lab Wrap Cardigan /
ARK Patent Skater Skirt / Charkviani 'Marilyn' Boots / Hawick Cashmere Beanie
Since buying myself that French Connection skirt I was craving a few months ago I've become a little obsessed with skater skirts. You'll be seeing more of that particular skirt soon, as I can't stop wearing it! They're not something I'd usually find myself searching for, but to be honest I've been kind of enjoying the hint of girliness it adds to my outfits, it's a nice little change and so I've been trying to hunt down a few others too. I really love this super glossy patent version from ARK, it's almost veering into tacky territory, but I kind of like that & you know I love to play with lots of different textures. Paired with the right items I think the slick plastic would add a wonderful extra dimension to an all black outfit.
Another thing I've been searching for is another great cropped jacket, I wear my Todd Lynn x Topshop one to death (as I'm sure you're aware!) & I'd probably say it's my most favourite jacket. The cropped length & fitted shape just works so well with everything I own, and really seems to suit my shape too. I stumbled across this one from Mint Velvet on one of my late night browses, it's an absolute steal & I could have kicked myself when I saw my size was totally out of stock! Obviously it was not meant to be, so I guess I'll just have to continue looking and at least I still have something to do in the early hours when my insomnia strikes! Though, if any of you do happen to come across a perfect little cropped jacket, I'd really appreciate a heads up!