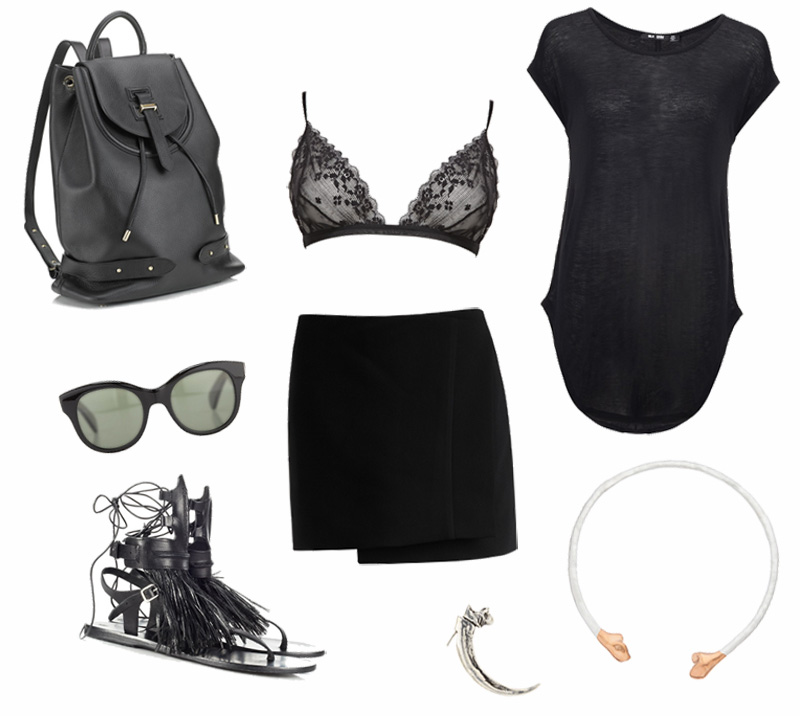 Meli Melo Backpack / Alöe Silk Triangle Bra / BLK DNM Tee /
Oliver Peoples 'Jacey' Cat Eye Sunglasses / Ellery Wrap Skirt / Bjørg Rose Gold Bone Choker /
Ancient Greek Sandals x Marios Schwab Fringed Sandals / Pamela Love Eagle Talon Earring
The start of this year has seemed to both drag with the never ending winter & rain, and fly by at the same time, can you believe it's almost March already?! I am definitely looking forward to less of the cold & rain as Spring approaches, and I can't wait to start wearing my loose tees with pretty bras peeking through, sunglasses, sandals & simple statement jewellery again. Warmer weather always makes me want to dress a little simpler & less fussy.
Classic pieces with interesting little details are always high on my wish list, and for the longest time now I've wanted a nice backpack. This one from Meli Melo is exactly what I've been searching for, I love the little tabs at the bottom & slouchy kind of structure it has. Another classic I can never say no to is a good cat eye & the guys behind Oliver Peoples definitely know how to create the perfect one. These 'Jacey' sunglasses are my newest obsession & I've still got my eye on their 'Paris' style from the SS13 Maison Kitsune collaboration too.
I'm feeling a slight tinge of tribal here from the sandals & the thick bone choker too, I can't even begin to describe how much I want both of these things! They're a nice subtle little nod to the ever popular during summer 'traveler' type trend & just looking at them is filling me with wanderlust.