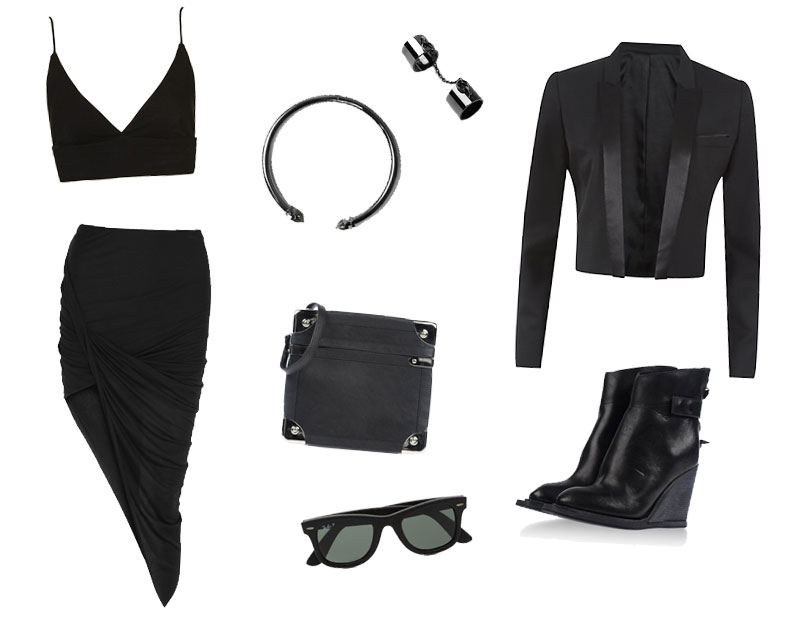 Topshop Bralet / AllSaints Choker / AllSaints Double Rings / The Kooples Cropped Jacket /
Helmut Lang Twisted Skirt / Margiela Box Bag / Nicolas Andreas Taralis Boots / Ray-Ban Leather Covered Wayfarers
I've been a little absent recently as life & work things have gotten in the way the past week or so, but now things are settling back down & everything should be back to normal. I hope my fellow Brits that are reading have enjoyed our 4 days of Summer too & made the most of it? I think that's it for us this year! The balmy weather & my lack of suitable smarter clothing for this heat meant I found myself doing a lot of window shopping & mentally wishlisting suitable outfits.
This Helmut Lang skirt has been on my mind for a while now, when I first saw it last year all the black versions had sold out & I was gutted, but it seems to have popped back up again for this season & now I can't decide! The problem is, now I've seen it in person I know I could make this myself very easily in a few hours or so, for barely more than £15 & I could make it more of a highwaisted fit that I'd prefer too, only I never seem to have the spare time to! It would be perfect with the little bralet showing a sliver of stomach in between, casual, comfy & perfect for the heat, but with a slickness about it too.
My favourite way to smarten anything up is to throw a good blazer or tux over it, and as you're probably aware I'm pretty partial to cropped versions. This one from The Kooples is going straight to the top of my 'reward for when you've paid off your overdraft' list, the boxy cut, the satin lapels & the perfect length, it is beyond perfection. Anyone else have to bribe themselves with 'rewards' for things like this or is it just me? I've not spent a single penny on unnecessary items for months now, and the idea of a reward is the only thing keeping me on track!