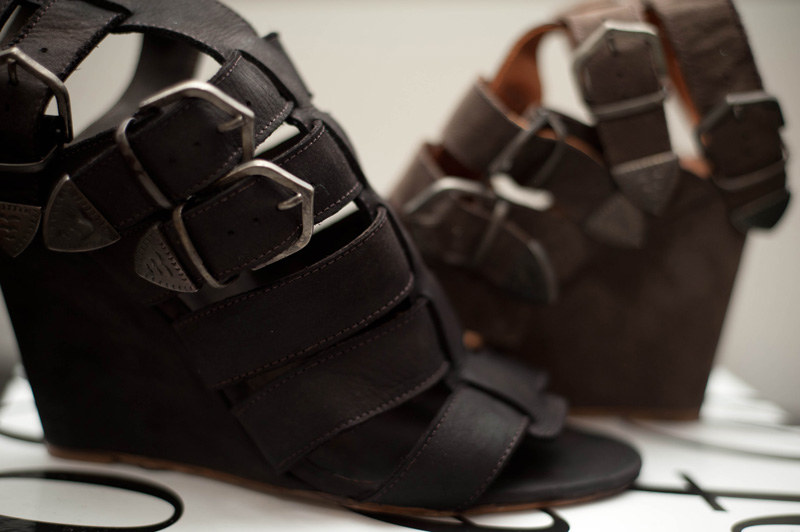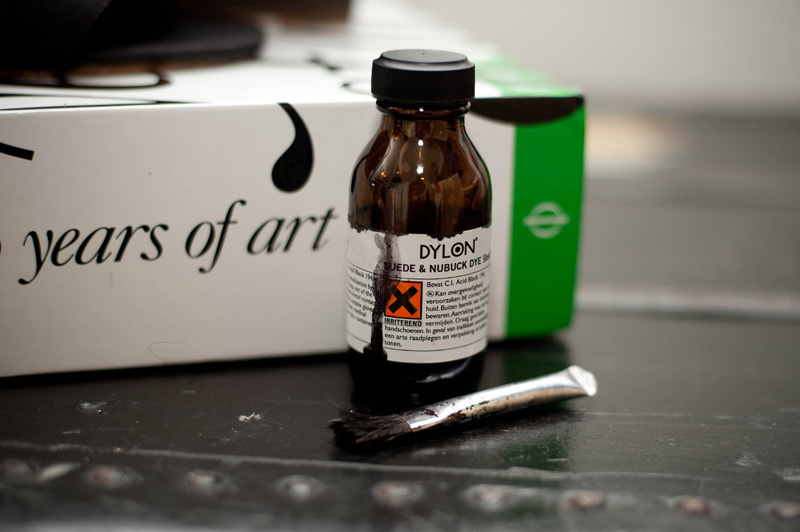 Dylon Suede & Nubuck Dye / Topshop Suede Gladiator Wedges
One of my favourite things to do & possibly one of my worst habits is dying coloured shoes black. These chocolate Topshop wedges were another eBay buy, another attempt to integrate more non-black shoes into my wardrobe. They're dark I thought, not far off black, I'll definitely wear those. They've been sitting on my shelf collecting dust for months, so it was time I gave in & just dyed them!
I also have a strange habit of 'rescuing' ugly coloured shoes from the sale section & turning them black. It probably has something to do with them always being cheaper too, but, yes, I am one of those people who treats inanimate objects as if they have feelings… 'Don't worry poor shoes, I will take you home & give you a makeover, then you'll be beautiful!'…
Whenever I mention that a pair I'm wearing are dyed, I always get the 'Oh, I daren't do that' 'What if you ruined them?!' kind of remarks. Honestly, it's one of the easiest things you can do & you can't really go wrong at all. Get a cheap pair from eBay & have a go, I promise you'll soon be addicted when you see how easy it is! It'd be pointless me doing a step by step tutorial, it's literally : clean, apply dye, wait, second coat, condition… so I thought I'd just share some tips / advice I've picked up along the way.
Tips for dying leather shoes…
#1 : Don't try to dye synthetic shoes. Just don't, it's not worth it. I know there are dyes specifically for this type of shoe, but they are basically paint – it will peel & flake. Same applies to using a dye that promises to dye shoes to a lighter colour then they were originally, these are also paint.

#2 : Get the right kind of dye. There are types for normal leather, suede, nubuck. You can use a normal leather dye on suede, but sometimes it can make it a bit 'crunchy'.

#3 : Always clean the shoe first. If you have deglazer or a dye prep use this, if not, just give them a really good scrub with a toothbrush, lots of water & a little washing up liquid. Your aim is to strip off any coating the leather may have had applied & to make sure there's no muck or oils on it. Make sure to thoroughly wash the washing up liquid off if you use this, your shoes should be soaking wet.

#4 : If you can see any glue residue, usually around the edges of the sole, the dye won't be able to penetrate the glue, so you need to clean it off. A cotton swab & some nail polish remover will usually do the trick.

#5 : Some dyes will dye the stitching, others wont. I usually use 'Punch Leather Dye' & this will dye stitching too, the suede version doesn't though, so always test this on a hidden part inside the shoe to be sure.

#6 : You won't be able to change the colour of any zips, though you can get these replaced by a cobbler.

#7 : If the shoe has a wooden, plastic or similar heel, the dye will stain this, so always use a few layers of masking tape to cover it.

#8 : Be realistic! Dye is very runny & really messy. I would have liked to have kept the inside of these that lovely tan colour, but even if I'd been super careful using a tiny little brush, it would never have been neat enough to look decent, so I just dyed everything.

#9 : Even if the box says one coat is enough, always do at least 2 for a really nice even colour.

#10 : ALWAYS use a leather conditioner or cream after letting the shoes dry for 24-48 hours. The chemicals in the cleaner & dye are really drying on the leather & you don't want to end up with cracked & hardened leather after all the time spent dying them.