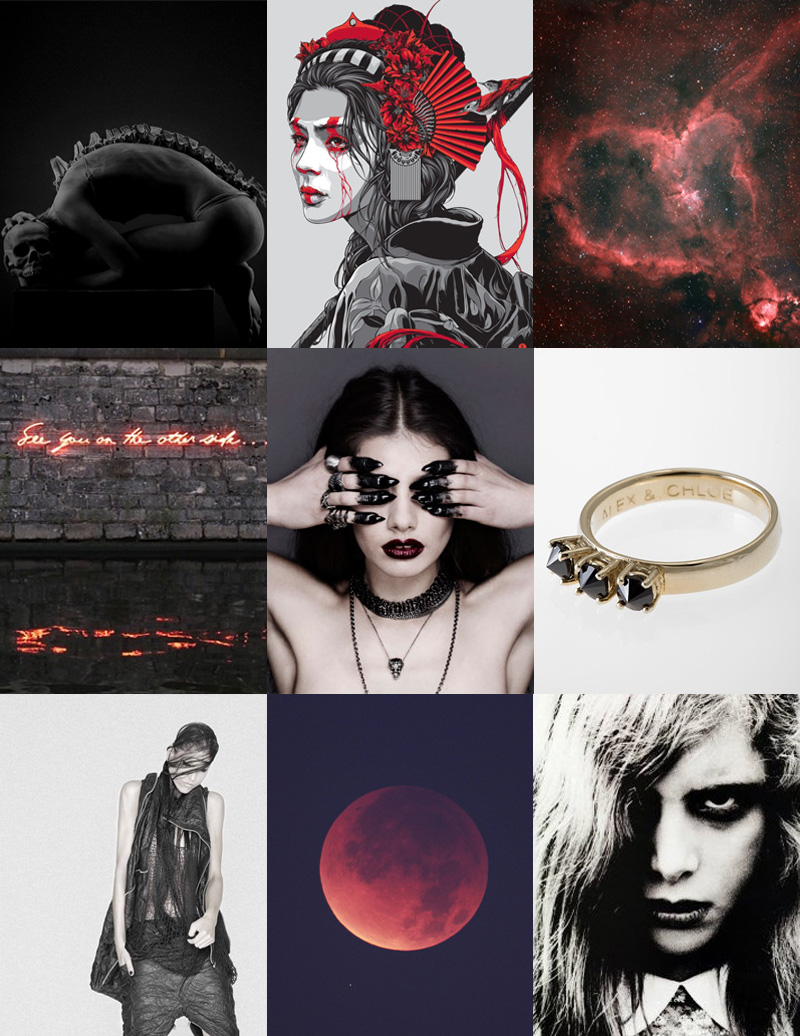 #1 : Vadim Stein / I've spent over an hour devouring this guys portfolio today, absolutely breathtaking work, B&W at it's best…
#2 : Ken Taylor / One of my all time favourite illustrators, I love his bold graphic style & I'm especially fond of his movie posters!
#3 : Keith139 / Heart Nebula… I'm so longing for some clear summer skies so that I can get my telescope out again…
#4 : Olivia Steele / "See You On The Other Side"
#5 : Zlatimir Arakliev / Another photographer who's work I can't get enough of… This whole image is perfection, loving the nails & rings!
#6 : Alex & Chloe / If I ever get married, this is my idea of the perfect engagement ring…
#7 : Barbara I Gongini S/S 12 / Oh, I would love to be draped in this whole collection head to toe…
#8 : Unknown / Blood Moon…
#9 : Night of The Living Dead (1968) / "They're coming to get you, Barbara!" I'm such a huge zombie movie fan & have been re-watching loads of old favourites this week, this is possibly my favourite one, it never gets old!
10 Favourite / Most Played Tracks This Week…
Click to open in Spotify : [ Playlist for 08.07.12 – 15.07.12 ]
#1 : Crime In Stereo / Small Skeletal
#2 : Death From Above 1979 / Blood On Our Hands
#3 : Dinosaur Pile-Up / Barce-Loner
#4 : Kings Of Leon / Charmer
#5 : Beastie Boys / Sabotage
#6 : The Horrors / Count In Fives
#7 : The Strokes / Juicebox
#8 : Young Guns / Bones
#9 : Black Rebel Motorcycle Club / Berlin
#10 : The Long Blondes / Lust In The Movies