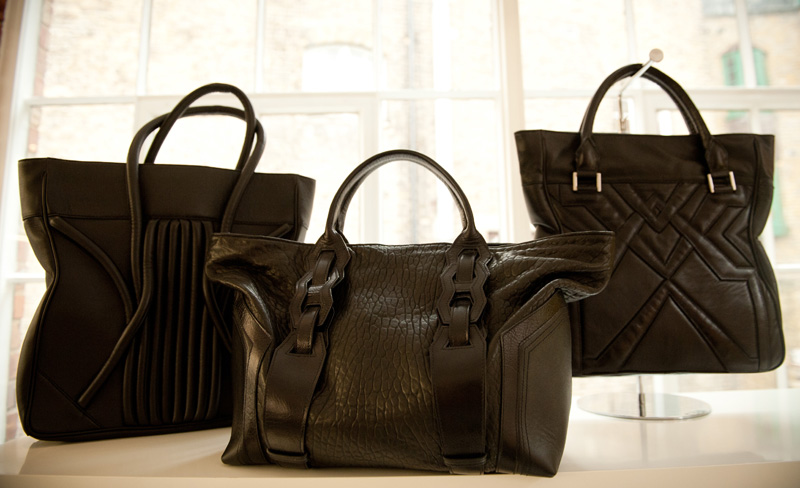 All bags Bracher Emden
As I have mentioned many times before, I'm not usually much of a bag person, I will always go for a pair of showstopping shoes over a nice bag. That all changed when I came across Bracher Emden though, their handmade, sculptural bags are like little works of art & I don't think I could find a handbag anymore 'me' even if I were to design one myself. I love the attention to detail & the ergonomic shapes, an indent in a clutch that's just right for resting on your hand or a scooped bottom on a shoulder bag that means it sits perfectly on top of your hip. Each bag is handmade, so the quality & craftsmanship is second to none despite the very reasonable price tag. These little things & of course the futuristic designs that remind me of all my favourite superheroes & sci-fi movies are the reason I fell so hard in love with them. So, when the lovely Jess invited me down to the showroom to have a look at the collection, I couldn't say no!
The stand outs for me were the new season white 'Geo' clutch with burnt in pattern, the floppy oversized clutches with geometric appliqué in lime & black, the deadly looking spiked lime clutch, the squishy cream tote in ostrich & heavily textured lamb leather & the heart clutches in collaboration with Bora Aksu. Which are your favourites?
The collaboration with Bora Aksu, which comes in 2 styles, the clutch & the large tote is on sale exclusively in the New Designers Accessory Space at Harrods from today & the others are available directly from Bracher Emden.