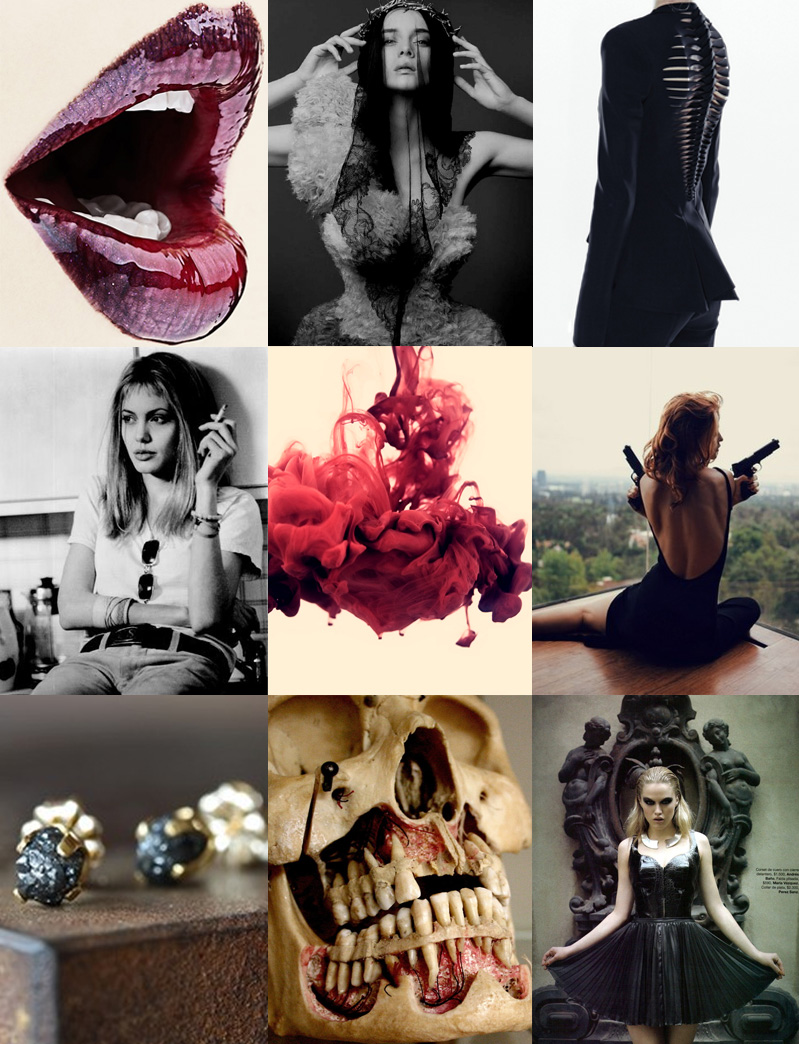 #1 : Pål Laukli / Just… Wow!
#2 : JM Ferrater for Harper's Bazaar Mexico / Everything about this image is perfect & I love the slightly religious undertones with the crown…
#3 : Dion Lee Resort 2013 / Anatomical detailing is one thing I can never get enough of & this is exceptionally beautiful, look at that cut!
#4 : Angelina Jolie in 'Girl, Interrupted' / I'm a huge fan of Ange & this is one of my favourite movies, she is so perfect in the part…
#5 : Alberto Seveso / These high speed photographs of ink mixing with water are just stunning, what beautiful shapes it creates…
#6 : Wildfox Swimwear 2013 Lookbook / Loving the whole of this lookbook, but this particular image really stood out to me.
#7 : Alexis Russell Raw Black Diamond Studs / I need these so badly, their rawness makes them even more beautiful in my opinion.
#8 : I've always loved skulls, not sure why but this image really caught my eye when I was browsing Tumblr the other day…
#9 : Santiago Albanell for Harpers Bazaar Argentina / Love the gothic vibe here & I seriously need that dress!
10 Favourite / Most Played Tracks This Week…
Click to open in Spotify : [ Playlist for 19.08.12 – 26.08.12 ]
#1 : Kyla La Grange / Been Better
#2 : White Lies / Unfinished Business
#3 : Test Icicles / Sharks
#4 : The Bronx / White Tar
#5 : Refused / New Noise
#6 : Million Dead / I Am The Party
#7 : Stone Temple Pilots / Sec Type Thing
#8 : Audioslave / Gasoline
#9 : Nine Black Alps / Unsatisfied
#10 : The XX / Angels