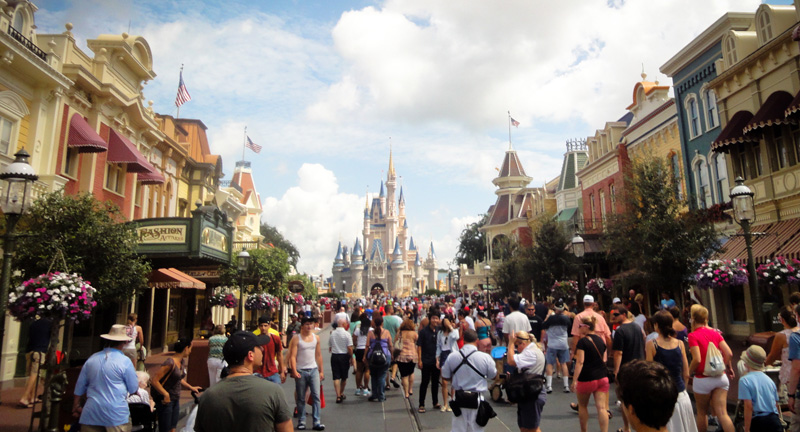 These are the last of the photos from our Florida trip, a round up of all the other parks & places we visited. I hope you've all enjoyed them & they haven't had you bored stiff! Everything will be back to normal from Sunday, so keep an eye out for heaps of outfit posts coming up, I've been buying lots of things I can't wait to show off!
Other than the 4 parks I've featured so far, we also managed to do Magic Kingdom, Disney's Hollywood Studios, Universal Studios & Universal Studio's Islands of Adventure. We spent that other 3 days at the water parks, Disney's Typhoon Lagoon, Disney's Blizzard Beach & Sea World's Aquatica – Though there are almost no photos of the water parks for obvious reasons!
We loved Magic Kingdom & strolling around the very Disney streets, it really is a magical place & the fireworks were the best I think I have ever seen, it's worth going just to see those, such a spectacle! Sorry about the awful iPhone photos of these by the way! I've been before when I was much younger & I have to be honest though, I didn't enjoy it as much as the last time. I think mostly because I'm a huge adrenaline junkie & love big rides, Magic Kingdom is much more family orientated, so there wasn't much I was interested in going on this time around. Plus, as it's the main park tourists want to visit, the queues are huge even for the 'boring' rides, so we didn't get to do as many of them as we'd have liked! I did get to try on a lot of hats though… It became almost a game by the end of the holiday, I think I now have a photo of myself wearing every hat available to buy at Disney World… Seriously, there are over 30 photos, I very nearly did a 'Hats of Disney World' post, but don't worry I've spared you!
I think Disney's Hollywood Studios is worth going to just for it's main two thrill rides alone. Tower of Terror is a creepy hotel styled after an episode of The Twilight Zone, once inside you are taken in the elevator right up to the 13th floor where you crossover into 'The Twilight Zone'. The elevator then suddenly falls the entire 199 feet right into the basement, it's a real stomach turner! The other thrill ride & possibly one of my favourite roller coasters ever (no, not just because I adore Aerosmith!) is Aerosmith's Rock 'N' Roller Coaster, a pitch black, indoor coaster that goes from 0-60mph in under 2.8 seconds & blasts out Aerosmith songs whilst you're riding!
All three of the water parks were amazing, Typhoon Lagoon is more relaxed with a huge wave pool, lots of sandy beaches & a lazy river to float around in, whilst Blizzard Beach has all the huge water slides, including the 120 foot, vertical, free fall slide 'Summit Plummet' – If the queue wasn't over an hour I would have rode this over & over! Aquatica is Sea World's brand new water park & although I really enjoyed the majority of the rides there, I was severely disappointed with their signature attraction 'Dolphin Plunge', a clear water slide that shoots you through the middle of a pool containing 4 commerson's dolphins. It was one of the things I was most looking forward to, but the slide scraped my back red raw & the clear portion that goes through the pool is much too short & you go through way too quickly to actually see any of the dolphins! It was a real let down.
Universal Studio's two parks were both really fun, I definitely enjoyed Islands of Adventure best though, The Hulk roller coaster was so good we rode it twice (even despite the long queue!) & the Spiderman ride blew me away with its innovative use of 3D. The Jurassic Park area was really great too, with it's main ride featuring life-sized animatronic dinosaurs that looked incredibly realistic. The only down side was Harry Potter land, I can't stand it & Ollie totally loves it, so I got dragged around the entire area even though I protested (a lot!)… I might have secretly enjoyed the dragon roller coaster just a little though…