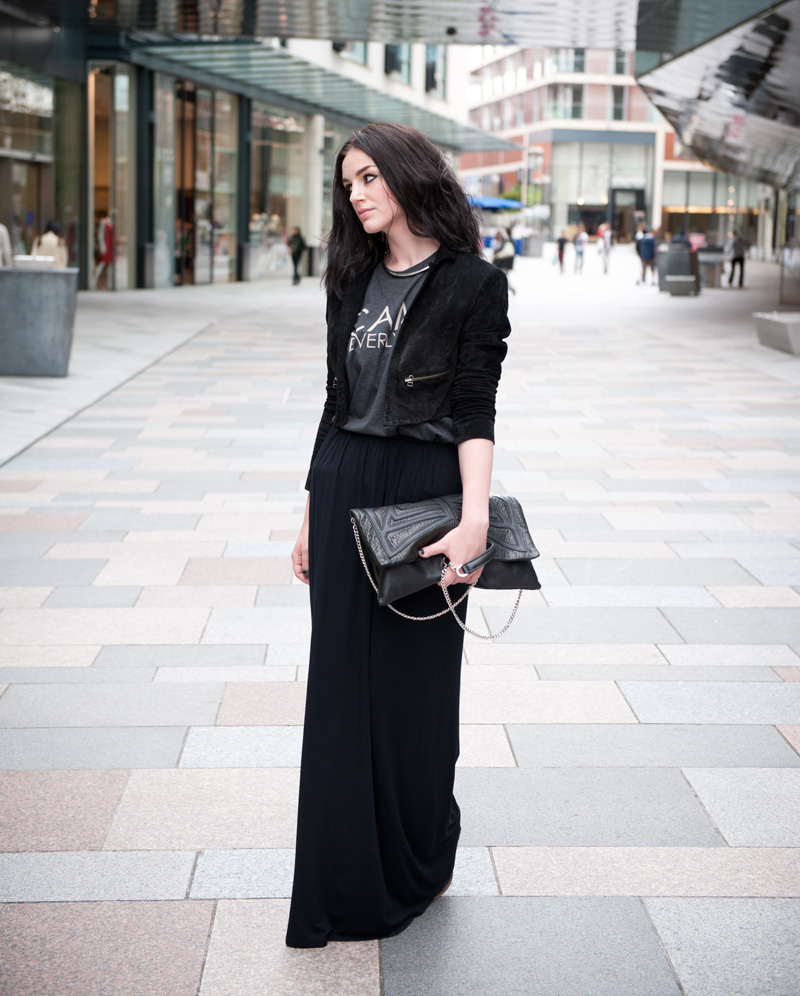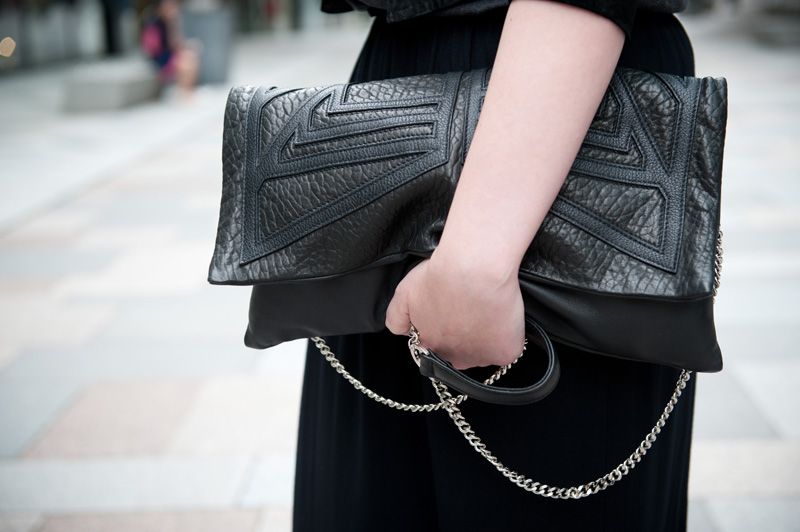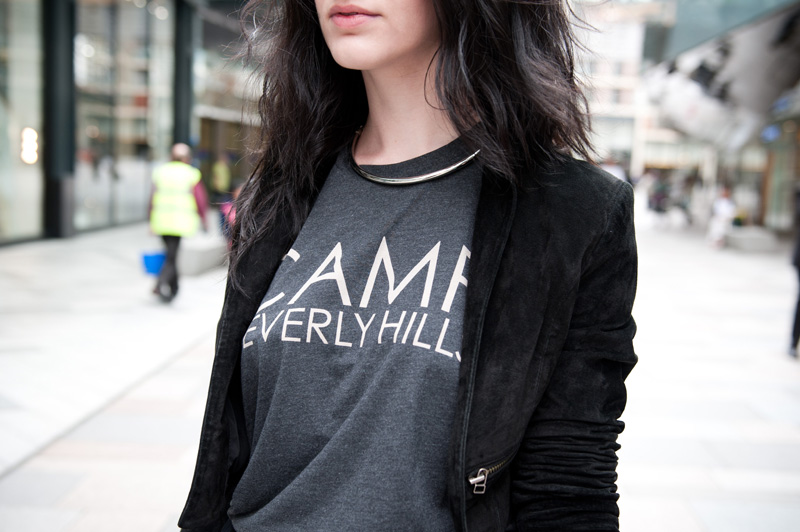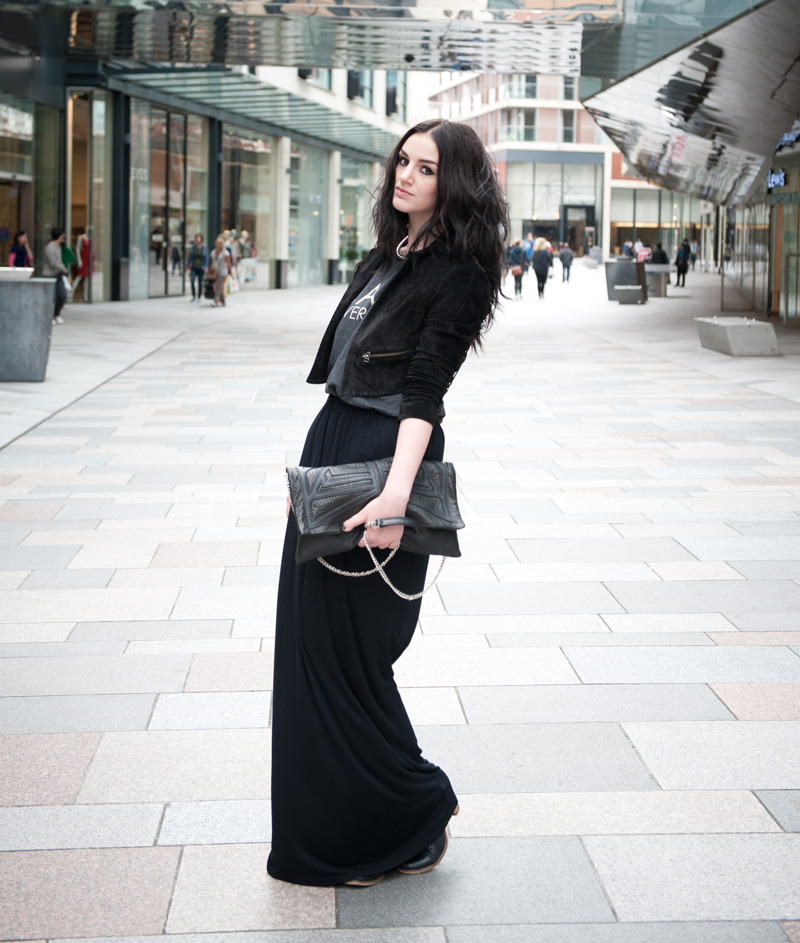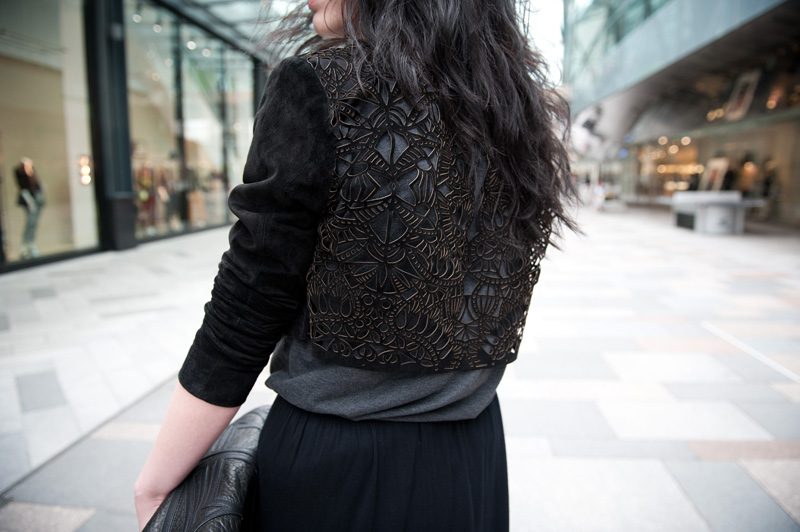 Topshop Laser Cut Suede Jacket / Camp Beverly Hills Men's Tee * / ASOS Maxi Skirt / Bracher Emden Soft Clutch * / H&M Choker
Firstly, I apologize for the fact that I look like I've not slept for days, those who follow me on instagram or twitter will know that I got given a huge black eye by a very over-enthusiastic husky puppy whilst we were playing (I'm sure you can guess who!) last week. It's almost healed now, but the puffiness & swelling is still hanging around making me look seriously sleep deprived!
I might be the only one, but I am so excited to be able to wear my heavy maxi skirts & jackets again, Autumn is definitely my favourite season & I can't wait to layer up even more. This laser cut jacket from Topshop is one of those pieces I love & yet hate at the same time. I love the beautifully cut back & how attention grabbing it is (I got stopped by 4 different people today just to tell me how much they loved it) but I hate that I can only wear it when the weather's just right. It's too delicate to layer over any bulky sweaters to make it more winter appropriate & the suede is too thick, heavy & sweaty to wear during the summer, so I intend to wear it as much as possible whilst I can!
I'm developing a bit of an addiction to Bracher Emden's bags. It's as though they've peered into my brain, made a note of what my ideal bag would look like & designed them especially for me. I have been taking my Geo clutch everywhere with me, it's such a showstopper & never fails to get people asking about it thanks to it's unusual shape, but as someone who likes to pack everything but the kitchen sink into her bags it's not something I can carry day to day. This soft oversized Lucy clutch is perfect for that though, it has all the same attitude & wonderful design elements of the Geo but in a more practical size & shape. I love the option of the removable shoulder strap & the geometric appliqué which gives it that same sci-fi feel I loved about the Geo.
Mens tees are one of my favourite things to wear, especially when paired with more streamlined & tailored pieces. This one from Camp Beverly Hills is exactly what I've been looking for, beautiful super soft cotton, boxy cut & minimalistic text to the front. It's a perfect basic & I've always had a soft spot for heathered charcoal tees, so it's a great addition to my collection… Well, I say 'my collection' most are the boyfriends that I've just never given back!