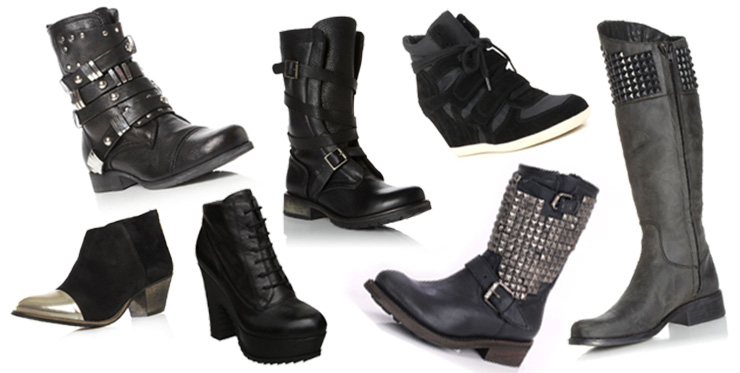 Bertie Biker Boot / Steve Madden Strapped Biker Boot / Ash High Top Sneaker Wedge / Steve Madden Studded Riding Boot / KG Metal Toe Cap Boot / Bertie Chunky Platform Ankle Boot / Ash Studded Biker Boot
I'm sure you're all aware that I'm a bit of a boot fanatic, a good chunk of my wardrobe is taken over by them & almost all of them are black, heavy & stompy. It's a bit of an obsession. I wear mine all year round, even in the Summer heat, but my favourite part of the year is when the Autumn/Winter collections start hitting the high street, as it means one thing – new boots!
House of Fraser is one of my favourite places to search for them, as they stock such a good variety of brands & have a huge selection, so there's always something to tempt me. This year I've had my eye on quite a few biker & riding style boots, I don't actually have any good flat boots so I can totally justify a pair of those. I just can't decide between the metal covered Bertie ones or the strapped Steve Madden ones though! Are they different enough to be able to justify getting both?!
I'm also loving the sneaker style wedges that have been around for a while, I've been lusting after the Isabel Marant ones all year, but the Ash versions are also beautiful, look just as comfy & are much cheaper too.
I own endless pairs that look near identical to the Bertie platform ones, but I've still spent my lunch break trying to decide if they are too similar or not, adding them to my basket, removing them, adding them again…