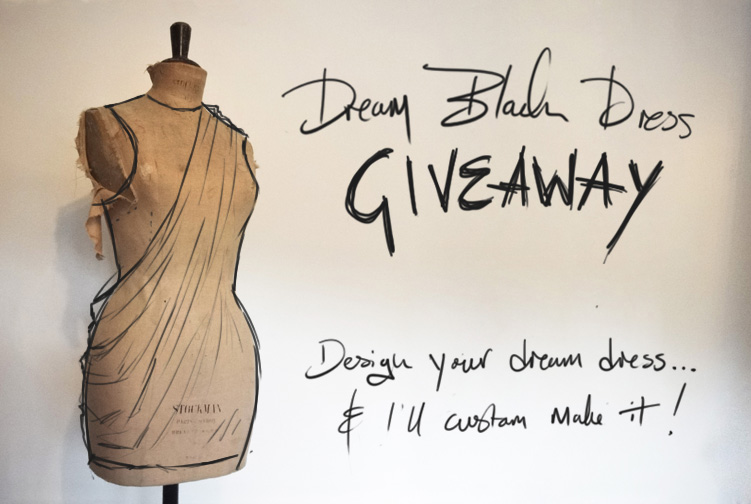 Yesterday was FAIIINT's 1st birthday! I can't actually believe I've been doing this for an entire year already, it's come around so quickly, but I've loved every minute of it & have been given some amazing opportunities I'd never have dreamed & met some awesome people too, all thanks to this blog. The biggest thanks however needs to go to all of you guys who keep coming back to read it & make my day with your lovely comments!
As a way to thank you all, I thought it would be the perfect excuse to hold my first giveaway!
I wanted to do a giveaway that everyone would really love to win, so I thought what better than to do a personalized one! The winner will get to design their dream black dress, which I will then custom make for them, to their measurements & in their choice of fabrics. I'll be on hand to offer advice or help in the design process, but ultimately it'll be down to you. The result will be a total one-off, made from beautiful fabrics & custom fit to you're exact measurements.
The Rules :
✚ The dress must be predominantly black. It's kinda my thing, so I'm sticking to it! You are allowed to include a little colour if you wish though. It also must be a dress!
✚ I will not make you a copy of a designer or high street dress you like. If you want a copy of one of my own designs, that's fine, but I'm not knocking off others work.
✚ The winner will be picked totally at random & this is not a contest, so don't feel you have to come up with some over-the-top amazing dress. If your dream dress is just a plain, perfectly fitted shift dress, that's fine!
How To Enter…
Follow this blog on Bloglovin' & leave a comment below with a brief description of your dream dress! It only has to be a rough idea, don't worry about the little details!
For Extra Entries :
( Please note in your comment if you have any extra entries! )
The giveaway is open internationally & anyone can enter. I know the blog is mostly read by girls, but guys, I don't want to leave you out, so feel free to enter & if you win we'll discuss a menswear alternative!
The winner will be picked at random on the 30th November & announced here later that day. Good luck!
PS: You can view previous examples of clothing I've made & worn on the blog by clicking on the 'Made' category!
Giveaway is now closed! Thanks for all your entries!