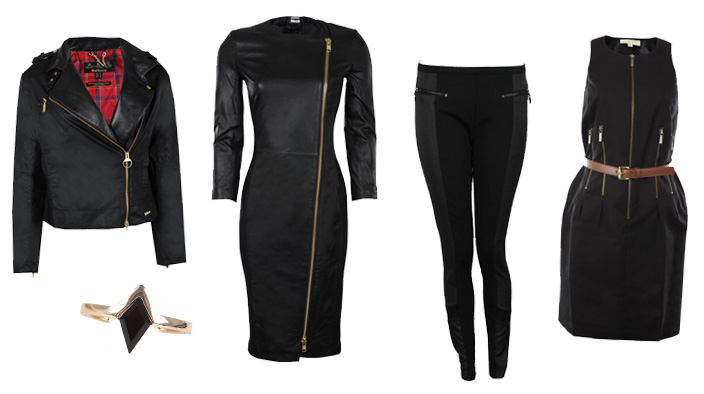 Barbour Waxed & Leather Jacket / By Malene Birger Leather Dress / Firetrap Leggings / Michael Kors Zipped Dress
White Leaf Rose Gold Bangle
Psyche has evolved over the last 30 years into one of the UK's leading designer concept stores, stocking a mixture of premium designer labels & more accessible brands, meaning there is something for everyone.
I have totally fallen for the Barbour jacket, the leather collar & lapels are such a nice, subtle contrast against the waxed cotton body & the little quilted details are great touches too. I have enough biker jackets as it is, but I think the mixture of fabrics here make it different enough compared to my others to add it to my ever growing wishlist of jackets!
I'll never tire of a good leather dress either, and this By Malene Birger one is so great with it's super fitted shape, huge zip & slightly cropped sleeves, I'd defy anyone to not feel seriously amazing after they'd poured themselves into this! The Michael Kors one is also very tempting at it's current sale price, I'm not usually a fan of his & I'd definitely ditch the tan belt, but I love the zip detailing & the structured shape.
I love the two tone paneling on the Firetrap leggings, I would never usually wear leggings as trousers, but these look as though they're thick enough to do so & it would be a shame to cover up those nice zipped pockets. I'm a little obsessed with the rose gold cuff too, I think it would look beautiful worn at the top of the arm, warrior princess style!