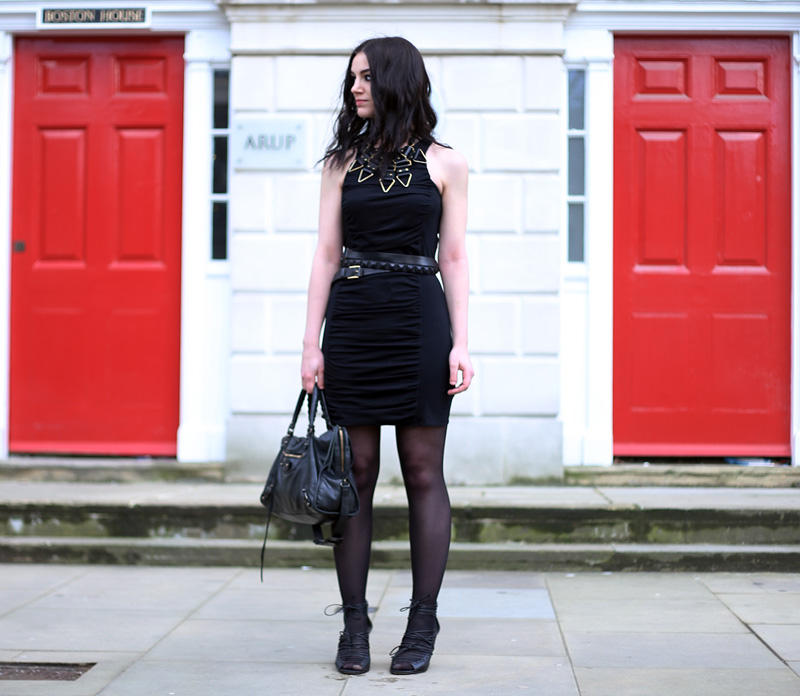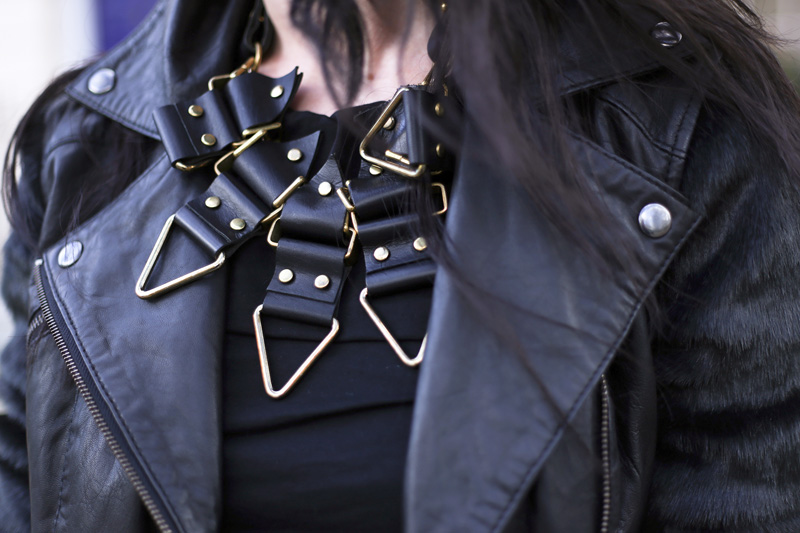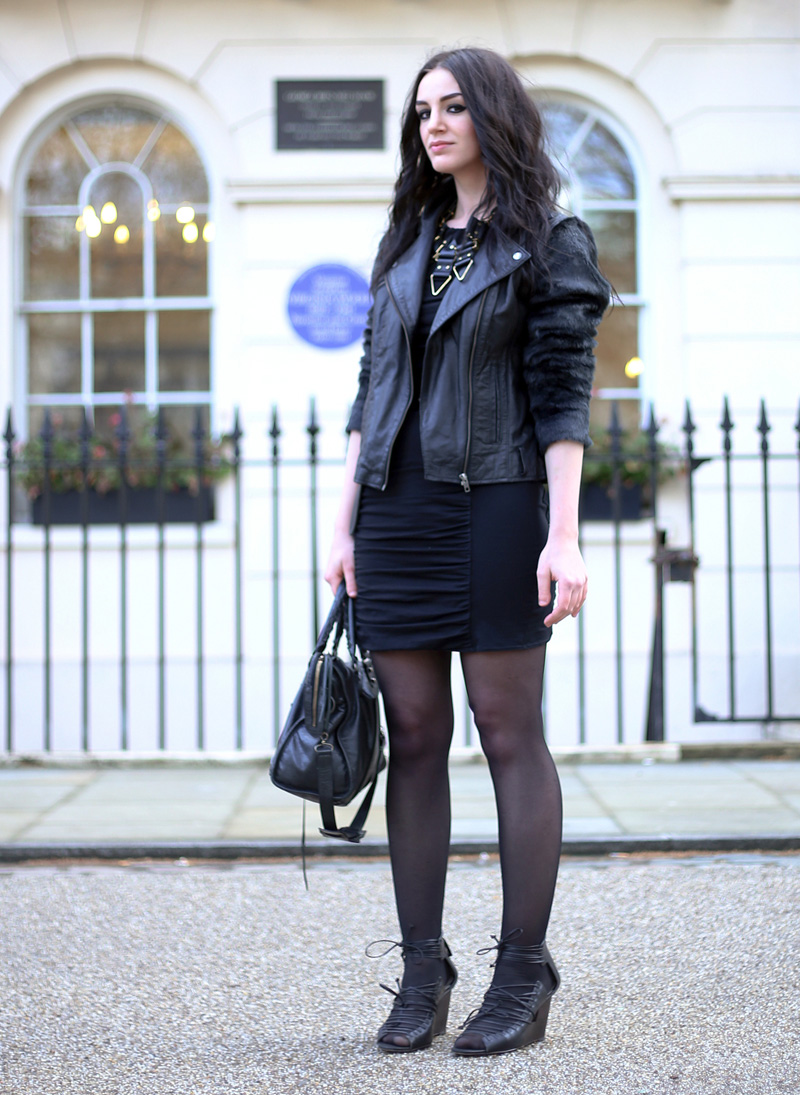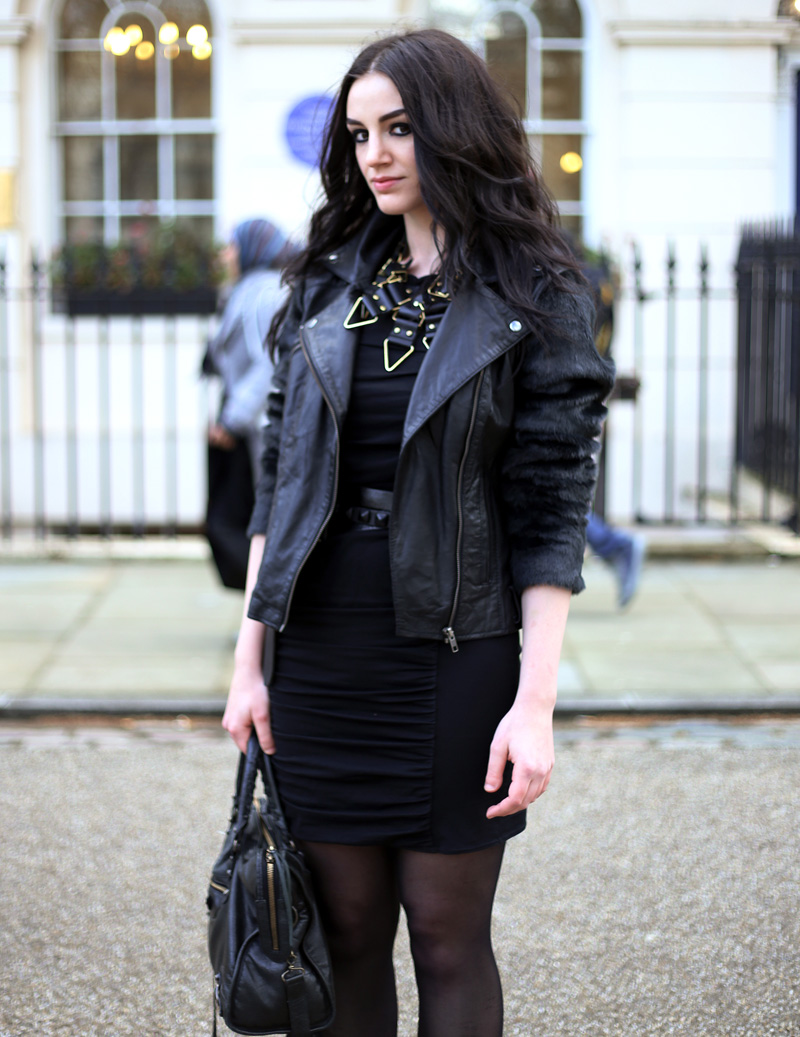 Topshop Boutique Rouched Dress / Moxham 'Anubis' Necklace / ASOS Belt / Topshop Studded Belt / ASOS Leather & Faux Fur Jacket / Finsk Wedges / Balenciaga City
All photos by Kylie at Memoir Mode
Last Thursday was the Next Press Office Take-Over, they invited a huge group of bloggers down to their offices in London to browse the spring collections & have our say over which pieces were our favourites.
I was super excited to find there was a whole rail of black & leather, with so many pieces I'd love to get my hands on & I even found myself falling totally in love with a printed maxi dress & a striped pair of jeans. Next have definitely been upping their game over the last few seasons & I urge you to go check out the new season pieces if you always assumed it was a store more to your Mums taste than your own, I think you'll be surprised!
Unfortunately Ollie couldn't come, and as I am totally hopeless with a camera I got no photos of the actual party. It was one of the best I've been to though, we danced to cheesy 90's tunes, drank champagne & cocktails, browsed the rails & ate as many retro sweets as we could manage. I was having so much fun I didn't want to leave & I'm still working my way through my leftover bag of flying saucers, fruit salads, sherberts, cola bottles, marshmallows & candy bracelets!
I met up with Tara & Kylie for something to eat before we headed over to the event, I had such a great time with these girls & I'm already looking forward to seeing them again soon! We got there a little early, so decided to go over to a quieter street & shoot our outfits. Shooting outfits with other bloggers is so much more fun than usual, they know exactly how it is, so it feels more relaxed & less awkward, being in a group seems to draw way less confused stares from passers by too! Huge thanks to Kylie for the lovely photos.
And if there's one thing bloggers love, it's a photobooth. I think we spent the majority of the night dressing up & taking silly snaps, so I shall leave you with a few of those & a couple of images courtesy of Next of the party…