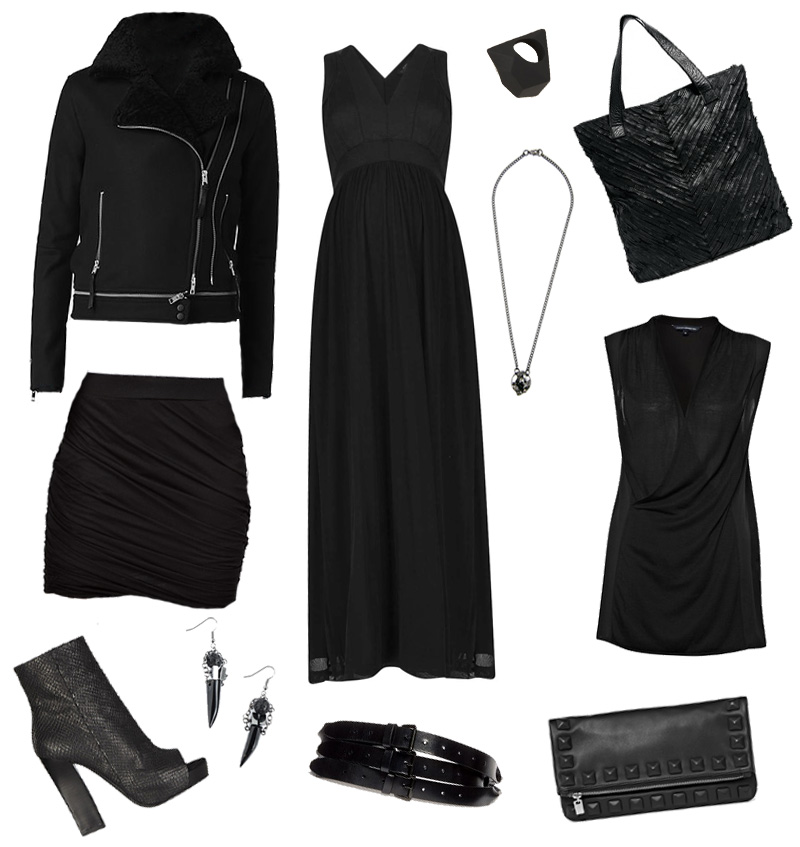 AllSaints Wool Biker Jacket / Topshop Bandage Maxi Dress / Marc by Marc Jacobs 'Rock' Ring / Pieces Leather Shopper /
Just Female Drape Skirt / Estelle Deve 'Lys' Necklace / French Connection Jersey Top /
AllSaints Snake Boots / Maria Lau 'Two Planets' Earrings / Ann Demeulemeester Triple Belt / French Connection Stud Clutch
I'm back from my little holiday break, I hope you all had a wonderful Christmas & an awesome New Years Eve! I always find it a little scary at the start of a new year, 2014, where the hell did the last year go?! To be honest though, I'm glad to see the back of it, 2013 was definitely a bit of an unlucky year for me & I'm hoping to make up for it throughout this one.
I usually get given money for Christmas, instead of presents, so I always look forward to the January sales & making the most of the discounts. The highstreet actually seems to have a lot of good stuff on sale this year, which is nice, as I normally find it a bit disappointing. I know all of these stores will have a further markdown in a few days though, as they always do, so now I'm trying to decide whether to buy now or wait – especially with the AllSaints wool jacket, I'll kick myself if I buy it & it's then discounted even more, but I'll also do the same if I wait & it sells out!
I know the Topshop maxi is technically a maternity dress (and no I'm not trying to tell you anything!) but I figure with something as billowy as this a little extra fabric won't be any issue. It's already on it's way to me along with the Just Female drape skirt, French Connection top & the AllSaints boots, so fingers crossed they all fit & that the dress doesn't make me look pregnant! I am a little worried about the boots though, they are gorgeous but look very narrow fitting, I think I may cry if I can't fit my huge feet into them!