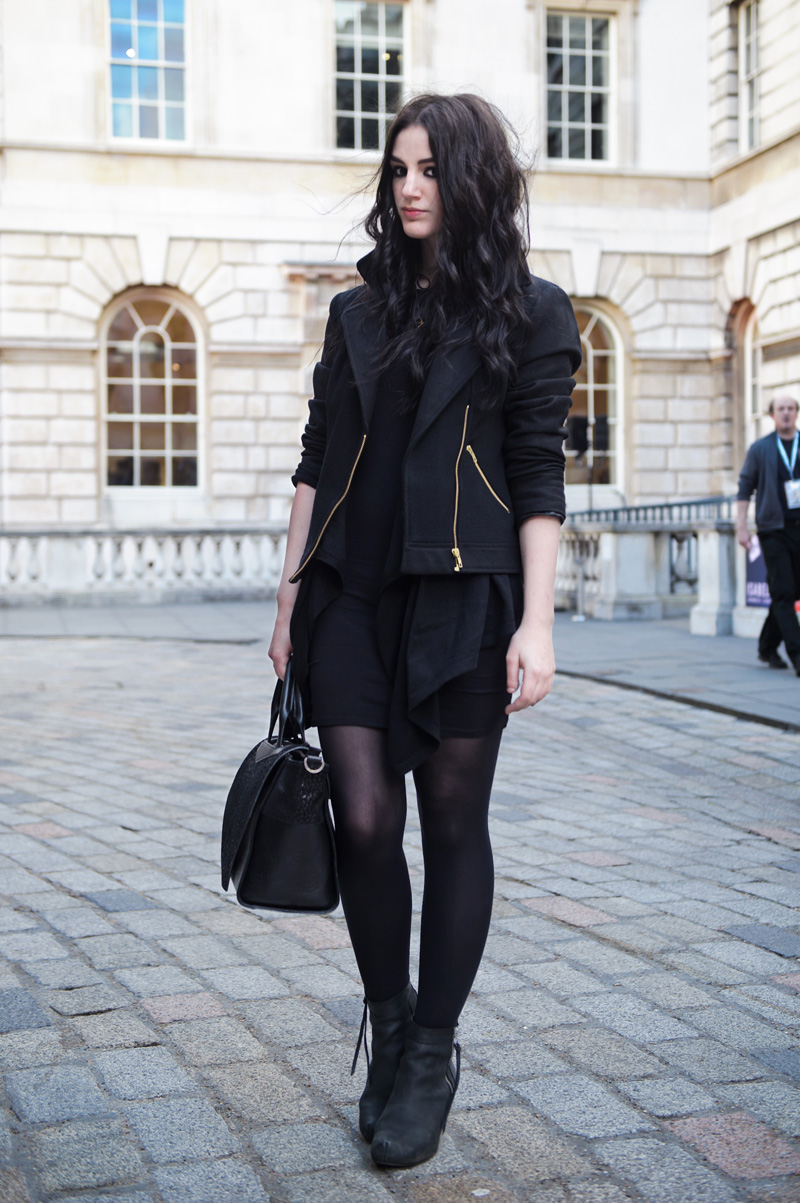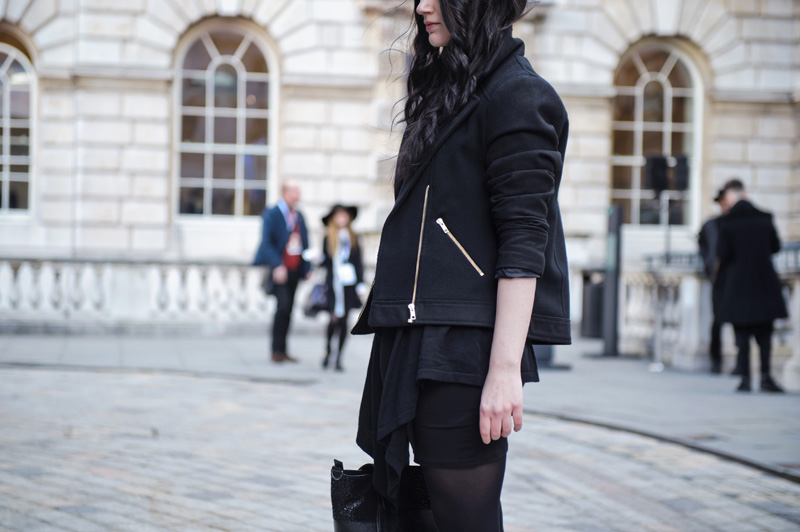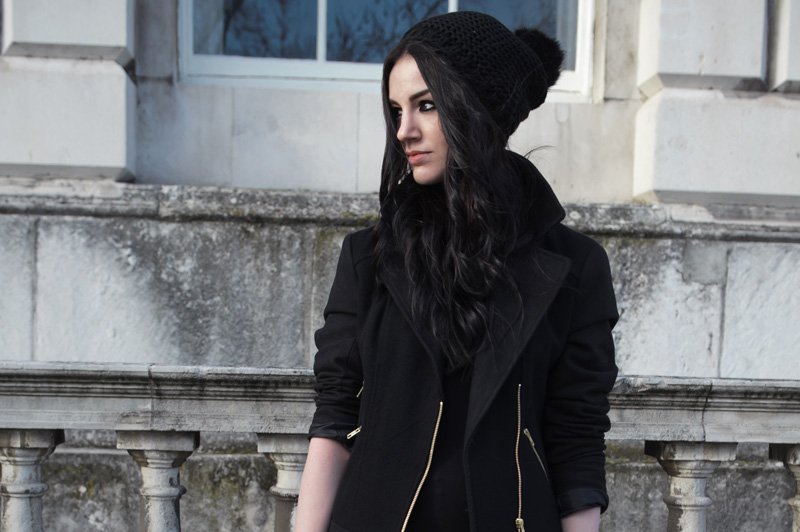 George at Asda Wool & Twill Biker Jacket * / ASOS Waterfall Cardigan / George at Asda Basic Dress * / Kurt Geiger Wedge Boots /
Bracher Emden Classic Bag / George at Asda Beanie *
Although I wasn't able to do London Fashion Week last week due to being snowed under with work, I did manage to sneak in a trip to London Fashion Weekend on Saturday for a little retail therapy. I thought I deserved it as a small treat after working so hard lately!
For those of you who aren't sure what London Fashion Weekend is, it's basically a sort of shopping festival held at the home of LFW, Somerset House. There's discounted designer shopping, pop up shops, hair & beauty rooms, catwalk shows, panels & talks from leading industry experts and even a little live music thrown in too.
I know a lot of people like to get dressed up for things like this, but for me when I know I'm going to be on my feet all day & pushing my way through crowds in tiny rooms, I'd much prefer to be comfortable. These Kurt Geiger wedges have become my go to comfy shoe lately, they go with everything & I can walk around all day in these without any discomfort at all. My new biker jacket from George was an obvious choice too, can you believe it was £30 (now £15 in the sale)?! It's hard to see here, but the body is a twill weave & the collar/sleeves are brushed wool, this subtle attention to detail makes it look far more expensive than it's tiny price tag & it falls perfectly between casual & smart too, I know I'm going to get a lot of wear from this.
The main draw of the event is of course the discounted shopping, but I didn't actually come home with anything, despite being tempted by quite a few things & their discounts. I didn't want to get caught up in the low prices & buy things that I didn't love, purely for the sake of getting something at a good price. Isn't that always the case though, when you set out for a day of shopping you can never find anything you actually want to buy! As soon as we arrived I made a beeline for the shoes, but I was sorely disappointed to find there was no Finsk stall this year, as I was hoping to score a discounted pair of their wedges. Miista & Atalanta Weller both had some beautiful pieces for sale however, and I'm a little bit annoyed Ollie managed to talk me out of buying those beautiful blackened silver boots! It was Tessa Metcalfe's bird claw necklaces that totally stole the show for me though, I'm still daydreaming about them now!
I think Laura Welsh was probably the highlight of our day, performing live in the Levi's Reveal Studio it was such a pleasure to hear her live in such a small space, her voice is so soulful & gave me literal goosebumps. I have a feeling that it won't be long before you're hearing a lot about her! We also went along to the Isabella Blow: Fashion Galore! exhibition, though sadly no photography was allowed so I have nothing to actually show you from that, but there may be a few sneaky photos on my Instagram if you're curious! I'll just say that it was the other highlight of my day & is well worth visiting if you're in London before it finishes, especially if you're a fan of the woman herself, Alexander McQueen or Philip Treacy, there are some spectacular pieces on show!