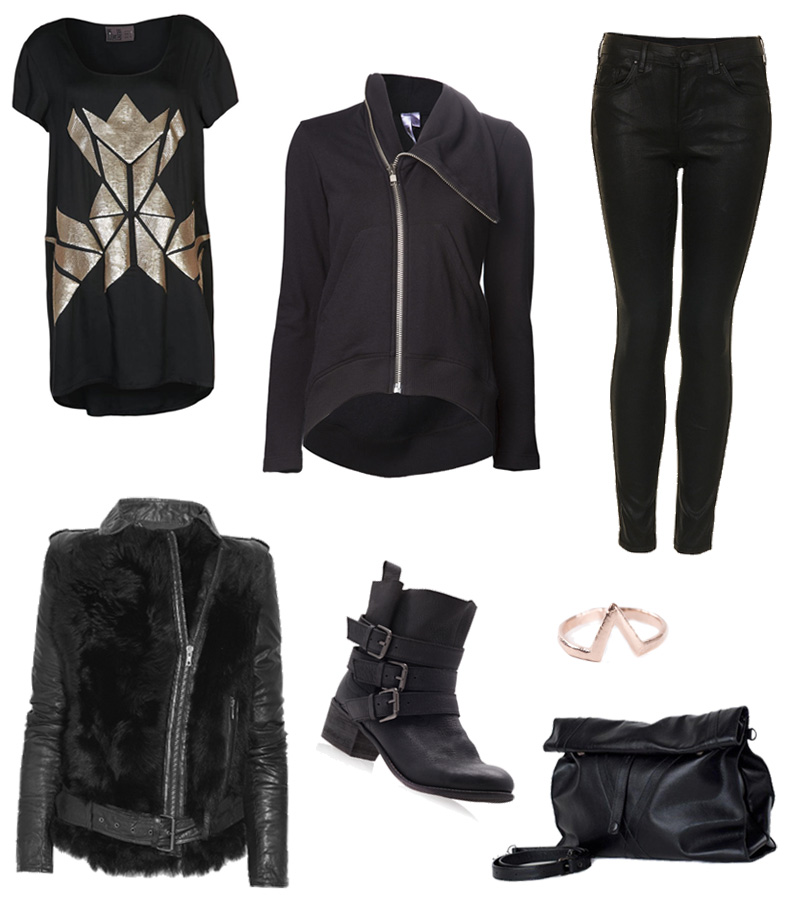 Hunt No More Sequin Geometric Tee / Wilt Asymmetric Jacket / Topshop Coated 'Leigh' Jeans /
MuuBaa Shearling Leather Jacket / Carvela Buckled Boots / Bjorg 'V' Ring / Asya Malbershtein 'Transformer' Bag
The never-ending rain for the past week means I have been hiding inside pretty much all week, and haven't ventured out for long enough to shoot today's usual outfit post. I so wish I had a nice plain wall inside that I could use as a background when the weather's like this – which is most of the time at the moment! Instead I thought I'd do an outfit collage of things I wish I was wearing to slouch around in on this miserable day.
I already own the Topshop coated jeans, they are one of my favourite pairs & the Carvela boots are currently on their way to me as well. It's so hard to find a real good pair of flat boots, every time I order a pair I end up disappointed when they arrive & they get sent back, so I'm hoping these are a good fit & look as nice as the photos. I'm very picky about them though, so if you don't see them around here soon, it's safe to say they've been returned!
I've been meaning to get a new hoodie or casual jacket for a while now, and this one from Wilt ticks all the boxes, except for the fact it has no hood, but I do think the nice asymmetric collar makes up for that and it's the perfect shade of washed black too. I want to layer it up under all of my leather jackets, with the unzipped collar peeking over. It's making me crave this fuzzy shearling leather from MuuBaa too, to add extra texture & interest to otherwise super casual outfits.