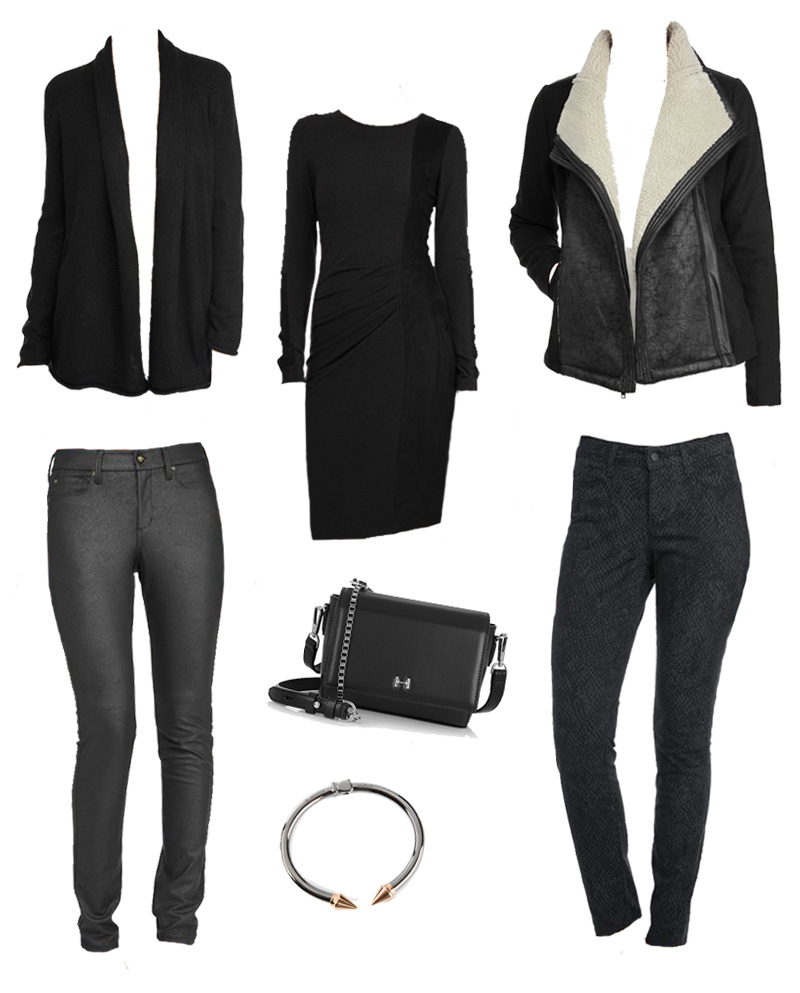 Chunky Cardigan with Faux Suede Patches / Panelled Faux Suede & Jersey Dress / Faux Leather & Shearling Jacket /
Pebbled Leather Effect Jeans / Leather Shoulder Bag / Spike Bracelet / Snake Print Jeans
Jeans are one of those pieces of clothing that I couldn't live without, they are some of my favourite items that I own & I have always practically lived in my skinnies. Unfortunately though they are also one of the items that I most hate shopping for, often leaving empty handed & disappointed, or trawling through endless pairs before I finally, miraculously come across one that actually fits properly. I've been known to stick to my tried & true brands, and this takes a little of the frustration out of the whole experience but even that is no fail safe with constantly changing fits & styles. This may be why I've been known to nostalgically hold on to pairs even after they're falling apart & completely unwearable!
NYDJ are a brand I've had recommended to me a lot in my quest for great fitting denim, they are the original slimming jeans for women & each pair is made with their patented 'Lift Tuck Technology' for a slimming, smoothed out silhouette. They also stick to their signature fit for each & every pair, which is the same through the hips & thighs for all styles & cuts, so you know once you've found the one, every future pair will be that same flattering fit. I've been told by friends who are big fans that thanks to this hidden technology they will give even my boyish, non-curvy frame an enviable butt, which is basically my jean holy grail!
My favourite cut is obviously the Alina leggings, super skinny all the way down & in lots of great finishes too. Particular favourites are the snake printed pair (I can't get enough of this print on denim lately, you may have noticed!) & the pebbled faux leather trouser jeans, which would be a great option for someone like me who can't stand the sweaty, uncomfortable feel of real leather leggings, no matter how nice they look.