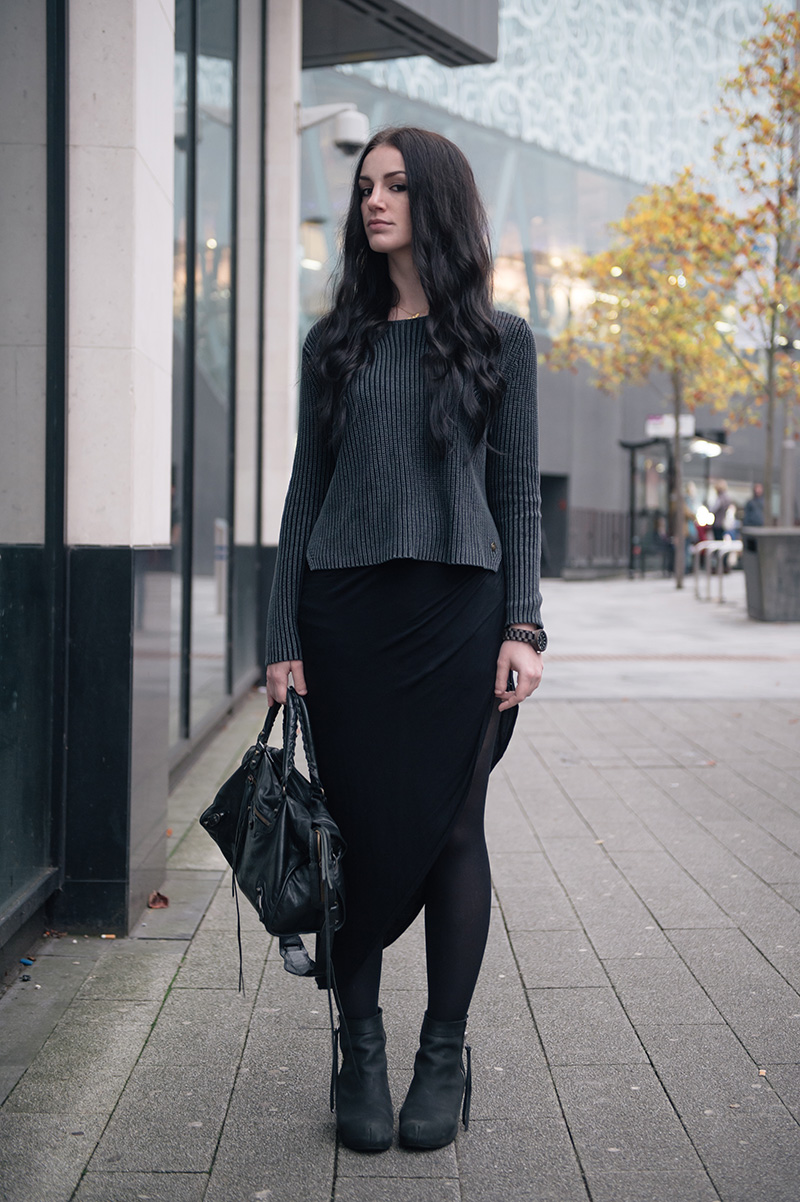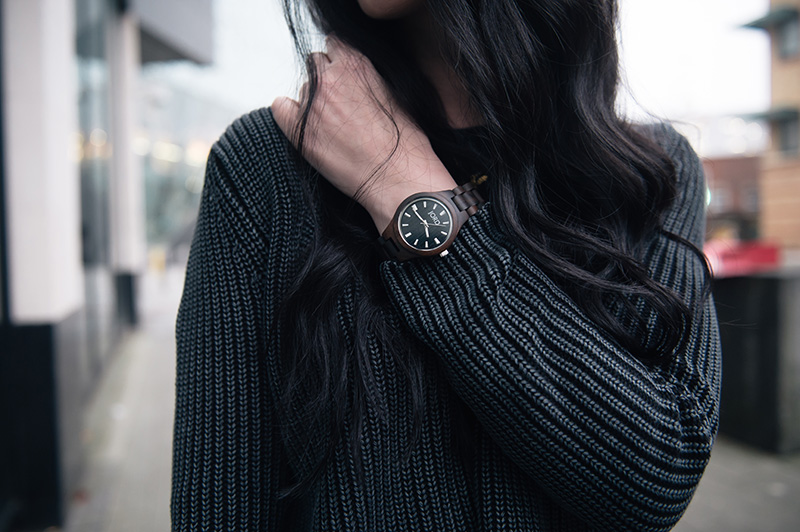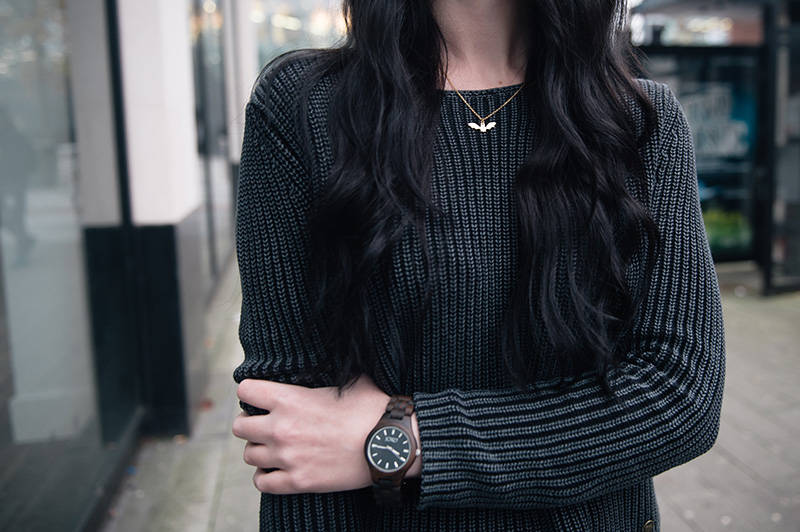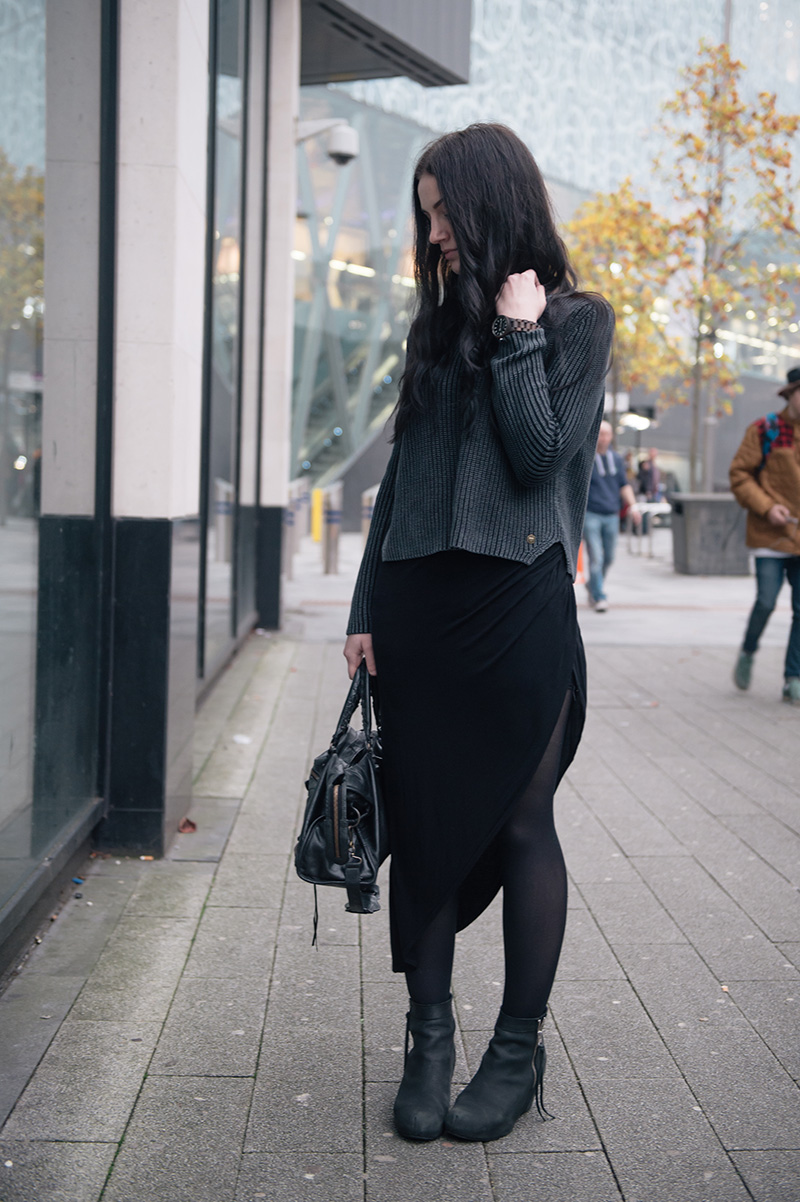 Yumi Ribbed Jumper * / River Island Asymmetric Skirt / Phoebe Jewellery Bat Necklace * /
Jord 'Fieldcrest' Wooden Watch * / Kurt Geiger Wedge Boots / Balenciaga City
The dark afternoons are sneaking up on me, not even 4pm & it was already getting dim & grey, thankfully we quickly managed to shoot this outfit before it got too dark for the camera. I love this time of the year, but it sucks to be a fashion blogger during it, too dark in the mornings, too dark in the evenings & often too busy to shoot during the afternoons when it's actually light!
I picked this jumper up along with the oxblood ombre cape (which is now finally online here!) when I went to check out Yumi's revamped Notting Hill store, and I've been wearing it non stop. I love to find nice dark grey pieces to add to my wardrobe, especially when it's knitwear & I was instantly drawn to the beautifully textured rib knit of this one. It's a cotton knit, so it's soft & smooth, with this great heaviness about it making it slouch perfectly with a really nice hang. It's the perfect thing for days like this when it's a little chilly & you just want to be comfy and casual whilst running a few errands.
I don't wear watches often, but when Jord got in touch about their wooden watches I was super intrigued. Wood is definitely not a material that springs to mind when you think of a watch, and I love the idea of using unconventional, organic materials for items like this. It has a great natural grain & colour, it's light & comfortable to wear, and the whole piece is beautifully made too. Ollie already has his eye on this one & I think they would make for an unusual & quirky gift for those people like him who are hard to buy for.