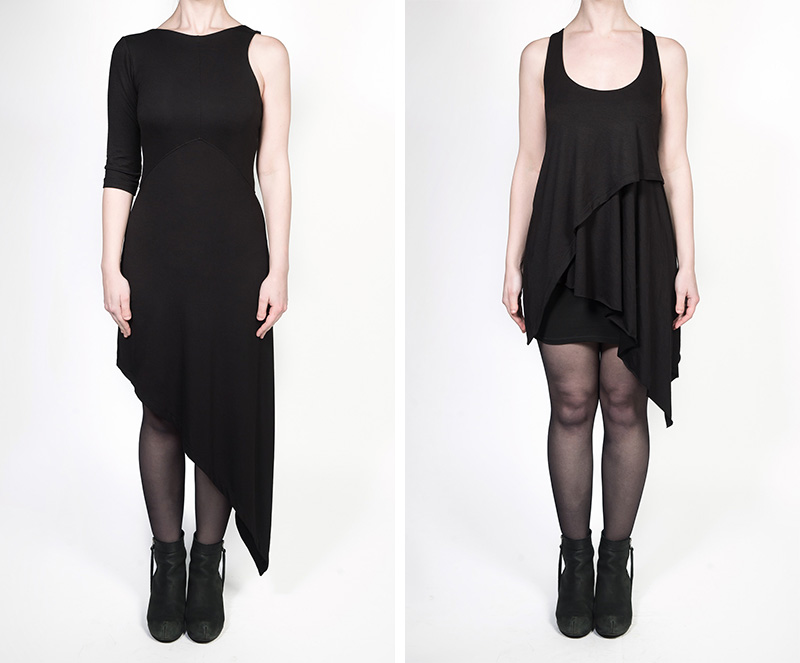 Splice Dress / Swathe Skirt / Slash Dress / Splice Tank
The first jersey pieces finally hit the store this morning! This has been a long time coming, you'll probably remember me saying that these were supposed to be in the store before the end of last year & honestly, if I believed in those kind of things I'd say someone up there is testing me after all the bad luck we've had recently. But I don't, life happens & things don't always run smoothly & sometimes you just have to give yourself a break.
My aim with these, as with the pieces beforehand, was to create a little capsule collection of the kind of basic, seasonless pieces I wished I could find in stores myself. They're not super basic, but they're basic for me in terms of them all being pieces I'd get an awful lot of wear out of & that are hard-working, being able to be paired with almost anything & dressed up or down. You probably know I'm picky about fabrics too, so I hunted down a nice soft, hard wearing & easy to care for viscose jersey with a little elastane for added stretch for all of the pieces.
I'll be adding more, including some tees once I get the hang of screen printing (sorry, I'm a perfectionist & this may take a while!) over the next months. I'd like to build up a small collection of basics that will be permanently available in the store, and then release larger seasonal collections each year, the first one being this year. I'll of course keep you guys updated when new items are released, but follow me on Twitter & Instagram if you want little sneak peaks into what's coming & giveaways, there might even be one on Instagram later today!
Shop the store & get 10% off + free shipping with code – 'JerseyLaunch'