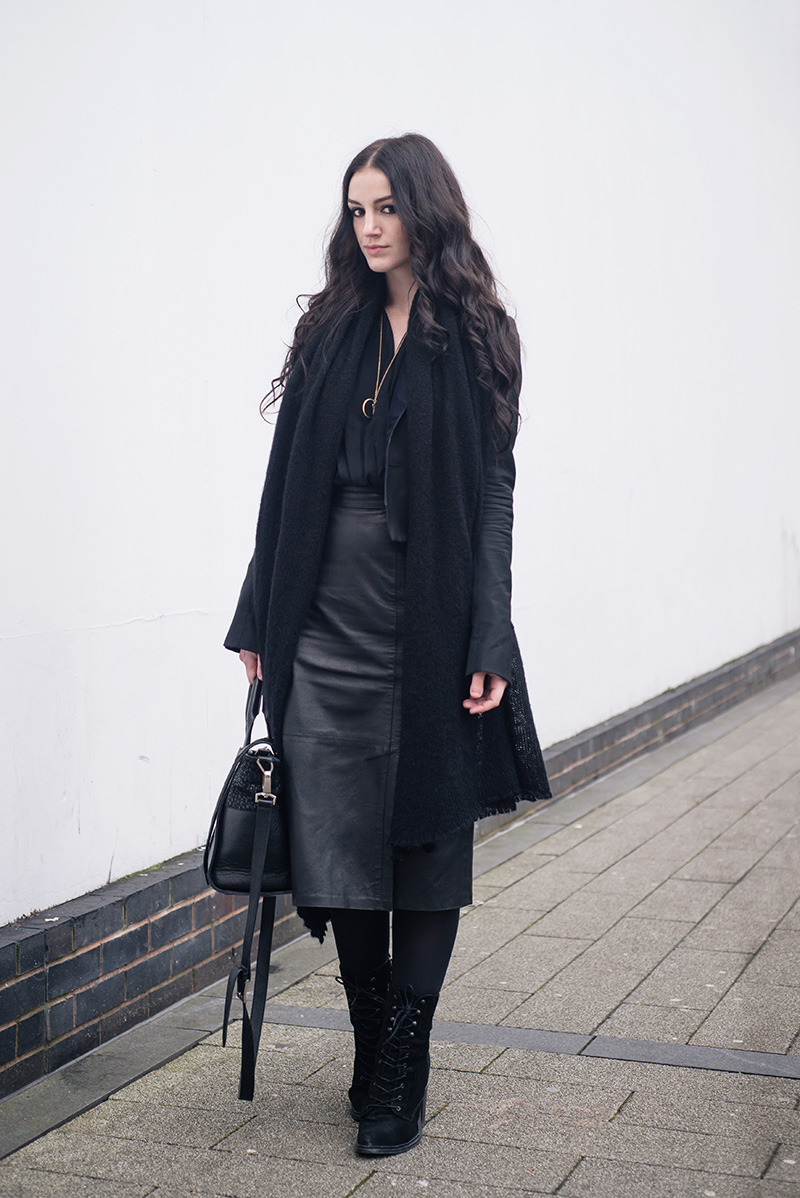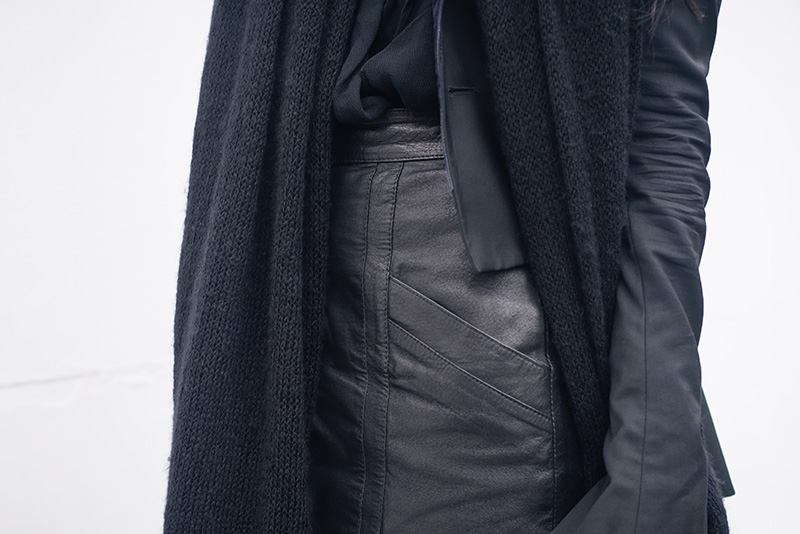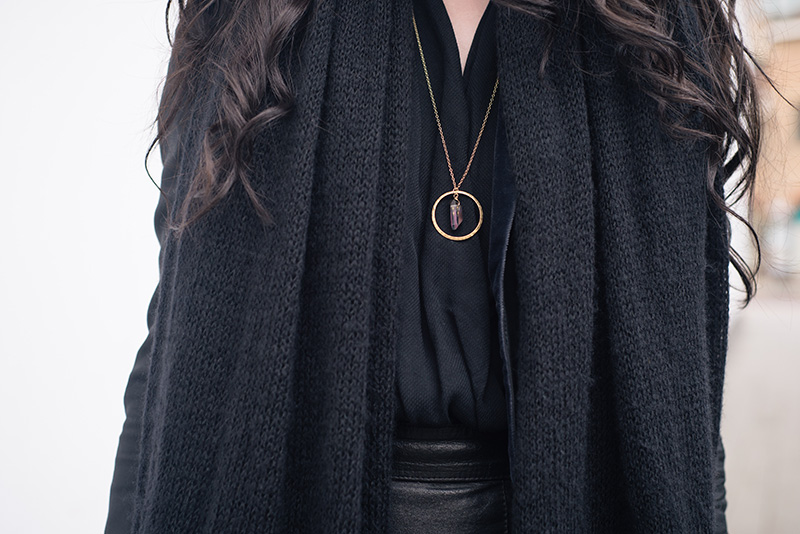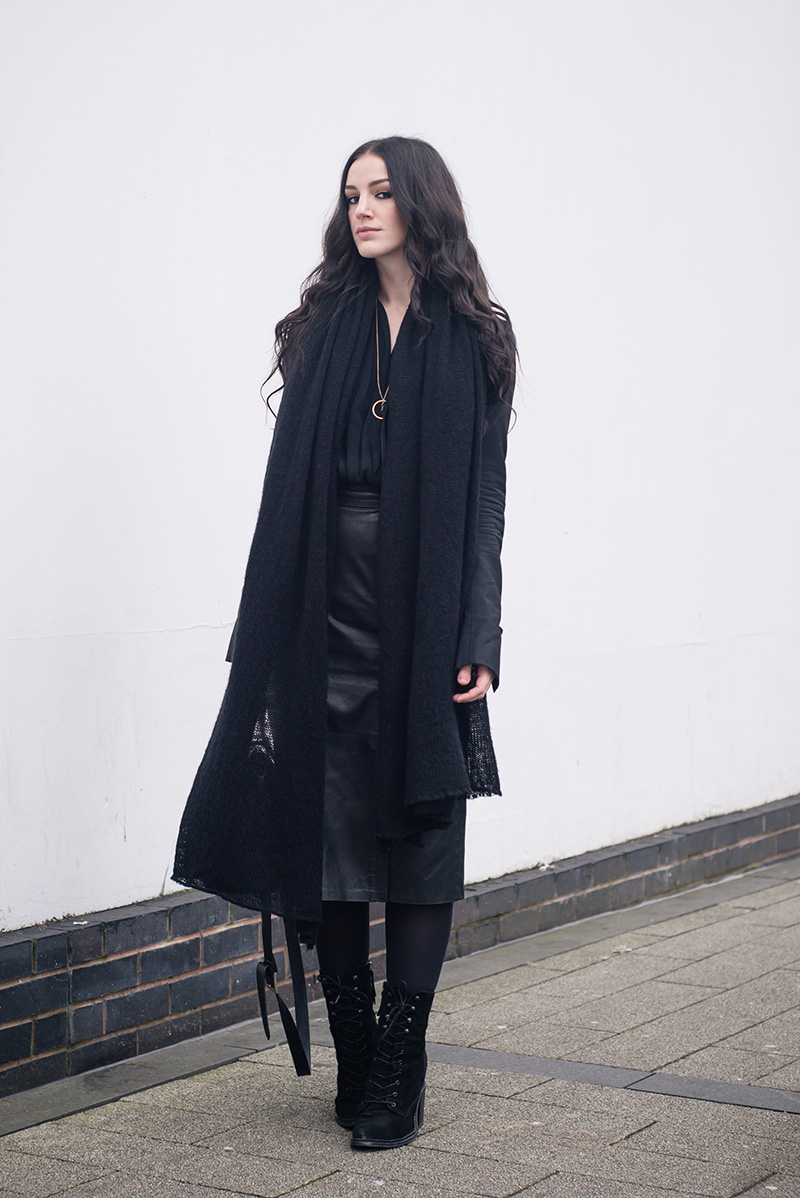 ASOS Scarf / Todd Lynn x Topshop Tux Jacket / River Island Drape Top / Brag Vintage Leather Skirt * /
Young Hearts Mystic Raw Quartz Necklace * / Kurt Geiger 'Saturn' Boots / Bracher Emden Bag
I seem to be living in pencil skirts and this fine knit scarf/shawl lately. The scarf has been permanently attached to my neck mainly for practical reasons, it's so easy to throw on and I love how it quickly adds a nice drapey element to any outfit, plus it's surprisingly huge too. I always feel so smug when I unfurl it and lay it over myself like a blanket on the bus during cold mornings and evenings, much to the envy of everyone else, it's the next best thing to getting to stay under the duvet for a little longer!
This beautiful black quartz pendant from Young Hearts has been getting so much love every time I've worn it out. Like all of their pieces it's simple, but eye catching and really let's the raw materials, here a magical rainbow black quartz, take centre stage and shine. Their gold dipped quartz necklace is still one of my most worn and favourite pieces of jewellery, and I think this one will quickly be catching up to it.
My latest pencil skirt addition is from Brag Vintage, a perfectly aged, buttery leather with a single asymmetric pocket that adds just the right amount of detail to this great staple piece. Unusually for a skirt, it fits me perfectly and I can see this getting an awful lot of wear over these cold few months. I don't own many vintage pieces myself, I'm not the type of shopper who enjoys browsing through rails and rails of random pieces hoping I may find one thing I love, I'm not even really the kind of shopper who enjoys shopping in person that much any more either if I'm honest. I'm an online shopper, I like the convenience and being able to click filter by colour: black. So it's nice to see more vintage stores popping up online, giving lazy shoppers like me the chance to find beautiful pieces like this.