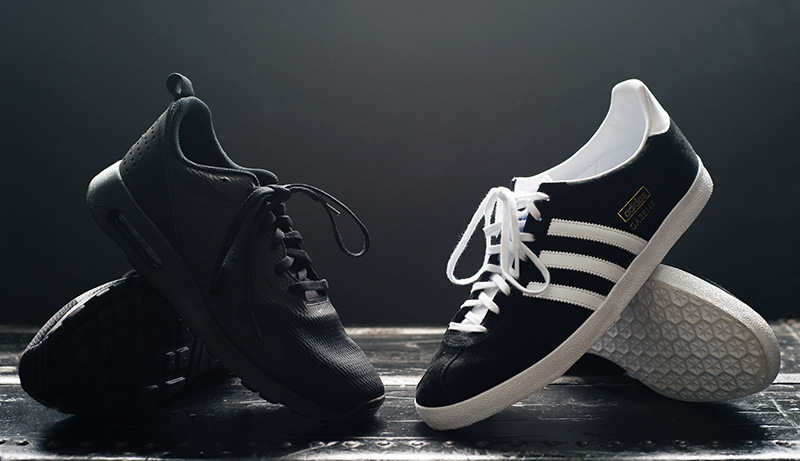 Nike Air Max Tavas Triple Black / Adidas Gazelle Black
via Infinities
One of the things that tends to happen to people that are around me often, is that they subconsciously start wearing a lot more black. And this is even more true and obvious for close friends and family. Whenever I buy them clothing or accessories as presents I just can't help myself from encouraging them over to the dark side!
With Fathers Day just around the corner I had been really struggling with what to get my Dad. He's had so many jumpers, tees and shirts from me over the past few years that his wardrobe is now bursting with them and he only has to look at at the size of the present to have a fairly good idea of exactly what it is. I needed to mix things up, so I turned to my Mum to see if there was anything he had mentioned he wanted or needed. She told me he could really do with a new pair of trainers, as his old pair were looking a bit worse for wear, so of course I couldn't pass up the opportunity to introduce a little black into his entirely white trainer collection courtesy of Infinities.
I love my own Adidas Gazelle's, they are classic, comfy and look great on everyone, no matter what your personal style. I thought they would be a good introduction to dark trainers for my Dad, with the graphic white stripes and sole breaking up the black and keeping the look quite sporty.
My own dark trainer collection is pretty well stocked, as I'm sure you can imagine, but these 'triple black' Air Max Tavas stopped me dead in my tracks as I was browsing. I mean, as if I could resist anything named triple black! I love the mixture of black on black textures here. The mesh, faux suede, rubber and coated areas make them look quite luxe, and very health goth as so many people have pointed out to me as I've been wearing them! Fingers crossed my Dad loves his, then maybe I can get him in an all black pair like these next year!