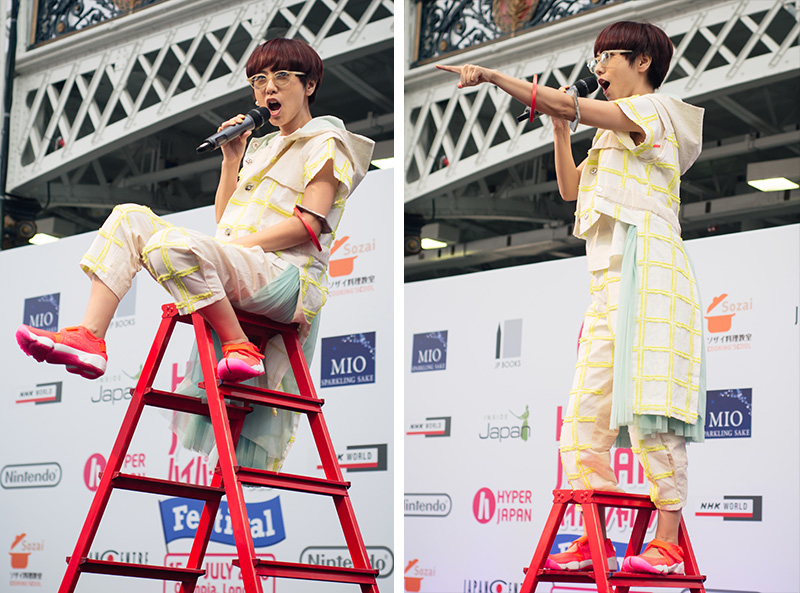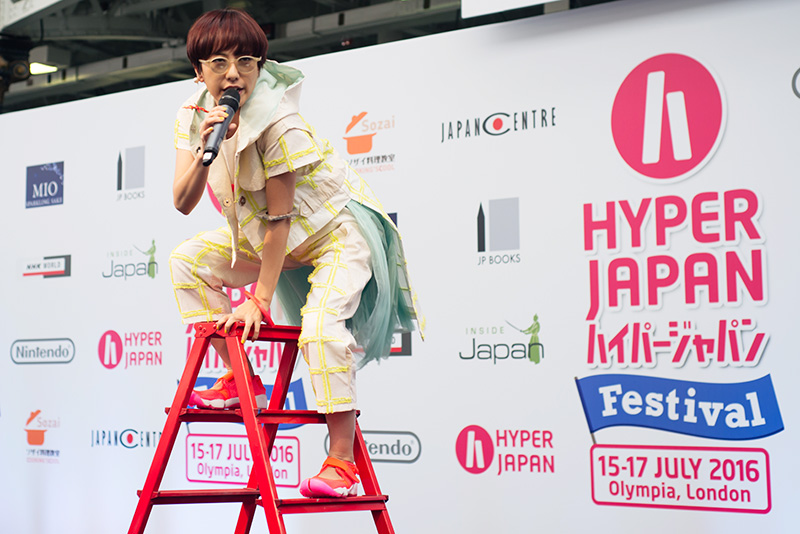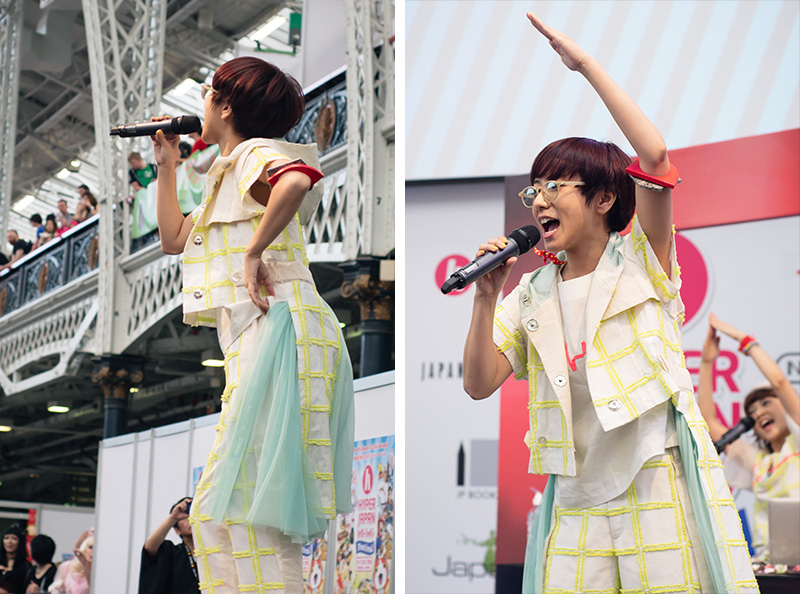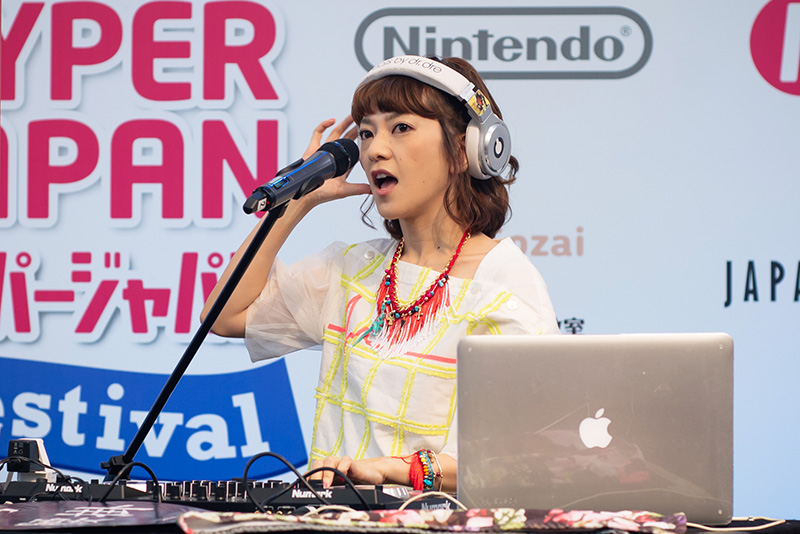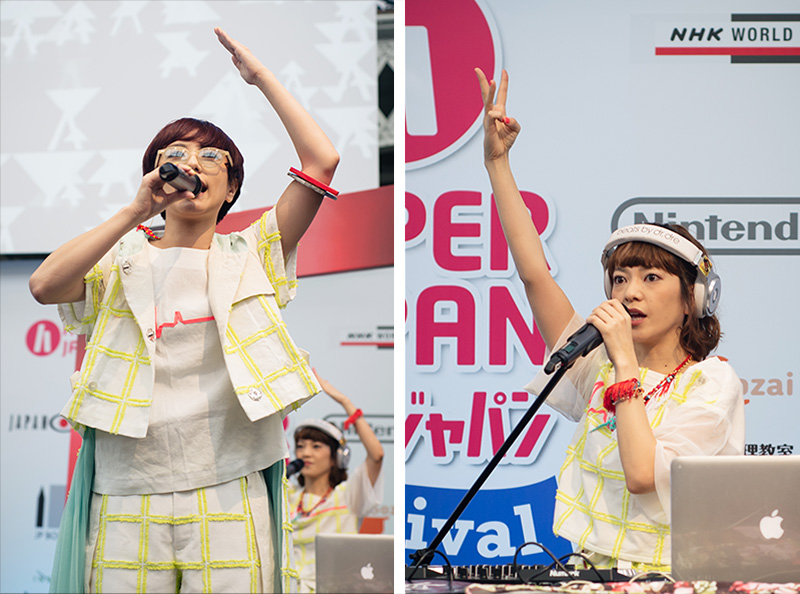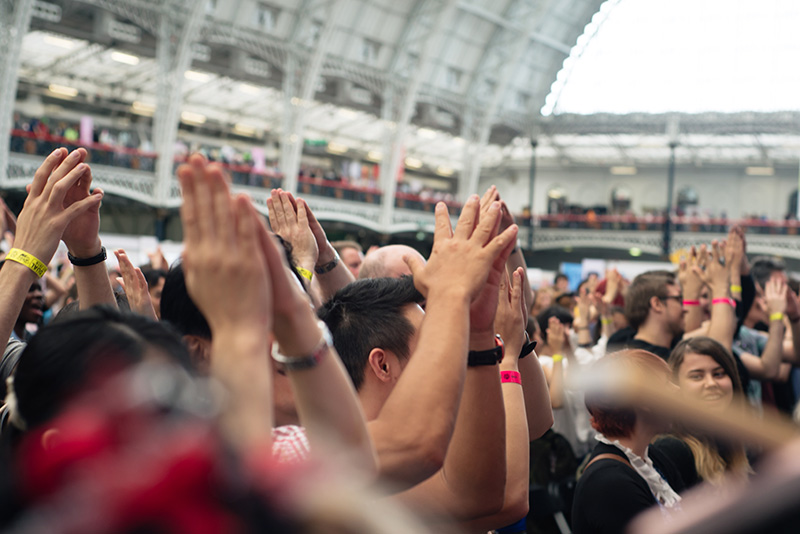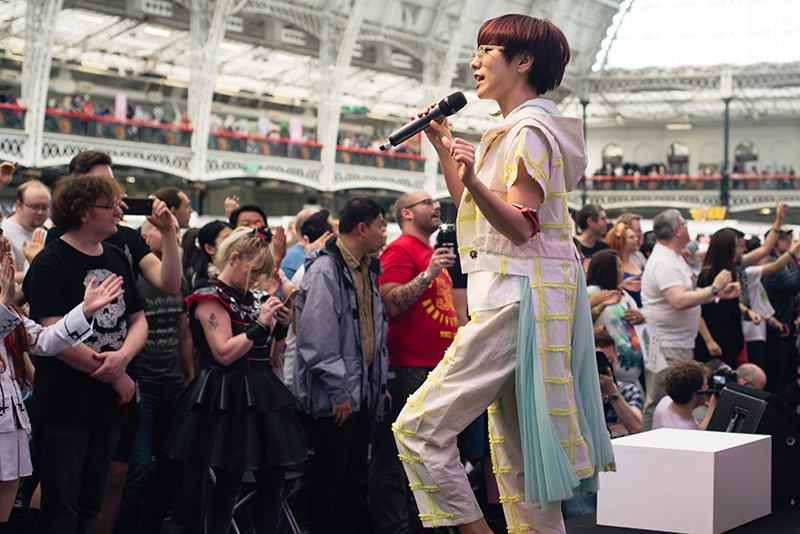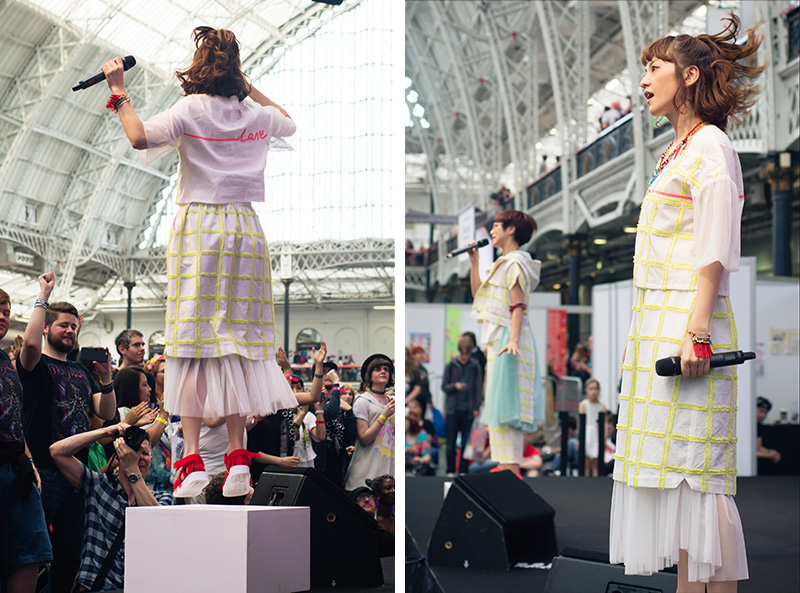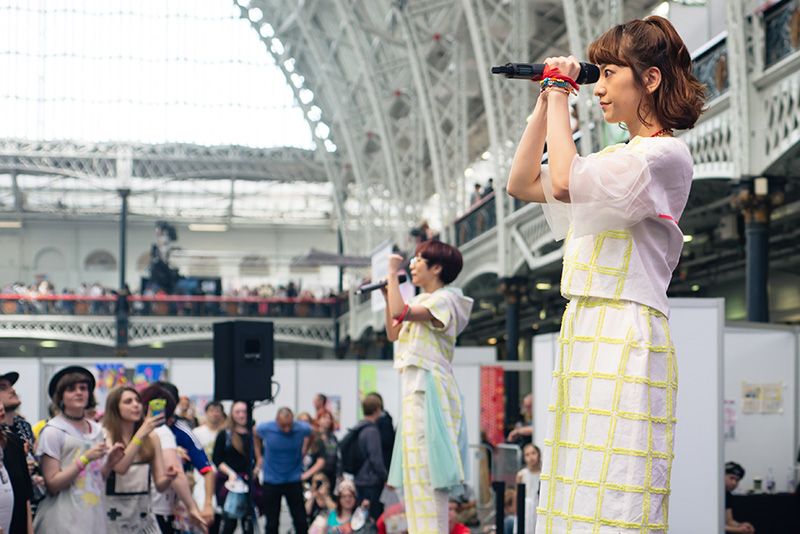 Charisma.com at Hyper Japan / Olympia, London
Last month I headed down to London with my friend Sam for Hyper Japan's 10th annual summer festival. This year the J-culture event set up home at Olympia, and whilst it was probably the smallest venue I've seen it held at, they still managed to pack plenty in.
The act I was most excited to see this time around was Charisma.com, a genre-bending OL electro rap group featuring MC Itsuka and DJ Gonchi. Their sound is quirky, high energy and dangerously catchy. I'm not sure how I first came across Hate, but it's one of those songs that ends up stuck in your head for days at a time, and it got me instantly hooked! When I saw they had been added to this years line up, I knew I couldn't miss the opportunity to catch them live.
We arrived just before their set and I must admit I was a little disappointed at first to see they were on the pop-up stage in the middle of the hall. Putting the acts in their own room made such a difference at last year's Christmas Market and gave it a much more exciting and gig-like feel. Their set definitely didn't disappoint though, the girls were full of energy and put on an amazing show that was impossible not to want to sing and dance along to. They were every bit as fun live as I had hoped and the crowd absolutely loved them. You can check out a video of their performance here (and see us obliviously getting in the way of this guys shot too! Sorry!)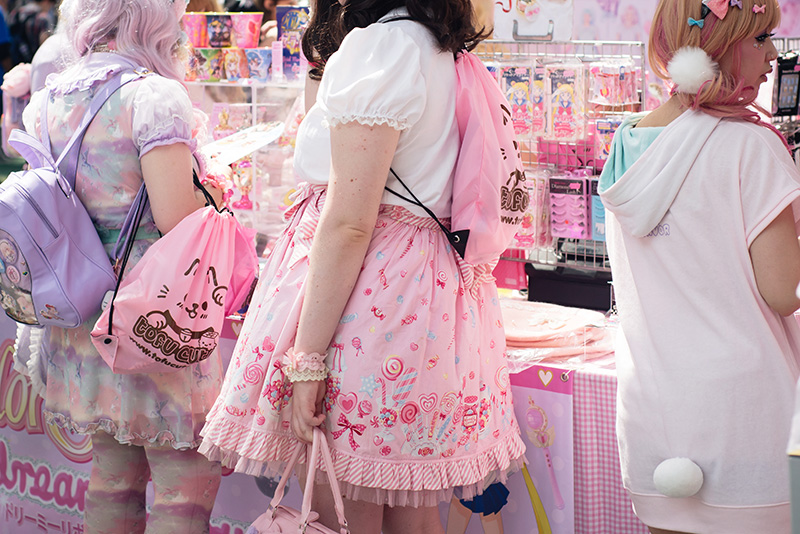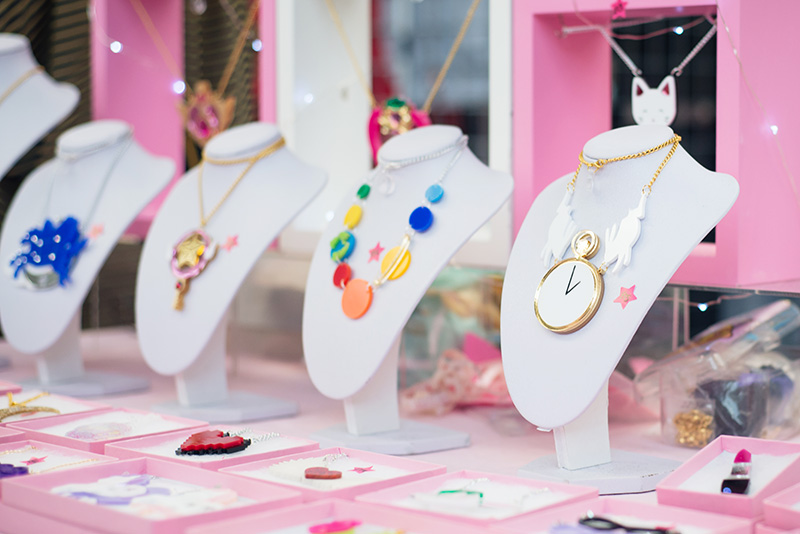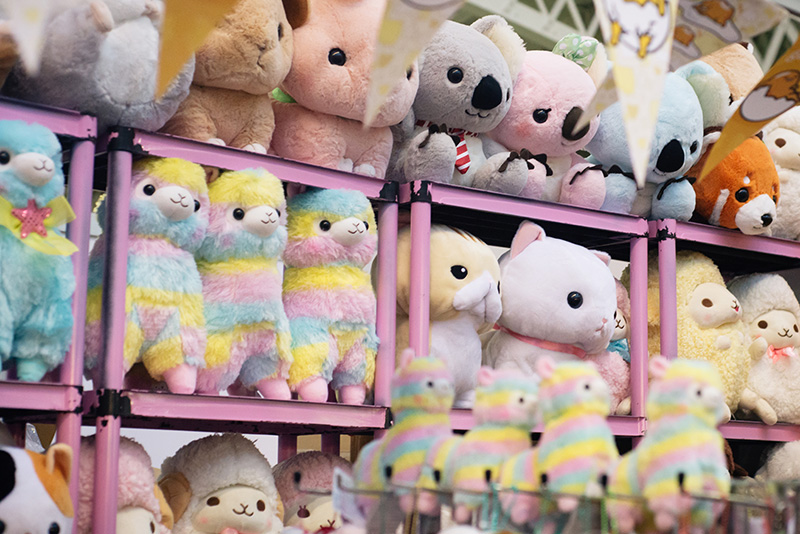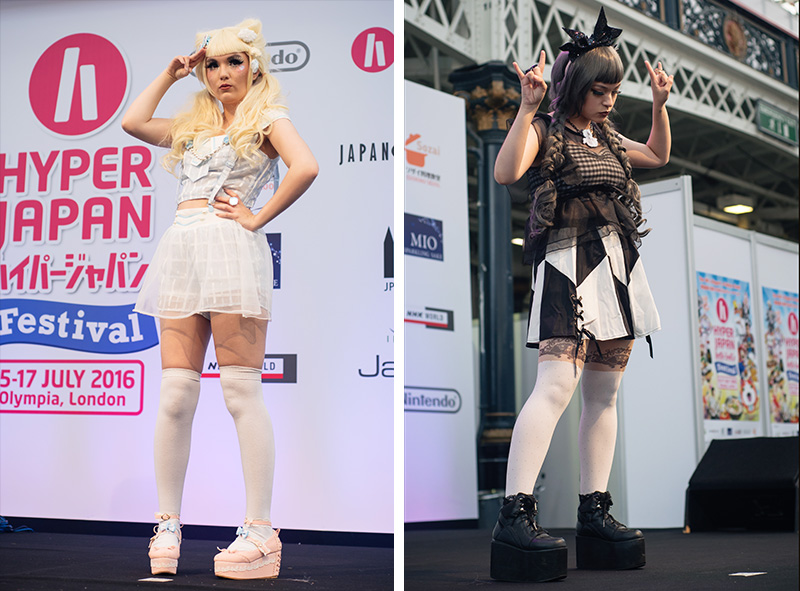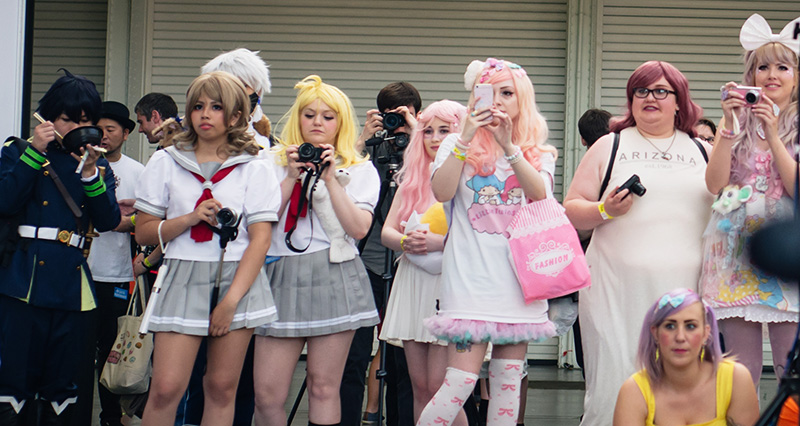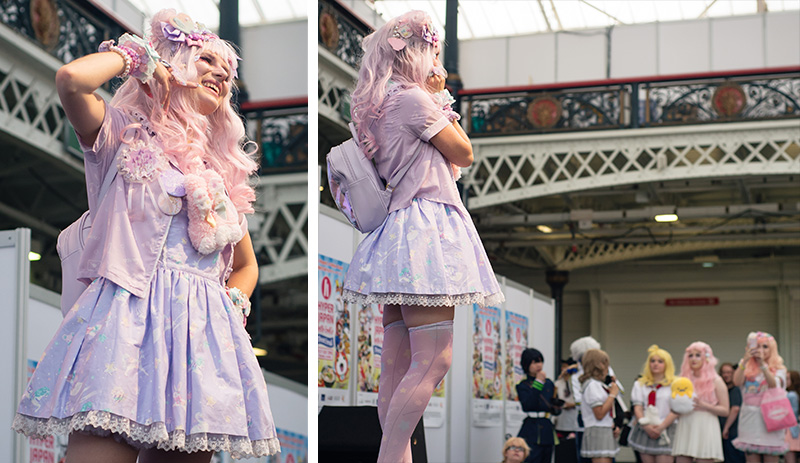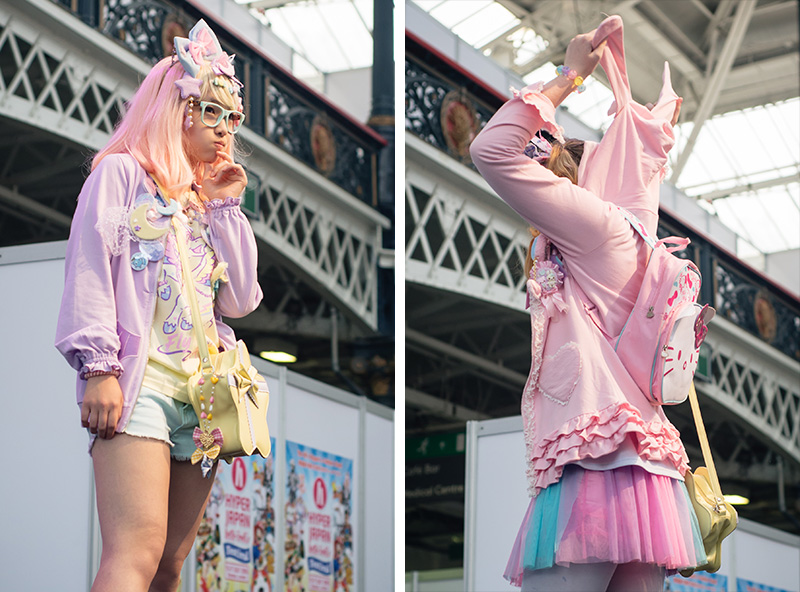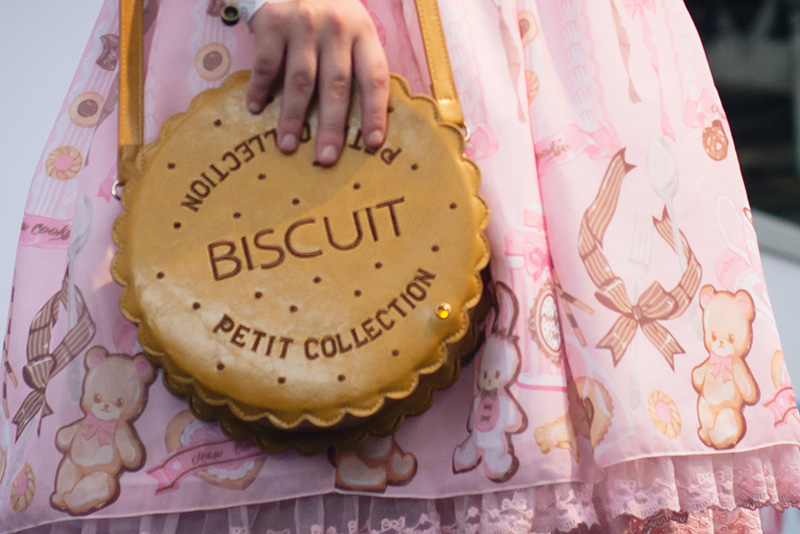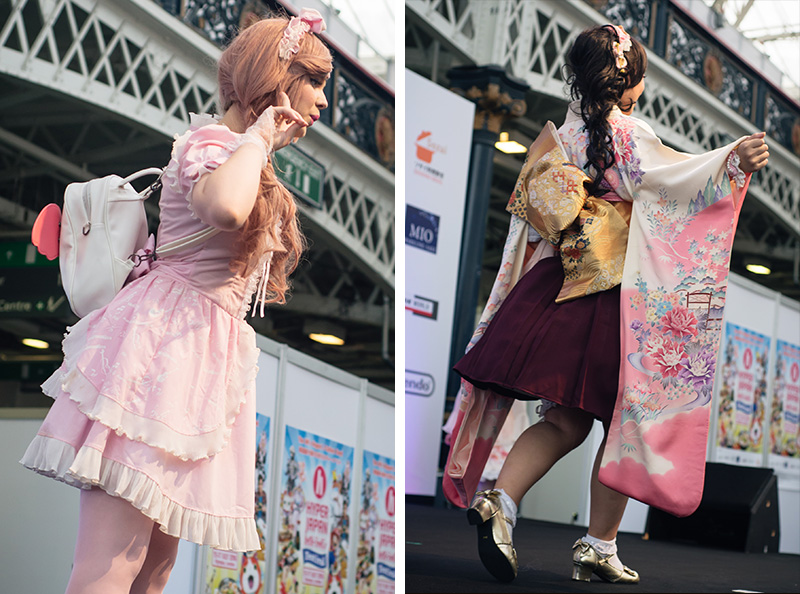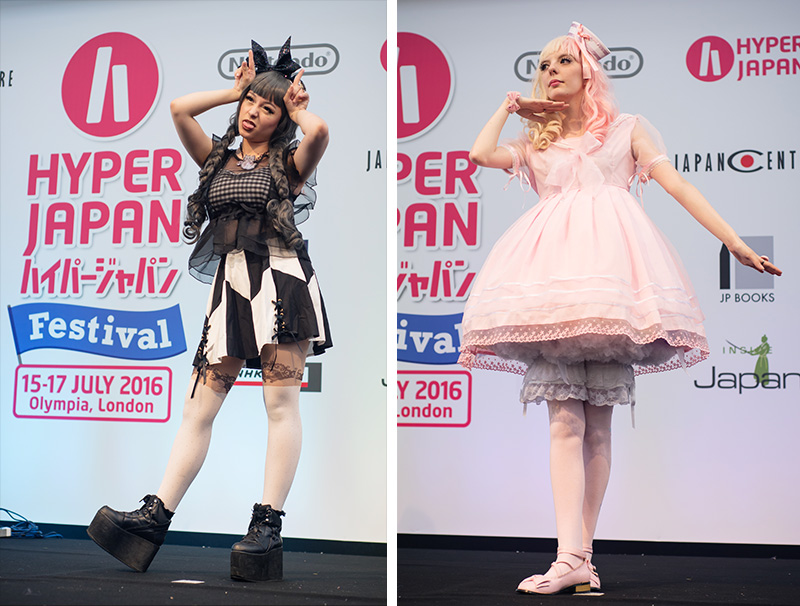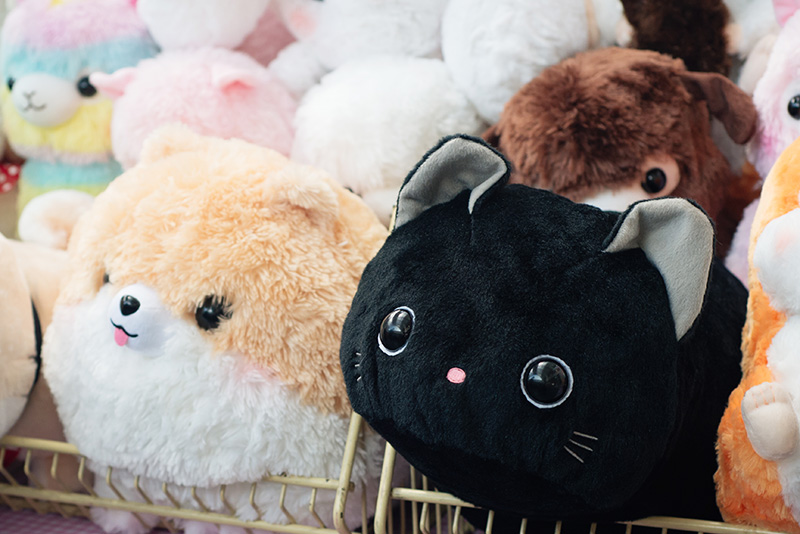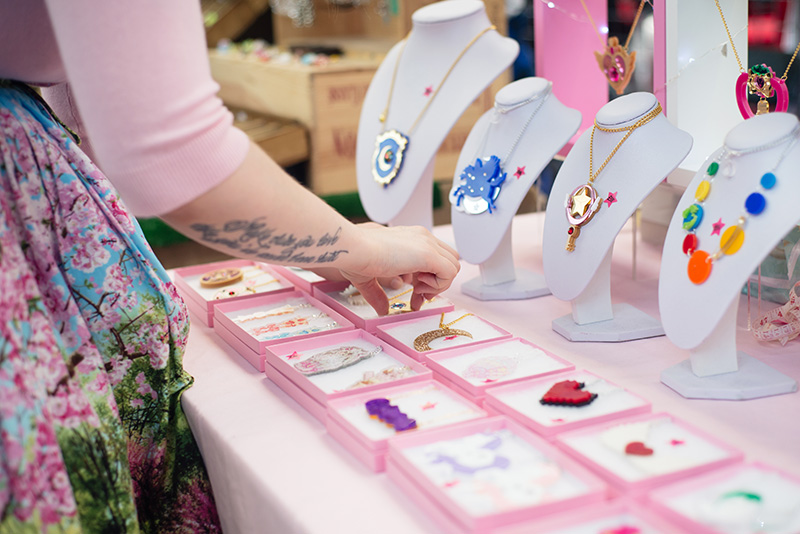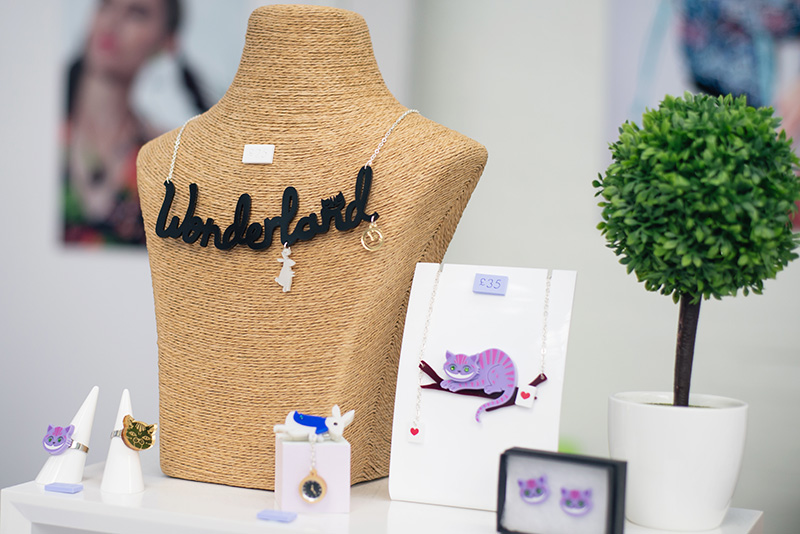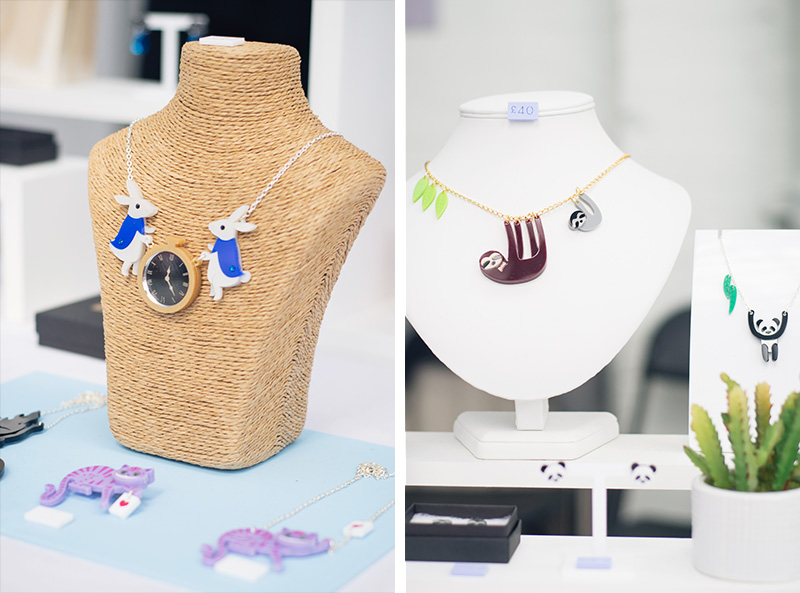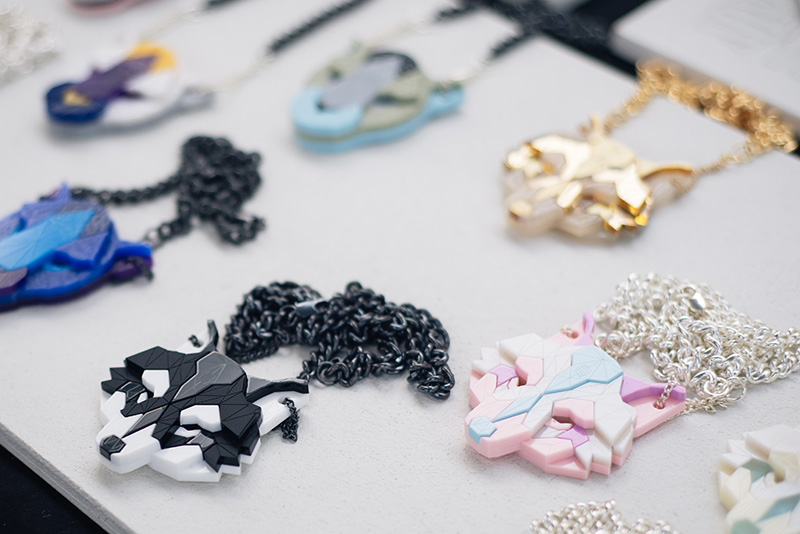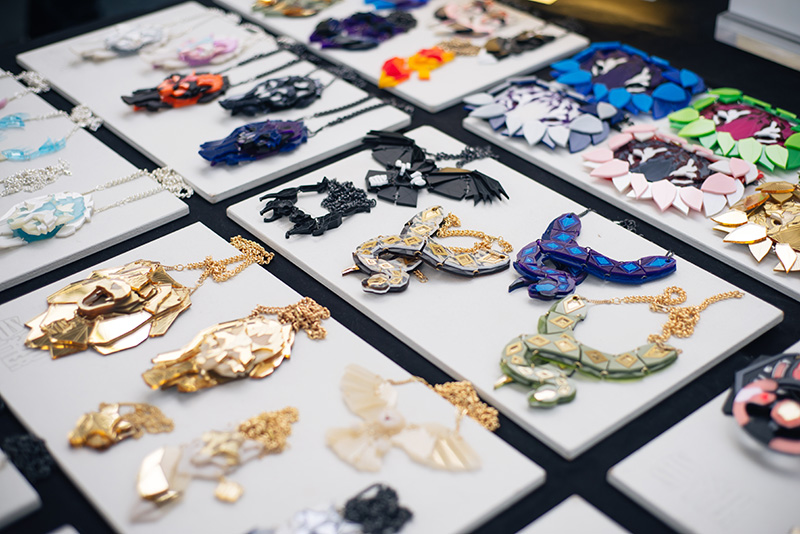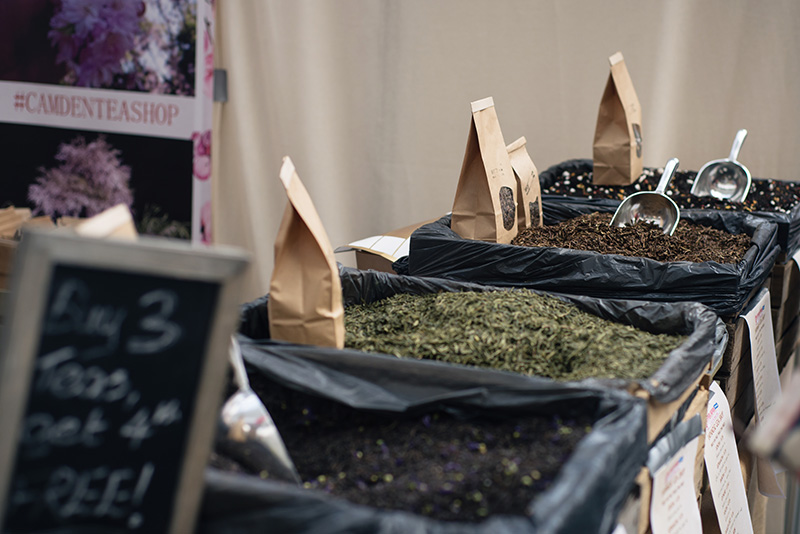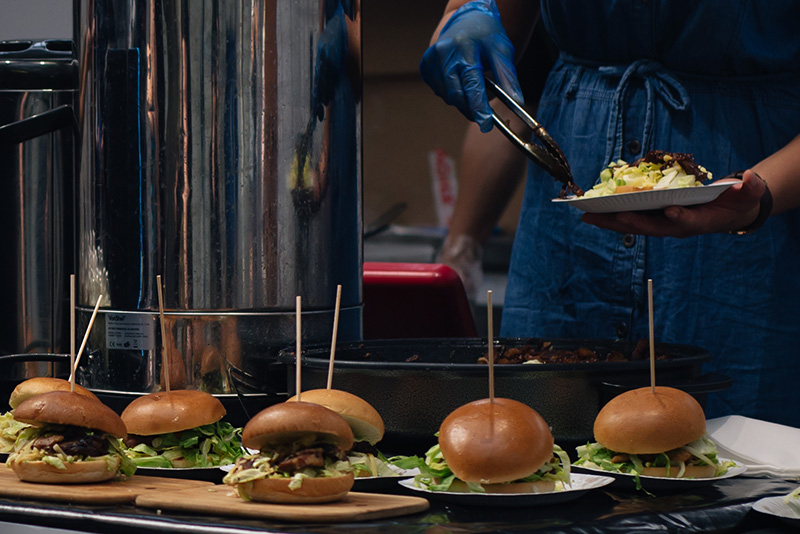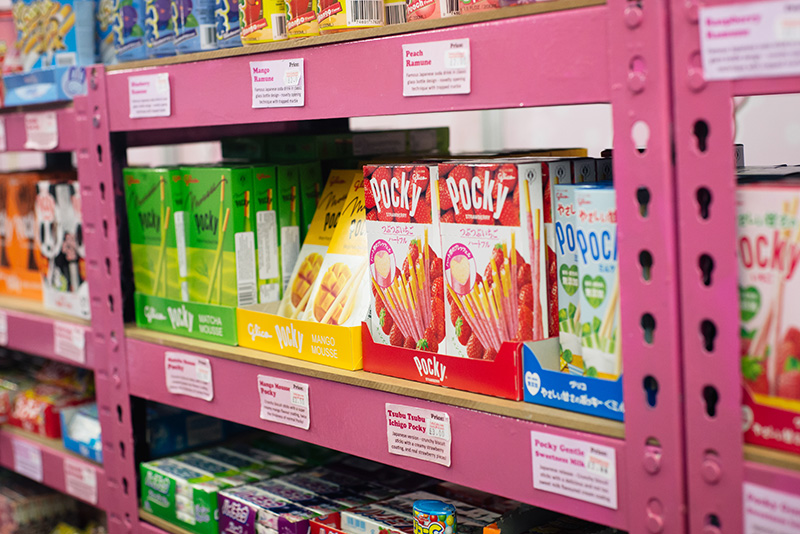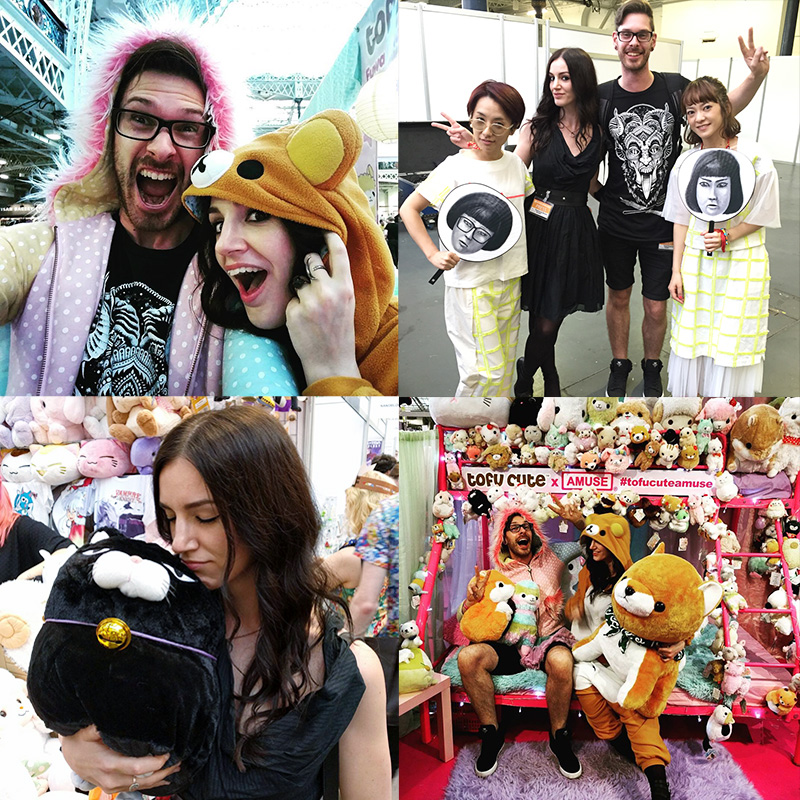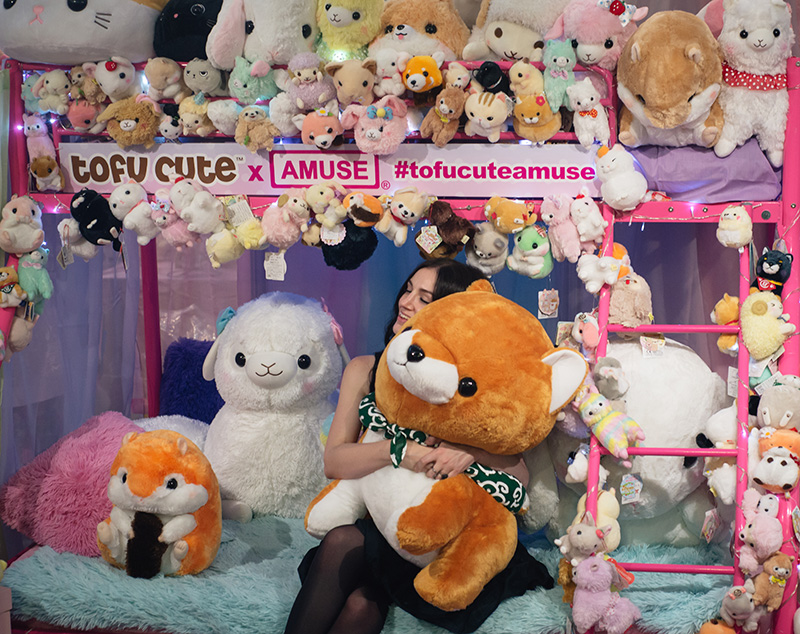 After Charisma.com started our day off on a high, we stuck around to watch the best dressed show off their outfits for the fashion show before grabbing some food and checking out the shopping. As we wandered around the stalls I spotted Phil from SSTUTTER and his gorgeous geometric jewellery again. I love how unique and statement his pieces are and I couldn't resist buying myself a Nico-like fox head necklace last year. Little Moose also had a selection of beautiful Wonderland themed necklaces, alongside shiny plastic planets, constellations and Sailor Moon inspired pieces.
Unfortunately this year I had to miss the Cosparade, as it clashed with a talk by former Studio Ghibli hand Hirokatsu Kihara. As a huge Ghibli fan, the talk was one of the highlights of the day for me and I feel incredibly lucky to have had the opportunity to hear about the behind the scenes workings of some of my favourite films. Mr Kihara worked directly under Hayao Miyazaki and helped to produce some of the studios most famous and beloved titles including My Neighbour Totoro and Kiki's Delivery Service. I sat spellbound for the entire hour, as he pulled out original sketches, cells and concept ideas from from his over-stuffed archive and talked us through the story and process behind each one. It was awe inspiring to see first hand how intricate and 'low technology' the process was, with each still often containing many layers, all delicately taped onto clear plastic sheets that sat upon beautifully painted backgrounds. Unfortunately, I can't publish any of the photos I took of the things that Mr Kihara brought to show us. I promise you it was magical though, and if you ever get the opportunity to see him do a talk, go!
Aferwards we went along for sake tasting, and ended up just a little bit tipsy as we wandered off to squeal at and take photos with all the adorableness at Tofu Cute. I also found my spirit animal in the form of this fat black cat plush with the perfect resting bitch face and I regret not buying it almost daily! I'm still a little sad that I didn't take the giant Shiba home too, though I can't decide if the happiness on my face there is down to his cuddliness or the sake!
The one downside to Hyper Japan is that I always leave feeling full of wanderlust, and with a craving that I know only jumping on a plane and actually visiting Japan will satisfy. I've been wanting to visit for so long now, but with none of my friends keen to go, it's always been put off. I feel like 2017 is the year to finally do it though and I'm starting to get seriously tempted to just book it, even if I have to go alone.