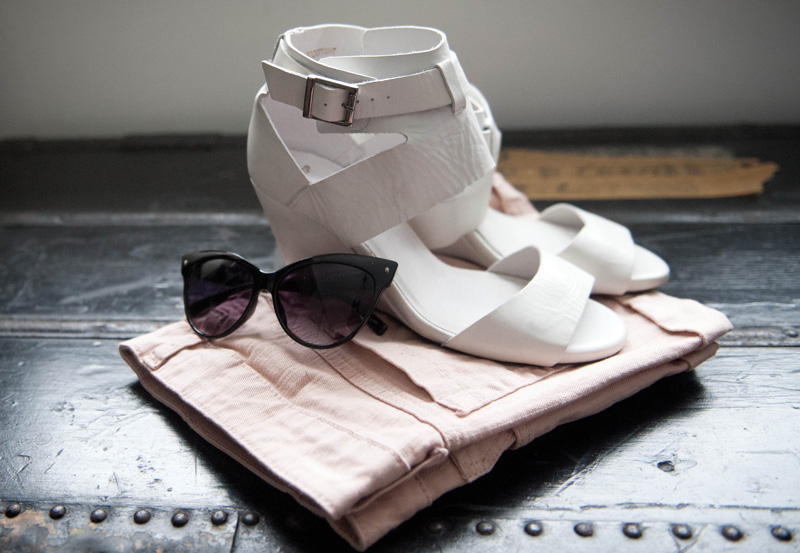 Topshop Wedges / AJ Morgan Sunglasses / Mango Nude Shorts
I have a confession to make, I think the awful weather these past few weeks may have been my fault. Ever since I optimistically brought a haul of summer clothing & accessories about a week ago, it has done nothing but absolutely pour it down! Sorry about that. Hoping it will pick up this week so I can do some proper outfit posts.
The wedges are yet another EBay buy, last year when I tried them on in Topshop I wasn't sure if I liked them, so left them. By the time I'd got home I realised I wanted, no, needed them. We've all done it, decided to go back & get them the next day only to find them gone & sold out online too. This only made me want them even more and I've been manically scouring eBay since after a pair. I finally got my hands on them just in time (or so I thought!) for summer. They are the perfect summer wedge, just minimal & chunky enough for my liking.
I'm obsessed with cateye sunglasses and these AJ Morgan ones from ASOS are perfect, especially for the price. I never buy expensive sunglasses as I always lose them or sit on them, I'm too much of a klutz to spend good money on something so easily broken. I love the exaggerated, pointed shape of these and don't even get me started on how perfect the nude colour of these Mango denim shorts are…