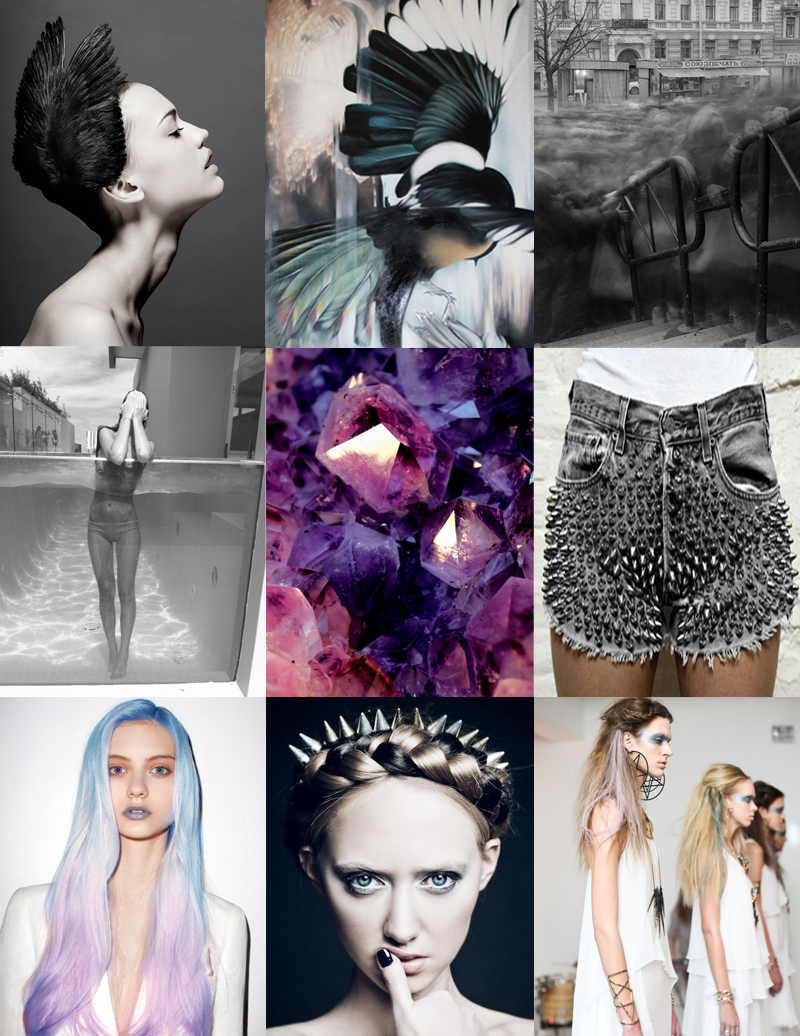 #1 : Unknown / Love this whole image – The pose, the model, the lighting, the minimal styling… so perfect & I kind of want a bird wing head piece now…
#2 : Josie Morway / Beautiful paintings, I especially love her birds & this magpie piece in particular, I've always loved magpies!
#3 : Alexey Titarenko's "City Of Shadows" / Haunting images of Saint Petersburg during the collapse of the Soviet Union in 1990's.
#4 : Eeee, I can't wait to get to go swimming when we get to Florida next weekend!
#5 : So striking, I've always loved raw crystals… Such pretty colours!
#6 : via. They All Hate Us / DIY inspiration!
#7 : via. The Trend Spotter / Still totally in love with pastel & ombre hair, I only wish I had the balls to try it, I daren't incase I ruin my hair though… I love how the lips & eyes are matching here too.
#8 : Spikes & two toned plait, striking! Great makeup too.
#9 : Pamela Love / Another of those perfect images, styling, makeup & hair are so spot on. Beautiful jewellery too of course!
10 Favourite / Most Played Tracks This Week…
Click to open in Spotify : [ Playlist for 15.07.12 – 22.07.12 ]
#1 : The Airborne Toxic Event / Sometime Around Midnight
#2 : Architecture In Helsinki / Contact High
#3 : The Naked & The Famous / Young Blood
#4 : I Blame Coco / Selfmachine
#5 : Manic Street Preachers / If You Tolerate This Your Children Will Be Next
#6 : Foster The People / Pumped Up Kicks
#7 : Friendly Fires / Blue Cassette
#8 : The Wombats / Lets Dance To Joy Division
#9 : We Are Scientists / The Great Escape
#10 : The Vaccines / If You Wanna