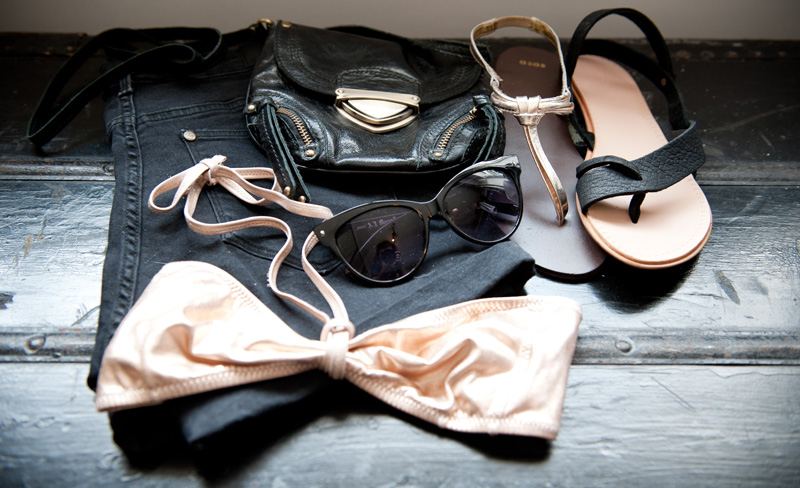 H&M Black High Waist Denim Shorts / Topshop Rose Gold Bikini / ASOS Leather Cross Body Bag / AJ Morgan Cat Eye Sunglasses / ASOS Gold Knotted Sandals / Zara Black Asymmetric Sandals
Sorry for the lack of posts over the past few days, I have been so busy trying to get various projects finished before I leave for holiday, I just haven't had the time! We are off to Florida tomorrow for 2 weeks to do Disneyland & all the big parks. I am unbelievably excited, I can't wait to do all the massive rides, see the animals, watch the shows & generally get to be a huge kid again! We are also booked in to do Discovery Cove & Aquatica, I think these are the ones I'm most excited for, huge reefs to snorkel in, tropical aviary's, lazy rivers & swimming with a dolphin!
Of course I will be taking lots of pictures to share once I get back, but I doubt I will be updating the blog until I'm home. I haven't set any scheduled posts, I'm not a huge fan of them & they feel a little fake to me, but if I do have any days off, I may post a few snapshots of what I've been doing! Proper posting will resume once I'm home on the 12th August, but until then I'll mostly be using my Twitter & Instagram, so follow me there if you want to see what I'm upto!
Less than a day until we leave & I still haven't actually packed anything! I did manage to get in a little last minute shopping though…
My number 1 priority was to get some comfortable flat shoes, as we are going to be walking around almost all day for the whole 2 weeks, I couldn't bare the though of having uncomfortable shoes. I have really wide feet, so sandals usually cause me no end of grief with their straps cutting into my feet leaving them bloodied & blistered, so I was extremely glad to come across both of these pairs that were such a perfect fit!
I usually go a little crazy buying bikinis & sunglasses before a holiday, but this year I decided to get just the essentials & buy some more once I'm over there. I have a drawer stuffed full of tanks, tees, camis & shorts, so I made a point of not buying any of those things either, I couldn't resist this pair from H&M though, perfect faded black wash, properly high waisted, great fit & £20, there's no way I could say no to that!
Hope you all have a lovely few weeks, especially if you're going somewhere nice & I'll see you when I get back!