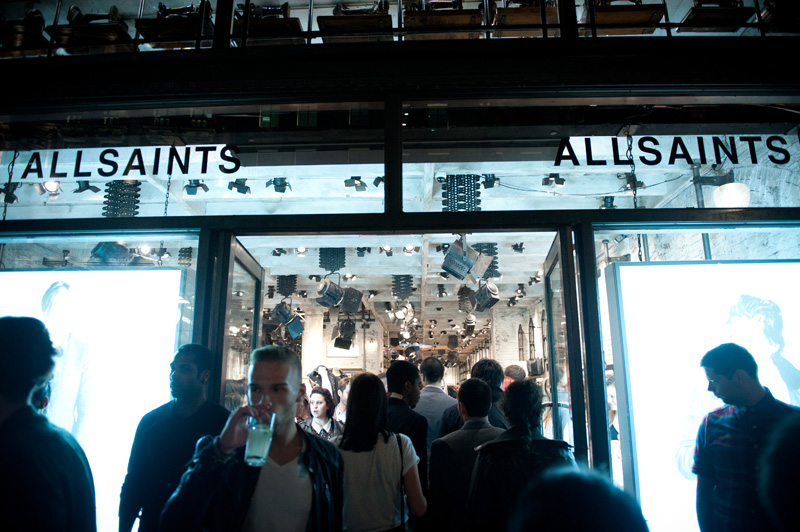 Yesterday we went down to London to celebrate Vogue's Fashion's Night Out, we spent the majority of the night at AllSaints dancing around to DJ Stuart Hammond, drinking complimentary cocktails, trying to decide which pieces of the new season collection to buy & watching Alpines perform live.
AllSaints is one of my favourite clothing brands, so of course I was eager to check out the new season collection in person & it might be one of their best yet. Recently I've become a little obsessed with oxblood, so I was really pleased to see that the colour was so prominent in the new collection, coming in leather jackets, pony hair boots & draped silk dresses, I wanted every single one. I found the printed pieces to be real standouts, especially the opium tee, with it's mirrored poppy print, which was also used on dresses, leggings & tops to great effect. Of course, the iconic silhouettes, innovative draping, quality fabrics & perfectly distressed leathers that the brand is known for are all here too.
Throughout the night we were also treated to a preview of AllSaints new campaign, to be screened across cinemas nationwide, in store & online. It features a spectacular cast of upcoming creative talent, from musicians to poets, they are definitely ones to watch out for. Check it out at the bottom of the post!
Talking of artists to keep an eye on, Alpines were one of the highlights of my night. Sonically filling the gap between Hurts and Nikki And The Dove, they bring a modern edge where so many of their contemporaries have gone down the 80s route. Catherine's voice is the perfect blend of powerful & melodic & it compliments their dark, dramatic 'noir pop' sound perfectly. The store was packed out with people eager to see them perform & I get the feeling that they are going to be absolutely huge come next year. You can read more about them & their collaboration with AllSaints here.