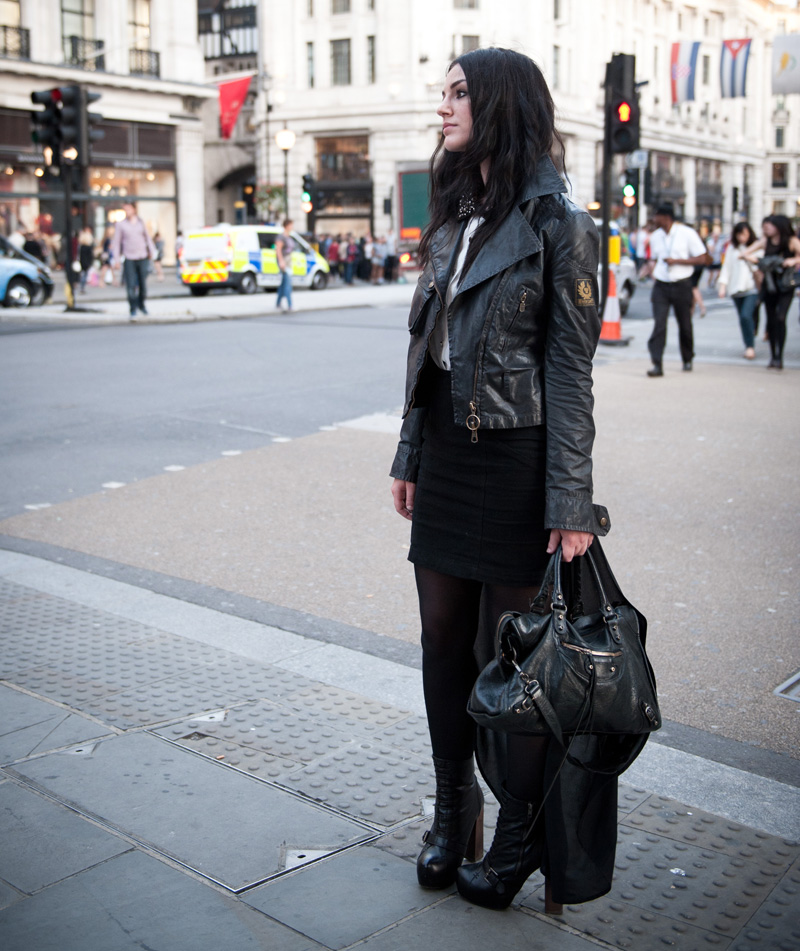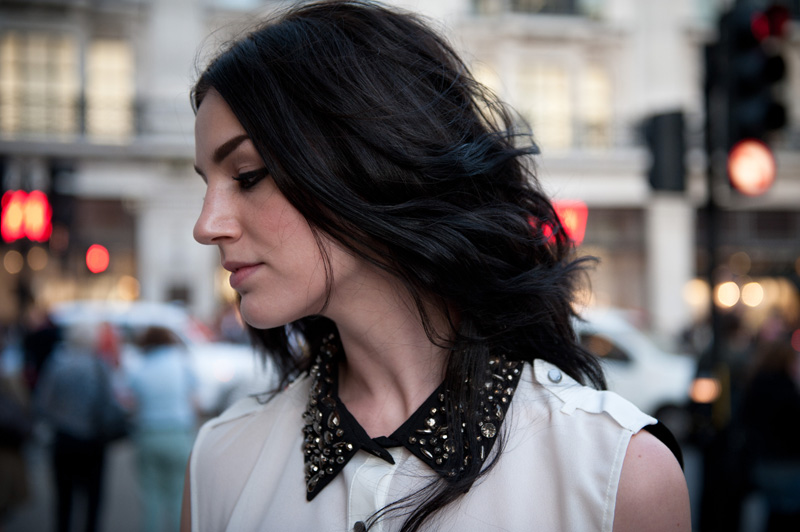 Belstaff Waxed 'Sammy Miller' Jacket / Three Floor Jeweled Collar Shirt / Topshop Skirt / Topshop Boutique Boots / Balenciaga City Bag
I realized the other day that I'd never actually posted what I wore for Fashion's Night Out, only my roundup of the AllSaints event we spent most of the night at. I stumbled across these last night & so I thought I ought to post them, especially as they were kind of a big deal for me to get!
I hate doing photos in public, I am naturally a very shy person & it just makes me feel so uncomfortable, much to Ollie's annoyance! He somehow coaxed me into taking some as we were walking to check out a few other stores & I felt pretty proud of myself for getting a few shots, that was until a group of Chinese tourists gathered around & started taking photos of me themselves! This drew even more people's attention, which made me feel so embarrassed I just kind of awkwardly skulked off! Cringe!
Three Floor is fast turning into one of my favourite brands, the clothes are unique, well designed & in beautiful fabrics, they look far more expensive than their high street price tags. I know I'm going to end up with a huge collection from them, this shirt being only my second piece, especially as I want every single thing from their new A/W range!
I brought this Belstaff jacket quite a few years ago at a sample sale & it's become my go to jacket for chucking on to dress down an outfit. I love the waxed cotton, it looks like leather from a distance, but it's so much lighter & the way it breaks in, staying stiff on the collar but supple on the sleeves & waist, covered in creases & worn spots, is just perfect. It fits me like it was made for me & I love when jackets have heaps of practical features built in like this does. The crinkly noise it makes when you put it on might just be one of my favourite ever noises too!
PS: This was a few days after I got my black eye, on the night I remember being really paranoid that it looked really bad, but looking back at these I think my heavy duty MAC concealer did a pretty good job of disguising it! Shame it couldn't do anything about the puffiness though!