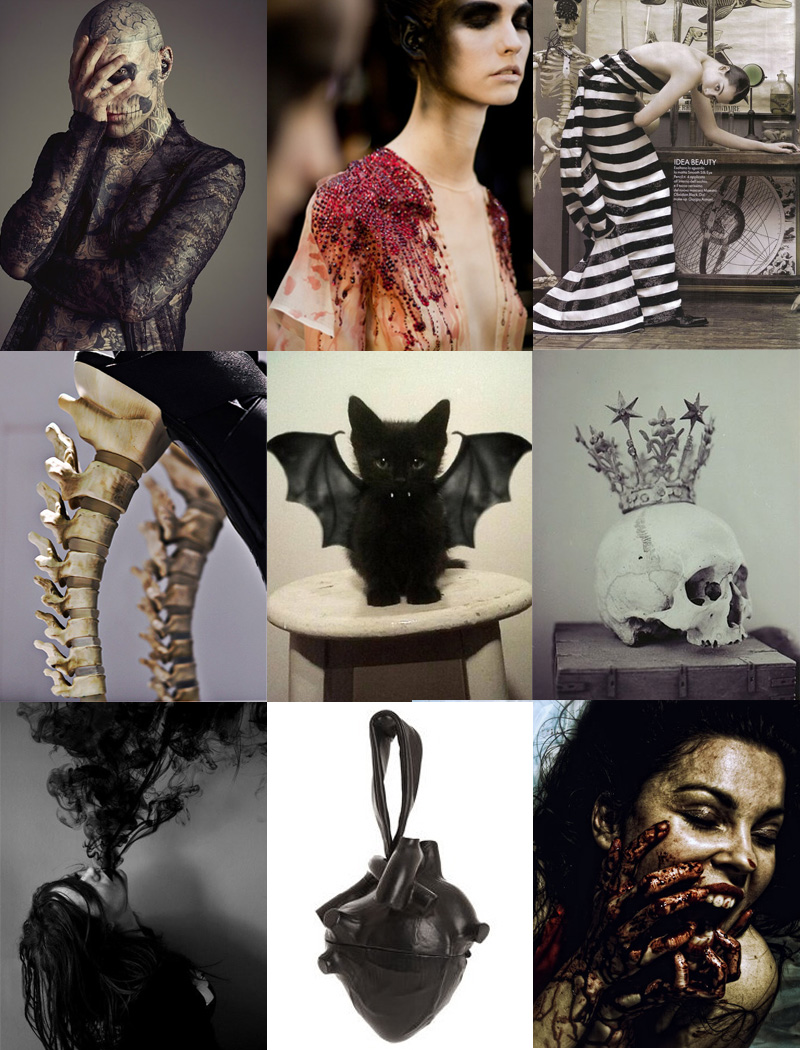 #1 : Rick Genest AKA Zombie Boy by Mateusz Stankiewicz / I love how he has turned himself into a living work of art, and yeah, I do have a little crush on him too…
#2 : Julien Fournié Haute Couture Fall 2010 / I so wish I could afford this for my Halloween costume, so beautiful!
#3 : Ruven Afanador for Vogue Italia / Another of my favourite photographers & one of my all time favourite editorials.
#4 : Dsquared2 Spine Heels / Still really, really want a pair of these! One day…
#5 : Vampire Kitten / Couldn't not include this, perfect for Halloween & how adorable?!
#6 : Unknown / Another Tumblr image I'm really annoyed I can't find out who it's by… Sigh…
#7 : Melissa Smith / Just stunning…
#8 : Natalia Brilli Heart Shaped Box / I've always loved Brilli's leather covered pieces, but I came across this a few days ago & it's now right at the top of my wish list.
#9 : Nikyta Gaia Zombie / I am obsessed with zombie movies & comics, so I couldn't do a Halloween themed post & not include something zombie related!
10 Favourite / Most Played Tracks This Week…
Click to open in Spotify : [ Playlist for 21.10.12 – 28.10.12 ]
#1 : New York Dolls / Frankenstein
#2 : Nirvana / Heart Shaped Box
#3 : Placebo / B3
#4 : We Are The Ocean / The Road
#5 : The Hives / Tick Tick Boom
#6 : Little Barrie / Surf Hell
#7 : 22-20s / Devil In Me
#8 : Louis XIV / Guilt By Association
#9 : The Von Bondies / Only To Haunt You
#10 : Pure Love / Bury My Bones