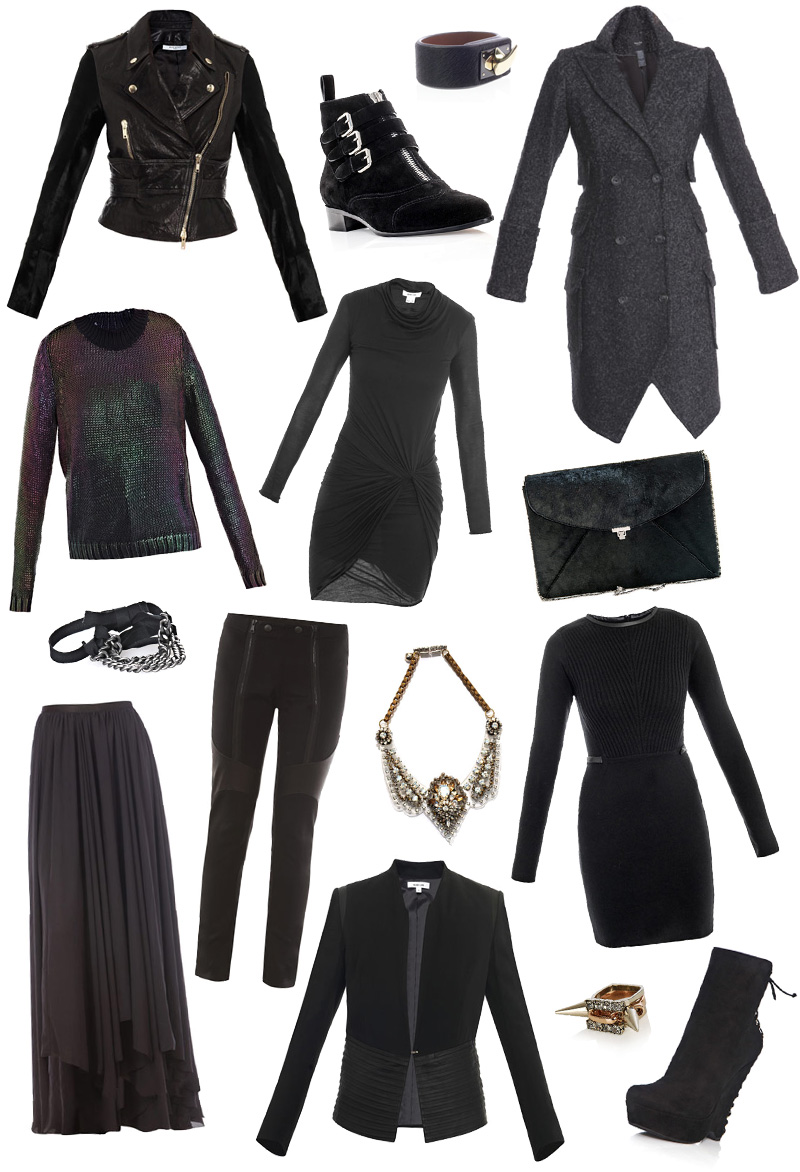 Givenchy Leather & Calf Hair Biker / Tabitha Simmons Suede Ankle Boots / Givenchy Calf Hair Cuff / Smythe Herringbone Coat
Sportmax Iridescent Sweater / Helmut Lang Draped Dress / L Wren Scott Ponyhair Clutch
Margiela MM6 Chain Bracelet / Givenchy Leather Panel Leggings / Shourouk Swarovski Bib Necklace / DVF Knitted Dress
Lanvin Maxi Skirt / Helmut Lang Pleated Leather & Wool Jacket / Joomi Lim Stackable Rings / YSL 'Madge' Boots
If I were to win the lottery tonight, this is what I'd be buying, every last bit. I spend way too much time making these fantasy wishlists, just incase I happen to become filthy rich overnight, but I also use them as a sort of marker when it comes to sale shopping. If something is on one of my seasonal lists & gets reduced massively, even if it's still a bit of a splurge, I'll allow myself to buy it. My reasoning is that I loved it enough to put it on the list, so I'm clearly not just buying it because I'm being suckered in by the 80% off tag, even though I know it's something I'll never actually wear!
Talking of sales, I'm getting obsessed with the 'Style Steals' section on Matches, a permanent section of the site with pieces at upto 80% off. The Sportmax sweater is top of my list at the moment, I love the oily, beetle- like iridescence & the fact it's half price makes it hard to pass up. The Lanvin skirt is the maxi of my dreams, but it's still massively out of my price range despite the huge savings, I'm inspired to try & make a DIY version though, so keep an eye out for that!
I'm not usually a coat person, I prefer to stick to my trusty jackets & lots of layers, but this Smythe one is seriously tempting me & it's not even black! It's just so beautifully cut, the pointed hemline & sharp collar are perfect touches & I love the slight military vibe.
I've always said that if I had a nice chunk of money to splurge on something I'd by a Rick Owens leather jacket, but now I'm not so sure after seeing this Givenchy jacket! A traditional biker, but with a snug fit, super nipped in waist, buttery leather & calf hair sleeves, it's total perfection!
What are you guys coveting this Winter?
Disclaimer: This post is sponsored by Matches