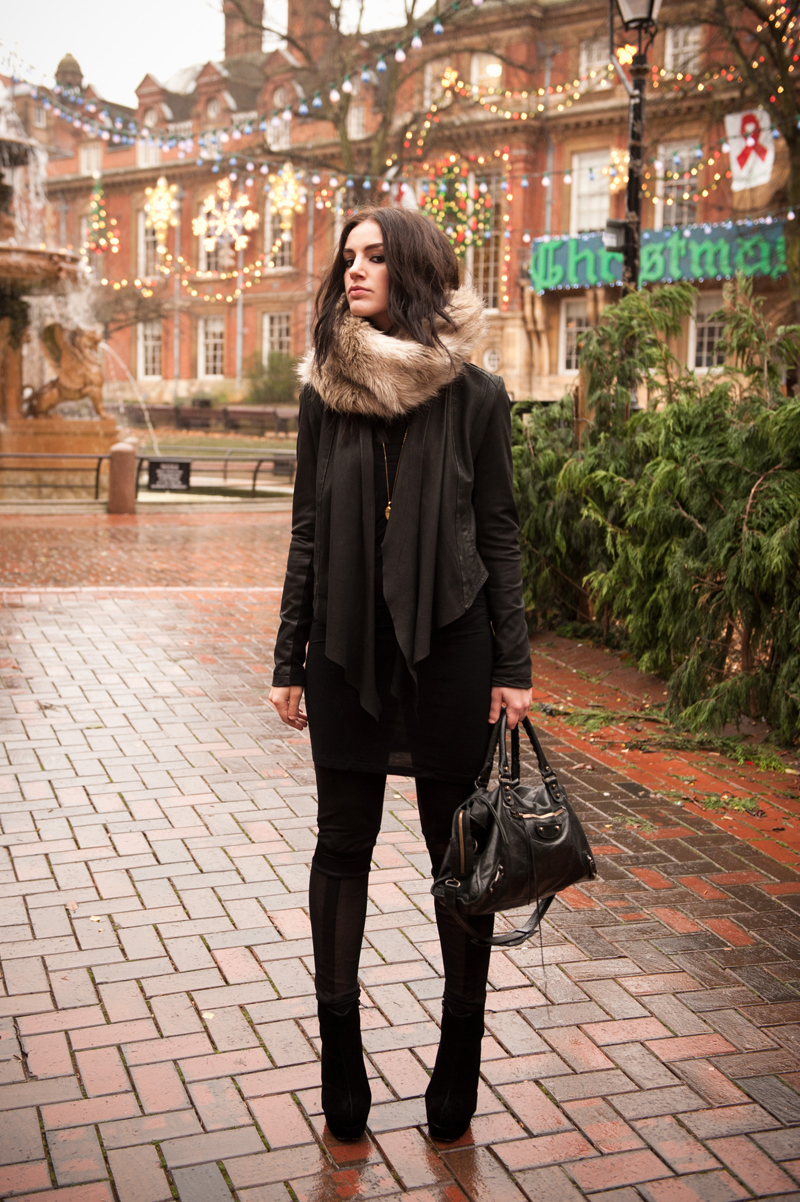 ASOS Faux Snood / Barneys Originals Leather Jacket / ASOS Dress / Natalie Encarnita Leggings / StylistPick Boots / Balenciaga City
I love how pretty all the lights look in Town Hall Square here, it definitely makes the fact it's dark by around 4pm that little bit more bearable. This was one of the last days of the challenge & I'm pretty casual here as my aim was to get some early Christmas shopping done. It was a total fail though, I never came home with a single present, unless you include ones for myself…
I've professed my love for this Barneys Originals jacket enough times now, same for my fluffy snoods, but I am really annoyed with myself for not taking a better close-up shot of the leggings. I wear them quite often, so I was surprised I hadn't featured them in an outfit post yet. I've always been a sucker for sheer paneling, but I just love the way they add a little bit of extra interest to an otherwise quite plain outfit.
I also thought I'd show you guys the finished StylistPick video of the whole 7 day challenge. There are a few outfits I haven't put full outfit posts from up yet, I haven't decided if I'm going to post them or if it's a little overkill? Let me know if you'd like to see them or not!
I have to say I found this a lot easier than I expected, though I did get an awful lot of funny looks when I was doing the ones around the city, see if you can spot any of them! The hardest part of it was watching it back, is it just me or does anyone else find watching / hearing themselves to be particularly cringey? I mean, do I really sound like that?! I'm sure it's not as bad as I think though, but please excuse my constant 'Ummms' & my worst habit, forgetting what I'm saying half way through talking! Keep an eye out for a little Nico cameo too!