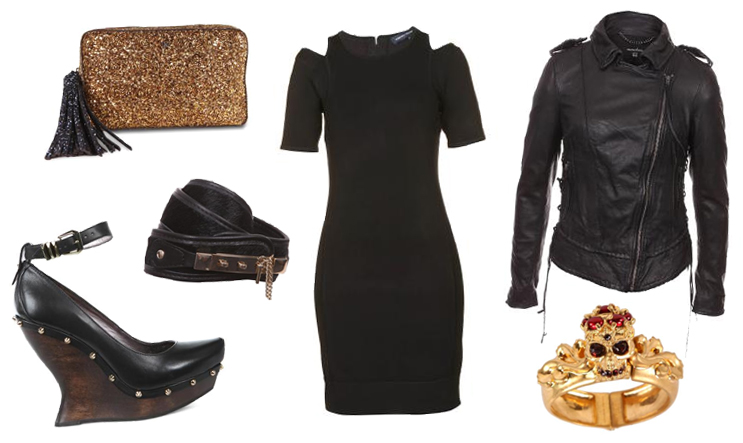 Anya Hindmarch Glitter Clutch / French Connection Ponyhair Belt / McQ Studded Wedges / French Connection Crepe Cut-Out Dress / MuuBaa Leather Jacket / Alexander McQueen Skull Cuff
With December drawing ever closer I'm finding myself daydreaming & planning out in my head perfect little Christmas party looks. I think most of them this year will be some variation of this look – killer black dress, statement jewellery, kick ass shoes, a little sparkle & a nice (warm!) jacket.
Although I still like to stick to my usual mostly black looks over the festive period, it's not really a Christmas outfit without a little sparkle! My eyes lit up when I came across this Anya Hindmarch glitter clutch, it's the perfect way to add some sparkle without looking tacky & the oversized contrasting tassel is the perfect finishing touch too.
These McQ wedges have left me a little heartbroken, as soon as I saw them they went straight to the top of my Christmas wish list. They're everything I love in a shoe, plus they're a ridiculously good price in the sale too, then I noticed they had sold out of my size & any sizes even near to mine! I've be scouring google for hours trying to find them in stock somewhere else, but no luck! I guess I might have to console myself with the ponyhair belt instead…
Disclaimer: This post is supported by Cruise