Firstly I just want to say thanks to everyone that entered the Dream Black Dress giveaway! I really loved reading all of the comments & wish I could have picked more than just one of you, there were so many awesome ideas for dresses that I'd have love to have made! It seemed to be a real success though, so I'm considering running this giveaway for each blog birthday in the future!
Anyway, onto the important part, the winner …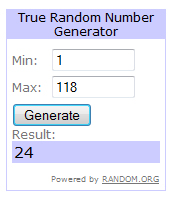 So random.org picked number 24 & that was Becky! Congratulations!
Admittedly her design is much more girly than what I am used to & not something I would usually make, but I love a good challenge, so I'm excited to get started on it & will hopefully be posting the finished result for you all to see before Christmas!