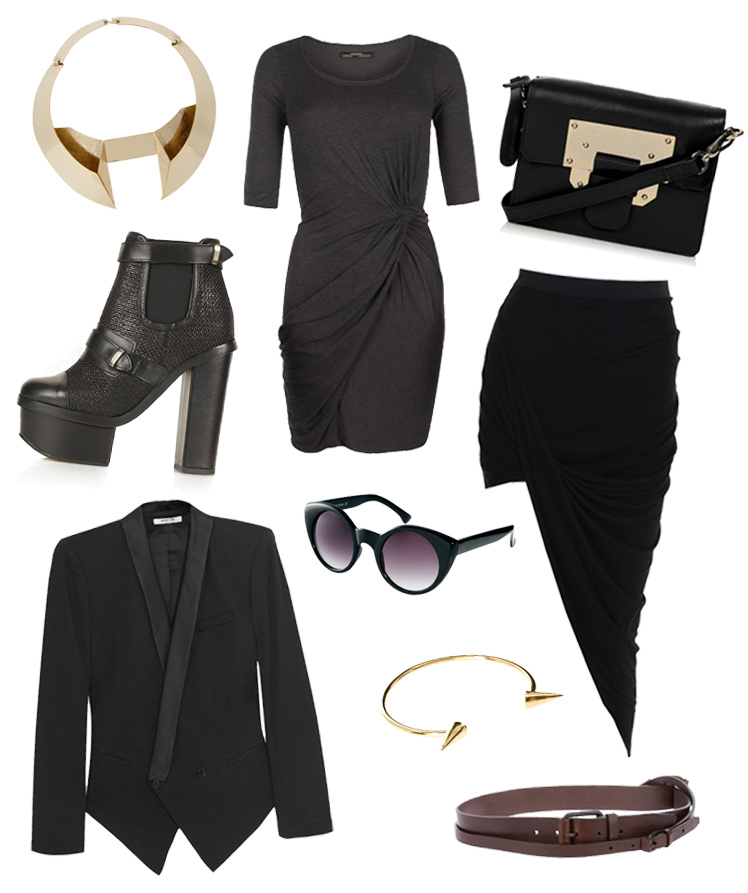 Scott Wilson for Aqua Collar / AllSaints Draped Dress / Topshop Bag / Topshop Woven Boots / Inlovewithfashion Draped Skirt / Helmut Lang Blazer / ASOS Kitten Eye Sunglasses / ASOS Spiked Bangle / A.F.Vandevorst Double Belt
With the mixture of snow, gale force winds & buckets of rain that we've had here for the past few days I've not been able to shoot an outfit for today, so I thought instead I'd share with you all a couple of the things I've currently got my eye on…
As I mentioned in the last post, I'll always have a soft spot for a good blazer & this one from Helmut Lang is possibly my dream jacket. Satin lapels, slight wrap to the front, cropped back & a nice sharp silhouette, it's also at 65% off on The Outnet making it a huge steal. As usual though, there are none left in my size & it has left me obsessively searching Google & eBay for any that are still around that I can fit into! I need this jacket!
Another thing I will always love is beautifully draped jersey pieces, I can never have enough of them. The knotted AllSaints dress is the perfect shade of charcoal, in the softest viscose jersey & the heavy draping makes it so much more than just another basic dress. I'm also a little bit obsessed with the draped skirt from Inlovewithfashion, it reminds me of a Helmut Lang one I wanted last year, but I couldn't find one anywhere in black. This version looks like it's a slightly heavier jersey, which I actually prefer & is a fraction of the cost too.
I don't think I even need to mention how much I want all of the accessories, every single one would fit so effortlessly into my wardrobe. The Topshop boots & bag are at the top of the list though. I need more black boots like I need a hole in the head, but the woven texture on these makes them too good to pass up.