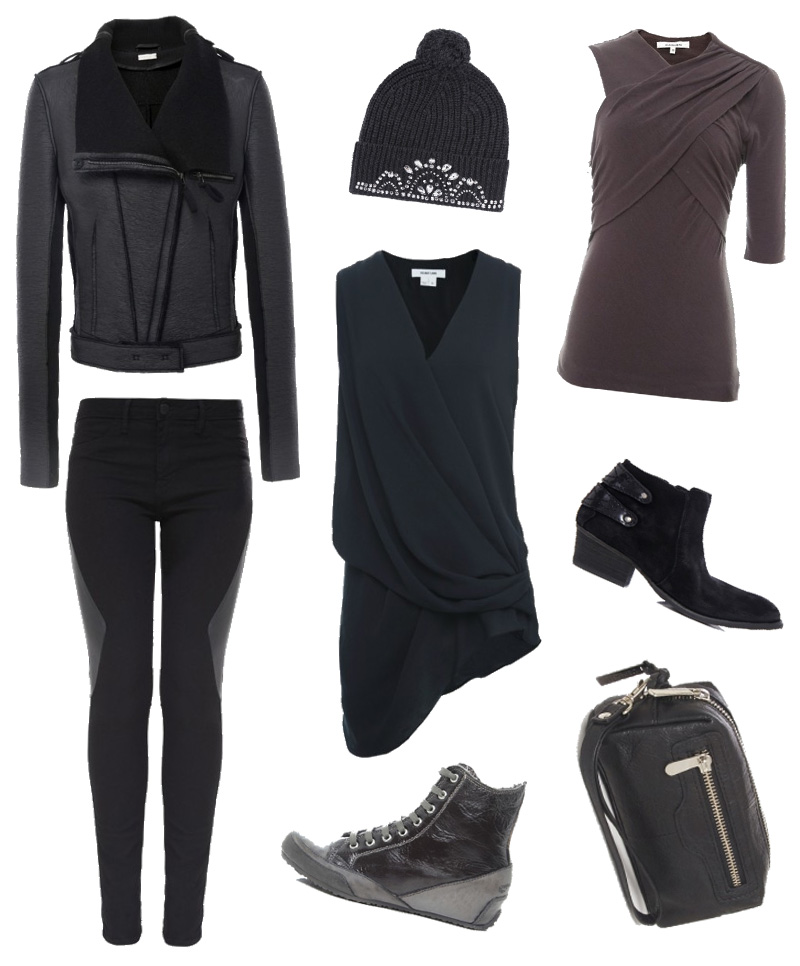 Annette Gortz Wool Biker Jacket / Marcus Lupfer Jeweled Beanie / Carven Khaki Twist Top
2nd Day Paneled Jeggings / Helmut Lang Draped Top / H by Hudson Suede Boots
Candice Cooper Anthracite Sneakers / Depeche Bag
Seeing the Autumn/Winter collections hitting the stores is one of my favourite times of the year, as much as I enjoy wearing thin, floaty dresses, loose tank tops & little else (when our weather allows!) there's no denying I'm an A/W girl at heart. I love to wrap up under layers of thick jersey, wool, leather, suede & faux fur and I think this time of year is when an all black wardrobe really comes into it's own, with different textures & shades of black piled ontop of one another.
The standout piece here for me is Annette Gortz's wool biker jacket. The coated textured wool, the fuzzy interior & the squishy yet structured shape, it's total perfection & such a great alternative to a standard leather biker. I had never heard of this label before, but after a little research & browsing I found myself falling in love with many of her pieces. This jacket & her square neck top are right at the top of my wishlist.
I'm currently trying to decide between getting the Helmut Lang draped top or the khaki Carven one, both are heavily discounted in the Jules B sale & would be perfect for Autumn. I think I'm swaying more towards the Carven one, because whenever I like something that isn't black (rarely!) I feel that means I must really like it & it would be a great moody colour to mix in with my black pieces too. Decisions…