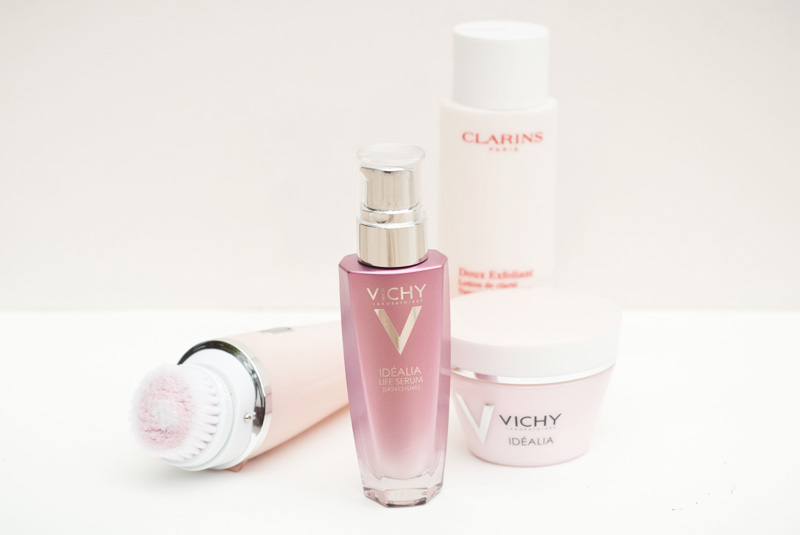 Philips Visapure Facial Cleansing Brush / Vichy Idealia Life Serum / Vichy Idealia Smoothing & Illuminating Cream /
Clarins Gentle Exfoliator Brightening Toner
I'm sure those of you that have me on Twitter have seen me moaning about how awful my skin has been over the last couple of months. To cut a long story short, I had been on the contraceptive pill for over 10 years, then suddenly my doctor recommended that I stop using it due to my constant migraines. The migraines went away, but within a few weeks my skin looked like it had reverted back to being 14 again & with that, the same self consciousness & insecurities too.
I stuck it out for 3 months, hoping it would settle down once my body had adjusted, but if anything it just got worse as my jaw and forehead became covered in painful cystic acne. It sounds shallow, but I couldn't deal with it & decided I would rather have the migraines than terrible skin (and awful mood swings too). Bad skin can have such a massive impact on your confidence, especially if like me you were teased quite relentlessly about it as a teen. I hoped that once I started taking the pill again my skin would improve, but it didn't. So, I started researching for products to help get it back on track. I know a few of you were having similar skin issues, so I thought I'd share the products that have made the biggest difference for me so far. My skin's still not perfect, but it's so much better than it was.
Philips Visapure Facial Cleansing Brush :
This is basically Philips version of the Clarisonic, an electronic facial brush. I chose this over the Clarins version mainly because I liked the smaller brush & it felt more ergonomic to use, but also because it was cheaper & it looks nicer too! When I first brought this I used it twice a day for about a week & then got so frustrated I considered taking it back, my skin looked worse than ever! After doing a little research though, I discovered that it was my skin purging, bringing all the gross stuff to the surface to get rid of it. I was skeptical, but I persevered. After about a week or two it started to slowly improve, and it's been getting better & better ever since. It leaves my face feeling so deeply cleansed & smooth and the buffing action gives you a gentle exfoliation too, my muslin cloth just isn't cutting it after using this. I've been using the sensitive brush head on mine with my usual cleanser, as the normal one seemed a bit too rough for using twice a day, especially as I have a separate exfoliator. I think this is the product that has made the most dramatic difference for me. The purging stage is pretty awful & it's quite an expensive purchase, but the difference it's made makes it more than worth it in my opinion & it definitely lives up to the hype.
Vichy Idealia Life Serum & Smoothing and Illuminating Cream :
I started using serums & anti-aging moisturizers when I hit 21, and I've tried so many different kinds over the years since then. I'm a big fan of Vichys other products, so I was keen to try these out as soon as they launched. They are light, easily absorbed & give a velvety finish to the skin, leaving it feeling plump, hydrated & glowy. The serum has a tiny, barely noticeable amount of shimmer in too, and used under a light foundation gives a similar glowy sheen to YSL's Touche Eclat foundation. It's a really pretty finish & instantly gives a nice radiance to dull skin, whilst helping to camouflage spots & scarring too. The best part though, unexpectedly, is that they've made a huge difference to my acne too! I'm not sure why, as they aren't marketed for this problem, but they are so soothing & seem to do a great job at reducing redness & inflammation too. Maybe it's because they are made with sensitive skin in mind? Whatever it is, I think I've found my holy grail of moisturizers & I shall definitely be repurchasing once these run out.
Clarins Gentle Exfoliator Brightening Toner :
This is my little secret weapon. It's a super gentle chemical exfoliator that dissolves the dull top layers of skin to revel brighter, fresher looking skin underneath. It sounds scary, but it's so much gentler than a harsh scrub & is the best for getting rid of the dry, flakey skin I usually get on my cheeks & around dried out blemishes. This does state to use only twice a week, but when my skin is really bad I use it on that area every day & it really helps it to heal up much faster, without any averse effects like drying my skin out as most spot treatments do.