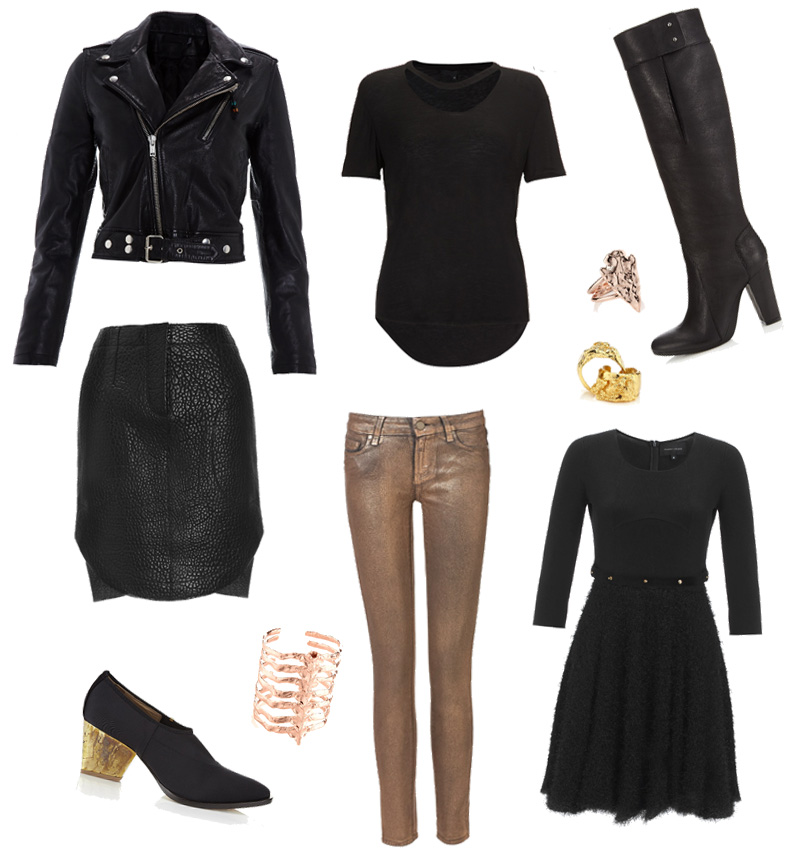 BLK DNM Leather Jacket / Priory of Ten Cutout Tee / Pamela Love Arrowhead Ring / Estelle Dévé Gold Rings / 3.1 Philip Lim Knee High Boots /
Carven Textured Leather Skirt / Paige Denim Gold Jeans / Felder Felder Fluffy Dress / Zoe Lee Neoprene Boots / Bjørg Spine Cuff
I'm not sure what it is about this time of year, but around now I always find myself craving more metallic pieces. Maybe it's the festivities, or because the cold, overcast light makes them look even prettier, or just that they add a little brightness to a dull day. Last year I added a gold foil coated sweater to my wardrobe and wore it practically all winter, aged gold looks so good paired with black & now I have my eye on a nice foil covered pair of jeans too. I love the worn finish this pair from Paige Denim have, a more subtle, grungy way of wearing metallics & I can't help but think they'll look even better after a bit of wear & more worn patches start showing through.
Unsurprisingly, another black jacket has popped up on my wishlist, I'm currently trying to justify this beauty from BLK DNM by reasoning that all the leather bikers I own are more roughed up, and that I don't have a smooth, shiny, polished one like this. I'm not sure if I've even convinced myself that's a good enough reason, and I'm definitely not convincing anyone else either, as they all just roll their eyes at me & my wardrobe stuffed full of near identical black jackets!