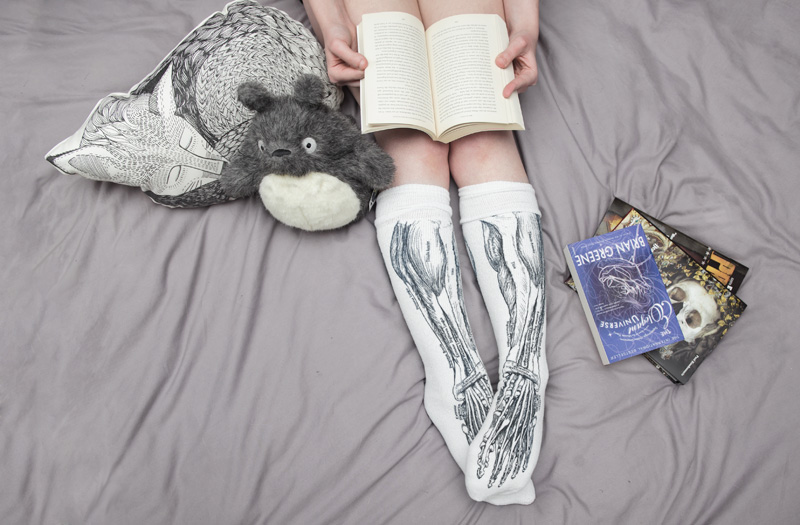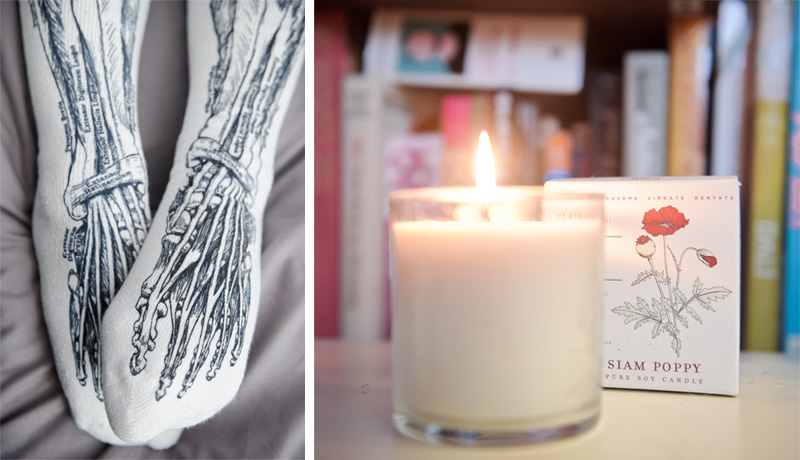 Sleeping Fox Pillow * / Sole Sox Anatomy Printed Socks * / Kobo Siam Poppy 'Plant The Packaging' Candle *
After our one day of sunshine this week it's back to miserable weather again! Luckily I have nowhere to be today, so I'm spending the day lounging around, curled up indoors with Nico, our cuddly little friends and a few good books. I'm hoping to finally catch up on some blog reading too.
UncommonGoods kindly sent over a few things a couple of weeks ago that are just made for lazy days like this. Nico has fallen in love with the adorable sleeping fox pillow & he's pretty much decided it's his pillow now, how could I take it off him when they both look so cute in their identical sleeping positions though? My personal favourite thing is definitely the candle, not only does it smell wonderful, but the real treat is that the packaging is infused with seeds! Once you've finished with the box, soak it with water, bury it beneath a layer of soil & a few weeks later a patch of poppies will grow! I love the idea behind this type of recycling, it's such a unique and brilliant concept, turning waste into something beautiful. Though they mostly sell homewear & quirky gifts, they also have a small selection of accessories like these awesome anatomy socks (how could I resist?!) & I have my eye on some of their beautiful rings & other jewelry too.
Based in Brooklyn, UncommonGoods strive to feature unique designs and handcrafted gifts created in harmony with the environment and without harm to animals or people. A dollar from every purchase is donated to the charity of your choice & they also own a variety of non-profit organizations helping to deal with issues from sexual violence to protecting & restoring forests worldwide, which are supported through this initiative, so you get to feel good about giving a little back whilst you shop.
If you're looking for unique gifts for friends & family I couldn't recommend them more. There are so many quirky items that would make for really unique presents, whether you need a gift for a special couple for weddings or anniversaries, personalised things for little ones for friends expecting babies, or just a little treat for yourself.