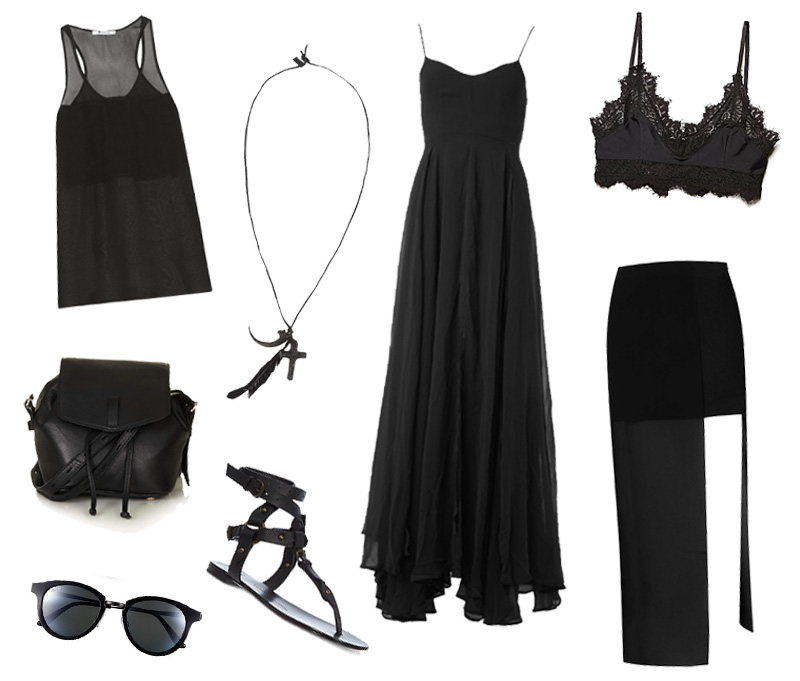 T by Alexander Wang Sheer Tank / Natalia Brilli Leather Covered Necklace / Religion 'Olsen' Maxi Dress / For Love & Lemons Lace Bralet /
Topshop Bag / Maui Jim 'Kolohe' Sunglasses / Giuseppe Zanotti Gladiator Sandals / Jovonna Skirt
Summer finally feels like it's arriving & so I've been sitting daydreaming about what I'll be wearing once it's here. People often ask if I wear black when it's hot too, and then look at me like I'm crazy when I say I do! I'm not sure why because I think black looks wonderful in the summer months, especially when it's all gauzy, sheer fabrics, a little lace peeking out of tank tops & swishy maxi dresses.
I've actually already brought myself the Religion 'Olsen' maxi dress, I've had my eye on it all winter, so now it's finally warming up I just couldn't resist any longer! It's hard to see here, but the skirt section is full of different layers of chiffon making it quite fluffy & full, giving it this everyday princess kind of vibe, I can't stop twirling around in it!
Sheer tanks & lace triangle bras were pretty much made for each other, and I love that this beautiful bralet from For Love & Lemons isn't just lace, it has a little more coverage thanks to the satin overlay making it perfect for wearing under super sheer tops like this silk chiffon tank.
One thing I hate about summer is that I'm not a sandal person at all, I absolutely hate my feet & having them out, but it's just not so comfortable stomping around in boots when it's really warm. They have to be a pretty special pair to make me want to hand over my cash, but I think these Giuseppe Zanotti gladiators might just be that pair, though they have a price to match & it's making me wince! They're sandals, just a sole & some strips of leather, how can they be so much? I'd buy them in a heartbeat if I had that kind of cash lying around, but I'll be holding my breath & keeping my fingers crossed these get heavily discounted in the sales for next year instead.