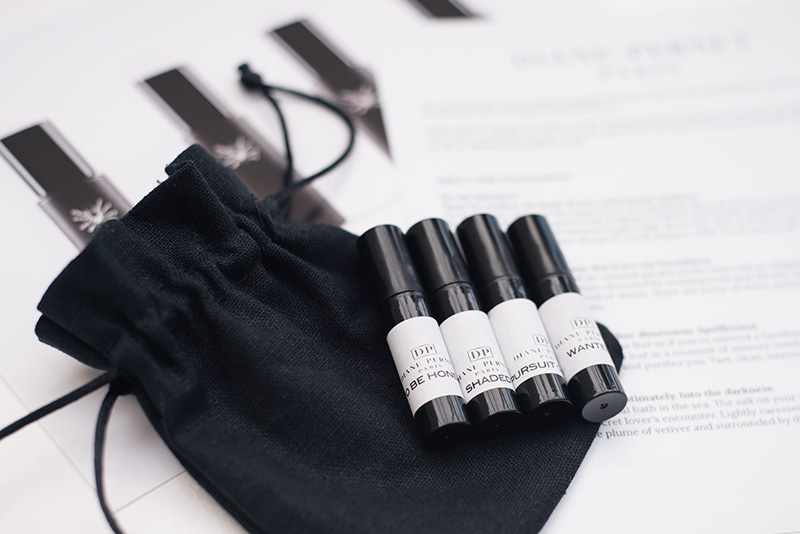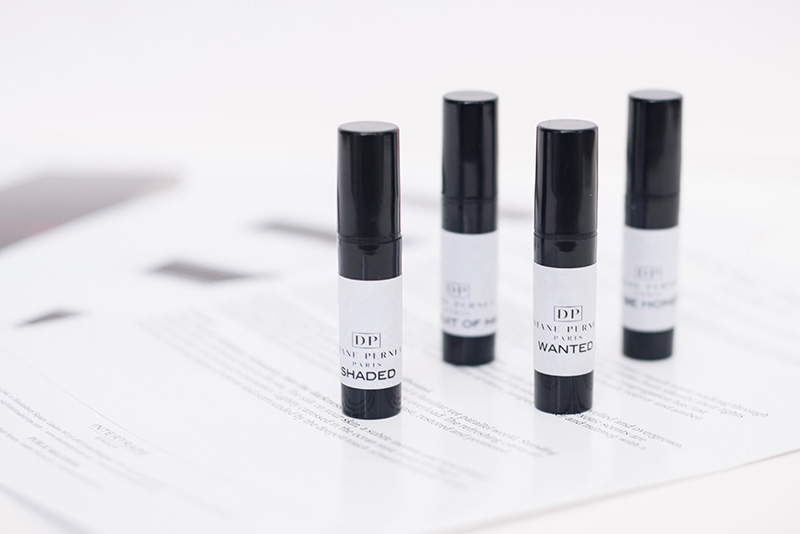 Diane Pernet Fragrances exclusive to Liberty
I have long been a reader of Diane Pernet's blog A Shaded View On Fashion, so I've been looking forward to the launch of her new range of perfumes for quite a while now. After getting my hands on some samples to test out, I'm happy to be able to say they are as wonderful as I imagined they would be. Though, I would expect no less from someone with such well refined taste & distinctive sense of style.
I never usually like to just copy out press release info, but the descriptions sum each of the scents up perfectly & are so beautifully written that I had to share –
TO BE HONEST
Time to confess. Be bold. Brave. And utterly reckless.
To be honest captures the experience of stumbling upon an ancient church while walking through the woods. The green and woody fragrance follows you inside. Candles burn silently, their lights still flickering. A waft of incense lingers high above the altar as if the congregation has just vanished. There are notes of myrrh, black pepper, cedar wood, patchouli, vetiver and amber.
WANTED
Yearn. Crave. Worship me. But leave me breathless.
Wanted is reminiscent of an oriental garden as the mist rolls in. Slightly dishevelled and overgrown, moss clings to stone statues obscured by twisting trees and shrubs. Bursts of exotic scents are elevated by a delicate cloud of steam. There are notes of clove, juniper, leather and nutmeg with a little musk accord in the air.
IN PURSUIT OF MAGIC
Beyond convention. In another dimension. Spellbound.
In Pursuit of Magic makes you feel as if you've entered a familiar yet parallel world. Standing atop a hillside temple, time is lost in a moment of sensory overload. The refreshing citrus air simultaneously invigorates and purifies you. Tart, clean, intense, restored and protected.
SHADED
Lose yourself. Infinitely. Intimately. Into the darkness.
Shaded evokes a nocturnal bath in the sea. The salt on your skin, a subtle incense and new-found sensations await a secret lover's encounter. Lightly caressed in the ocean mist, every feeling is shaded by an intense plume of vetiver and surrounded by the deepest touch of musk and guiac wood.

I found it hard to pick a favourite, as I fell in love with all but one of them instantly. They are all unisex, deeply layered & linger on the skin, seeming to evolve throughout the day, as you get a trace of something new each time you find yourself noticing the scent. After trying each of them out for a few days I settled on Shaded as my favourite, to me it smells of warmth, it's comforting and sensual, and there's a lovely contrast between the salt, smokey wood & a certain underlying sweetness. Whenever I wore this one I had people asking what I was wearing as I wafted by, it's a unique, distinctive scent and perfect if you like your fragrances to feel personal & memorable. I like to keep my perfume selection very curated & small, I stick to the same ones like a signature, but this one is so special that I'll definitely be adding it to my collection.