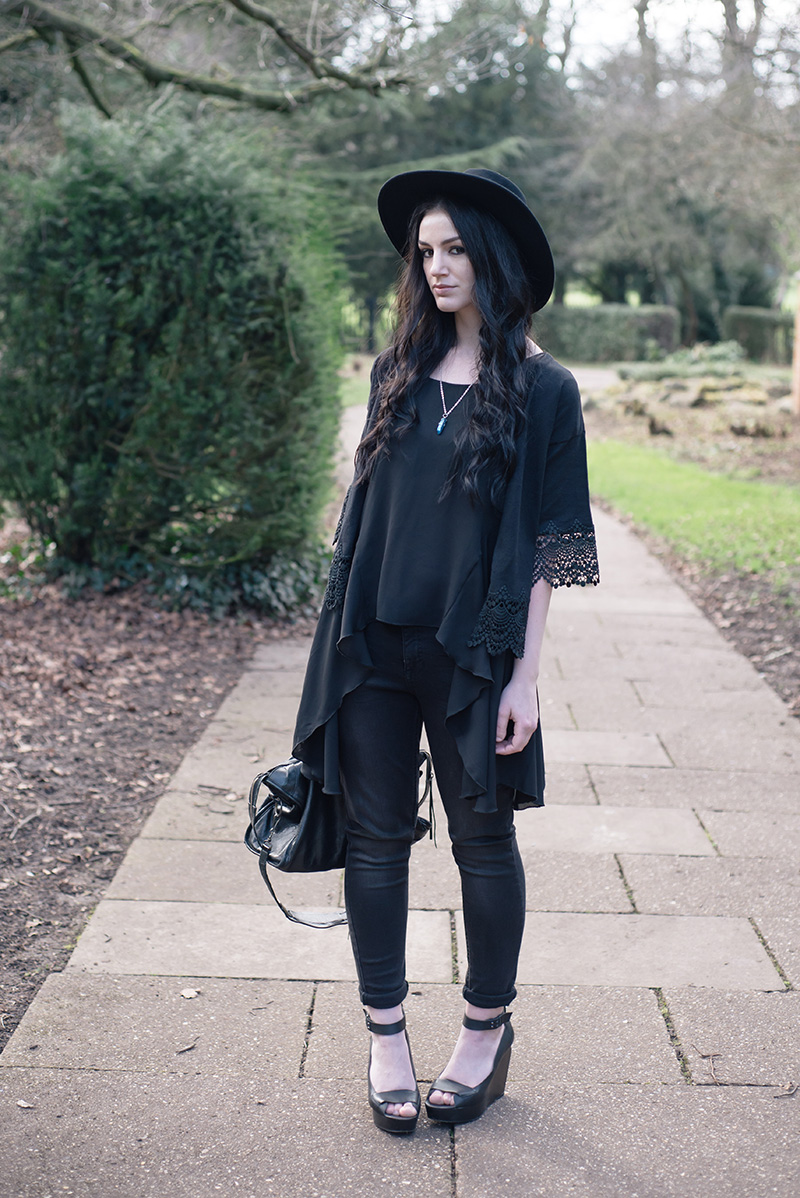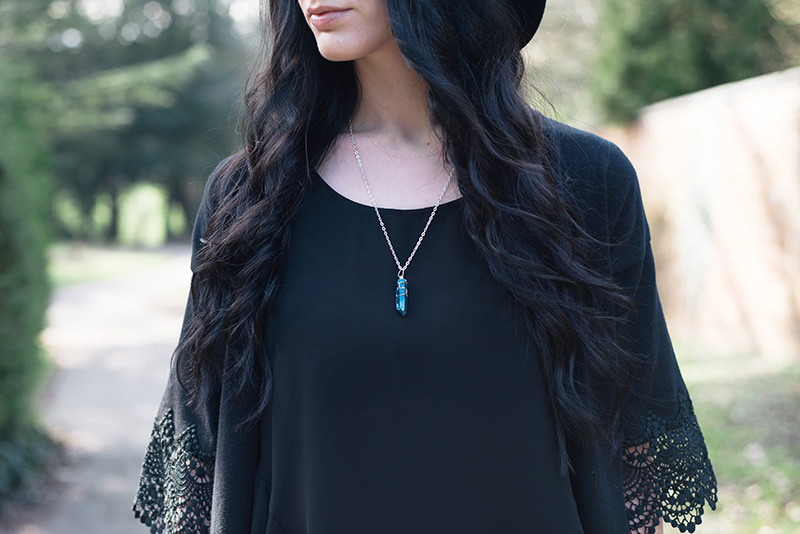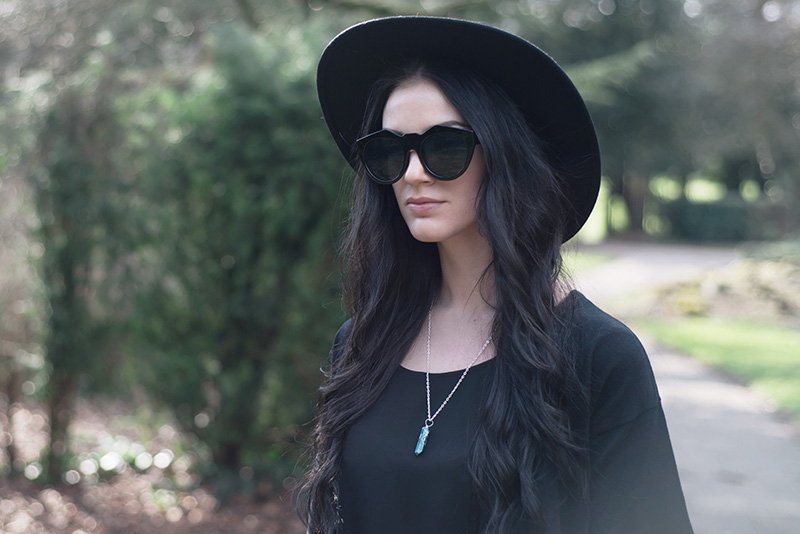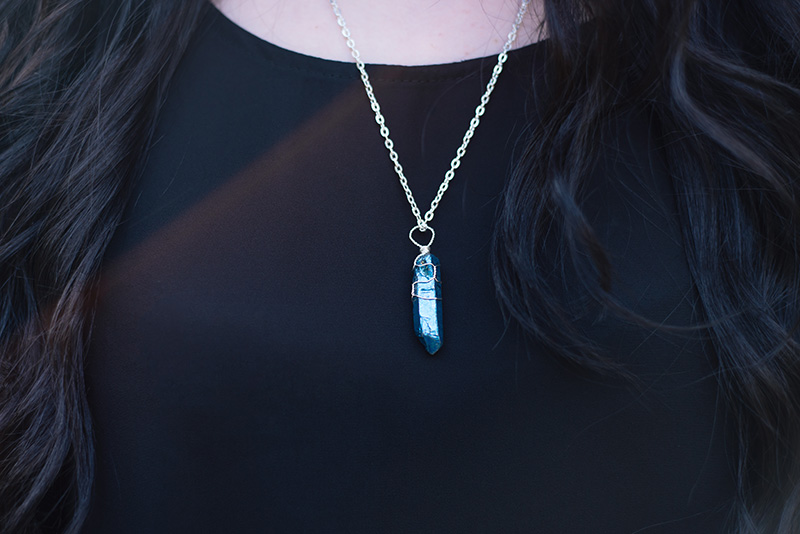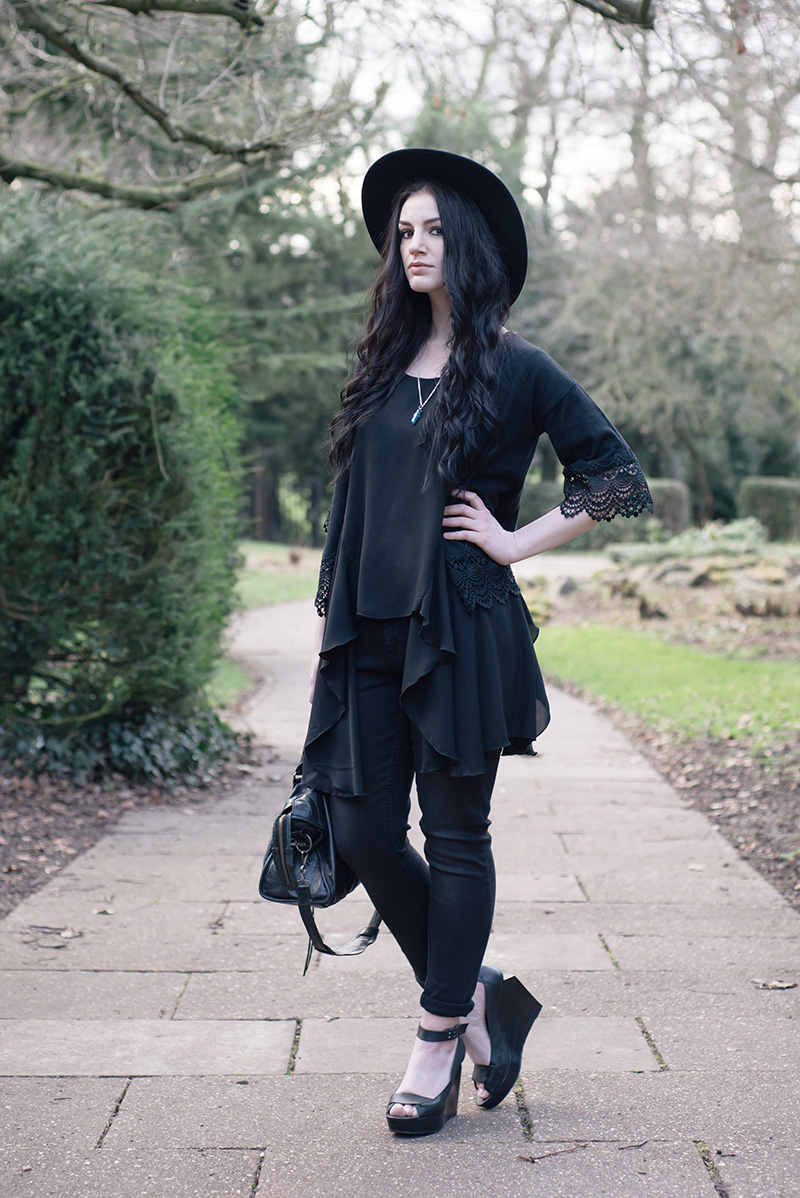 Catarzi Fedora / Dorothy Perkins Short Lace Kimono * / LOVE Drape Side Top * / Sightstone Aqua Aura Quartz Necklace * /
Le Specs Neo Noir Sunglasses via Sunglasses Shop * / Dorothy Perkins 'Harper' Skinny Jeans * / Skin by Finsk Wedges / Balenciaga City Bag
Last week Dorothy Perkins got in touch to ask if I'd style up some pieces from their new Style Heroes campaign, a collection of 10 key items for getting your wardrobe spring/summer ready. You know I'm a big fan of buying classic items, I'm always going on about the importance of buying good staples, so this was definitely something I could get behind and I think all of these are those type of pieces every wardrobe should have at least one of.
I was given the 'soft throw on' & 'girlfriend jean' to create an outfit around, of course both the items I picked were black, I love making a point of showing black can be summery too! Warmer weather always draws me to lace, so as soon as I saw this pretty cropped cardigan it was a no brainer to pair it with these super soft washed skinnies & create an easy, laidback outfit that's kind of perfect for these transitional months, where it's not really cold anymore or properly warm just yet.
I'm getting quite a little collection of Le Specs sunglasses, and finally I can start wearing them all again. I love that they do such unique & quirky styles, like these Neo Noir ones with their arched tops, but they still have quite a classic look about them as well. They also feel much more expensive than their prices, and the quality is on par with a lot of the far high priced designer sunglasses I own too. Cannot recommend this brand more, I still want to get my hands on their ultimate cat eyes, the Half Moon Magic style!
This beautiful necklace with it's spike of metallic blue aqua aura quartz is from the wonderful Manli at Sightstone, said to enhance communication & attract success to it's wearer, I can't help but wonder if it might have been a small help in why I've been so busy with orders lately! I used to collect crystals & rocks when I was younger, they always fascinated me with all their variety of shapes, textures & colours, but it's only recently that I've started wearing them again & I already can't get enough, I want a jewellery box overflowing with all kinds of precious stones.