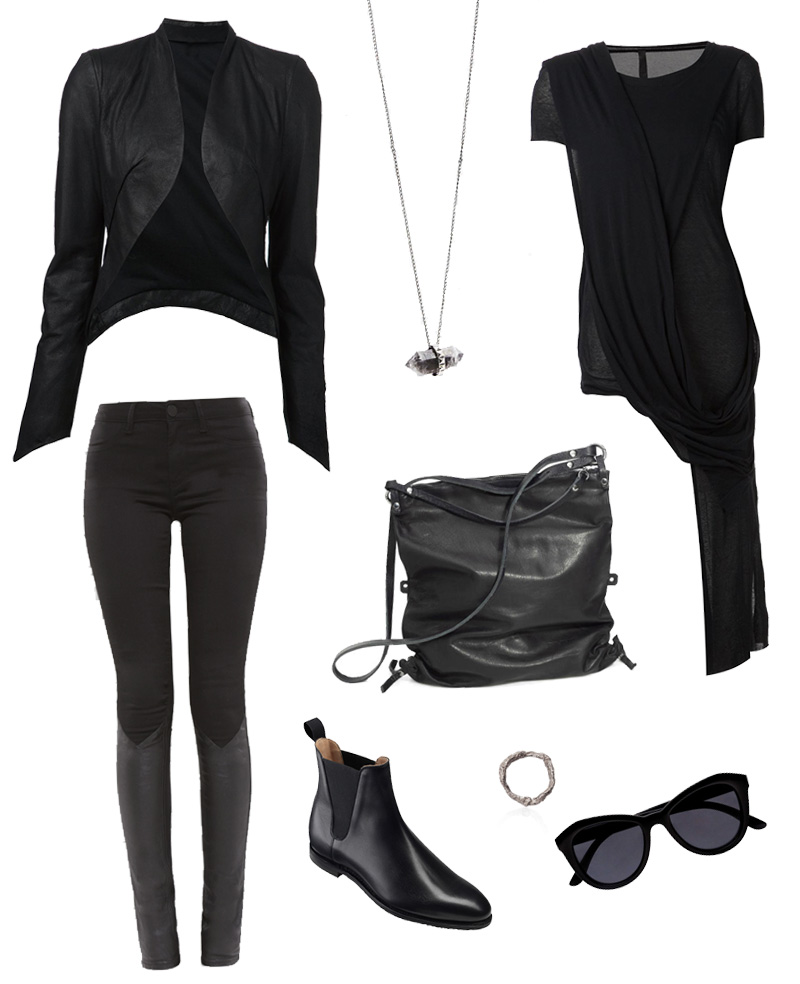 Isabel Benenato Cropped Leather Jacket / Jill Urwin Quartz Pendant / Barbara I Gongini Draped Tee /
2nd Day ' Jolie' Jeans / Ina Kent Convertible Leather Bag / Crockett & Jones Chelsea Boots /
Niza Huang 'Illusion' Ring / Le Specs 'Peach Pit' Sunglasses
Hi, my name is Stephanie and I'm a jacket addict. You saw me going on in my last outfit post about how the Rick Owens leather jacket I brought recently was the perfect summer leather jacket & how much I love it, then I see this one from Isabel Benenato & I'm now obsessed all over again and trying to think of ways to afford & justify buying another! I have more jackets than I'd care to admit, and though I regularly throw clothes out I can never bear to part with even one jacket no matter how little I wear it. The last thing I need is another, but then just look at that beautiful curved front & distressed leather, it makes my heart all fluttery. It's perfect.
I'll always love pieces that can be worn multiple ways with clever design, I stumbled upon Ina Kent's pieces a few weeks ago & this 'AD LIB4' bag is my favourite of her pieces. The soft squishy leather can be worn simply over the shoulder, as a crossbody with the longer strap, folded into a clutch & even gathered into a backpack! Often with things like this it's original form is when it looks best & then the piece transforms into some mediocre variations of this, but the impressive thing is that this bag looks great in every single one of it's transformations. Of course I love the black most, but I'm also strangely drawn to the metallic anthracite & mint version too!