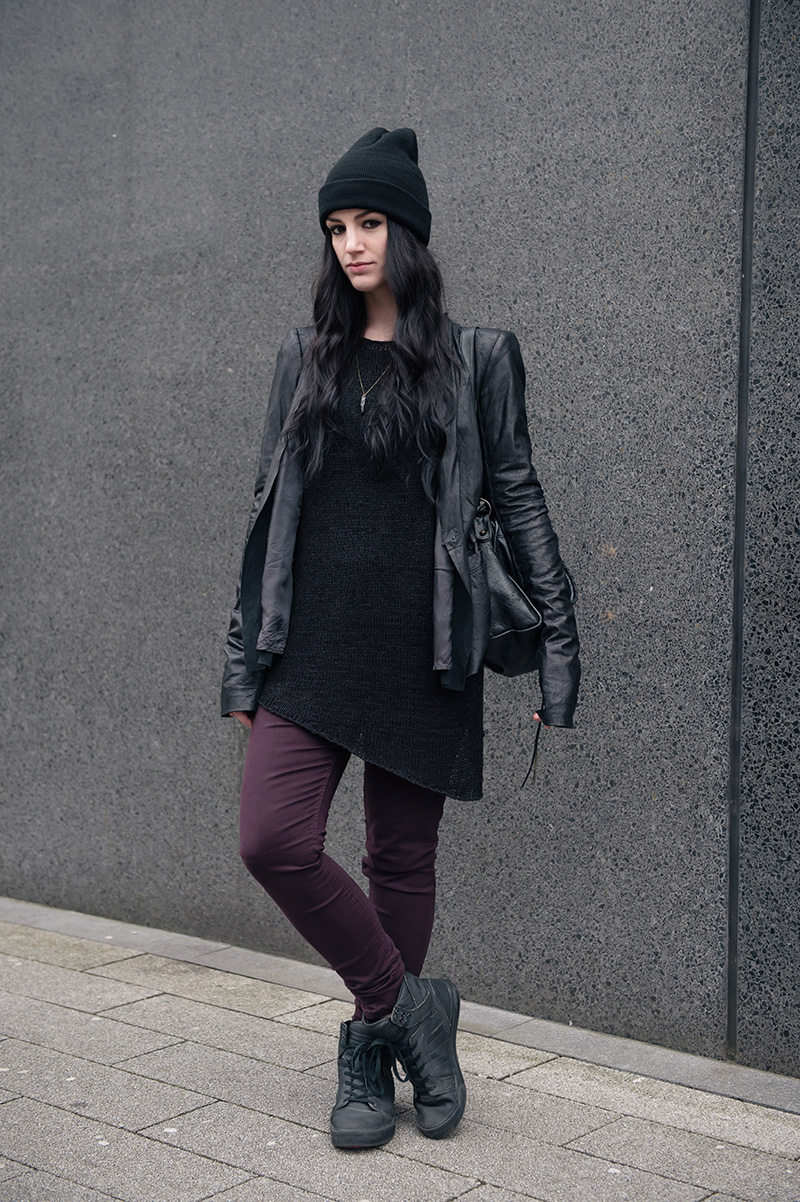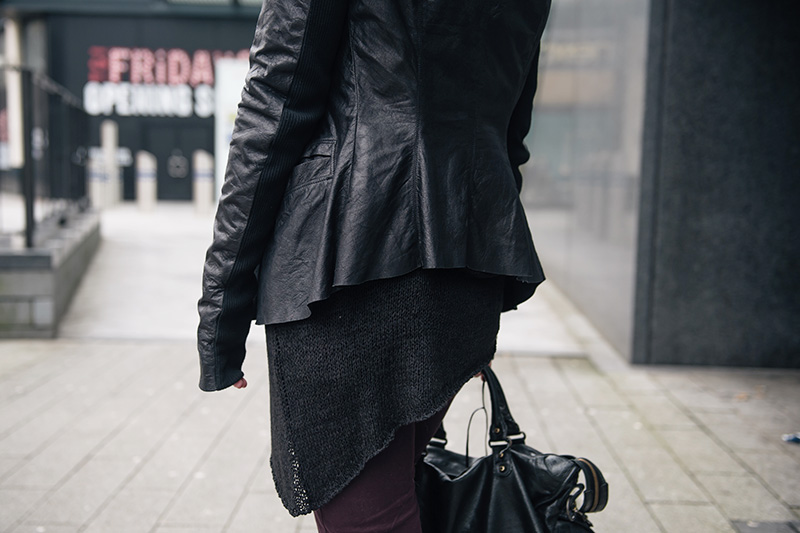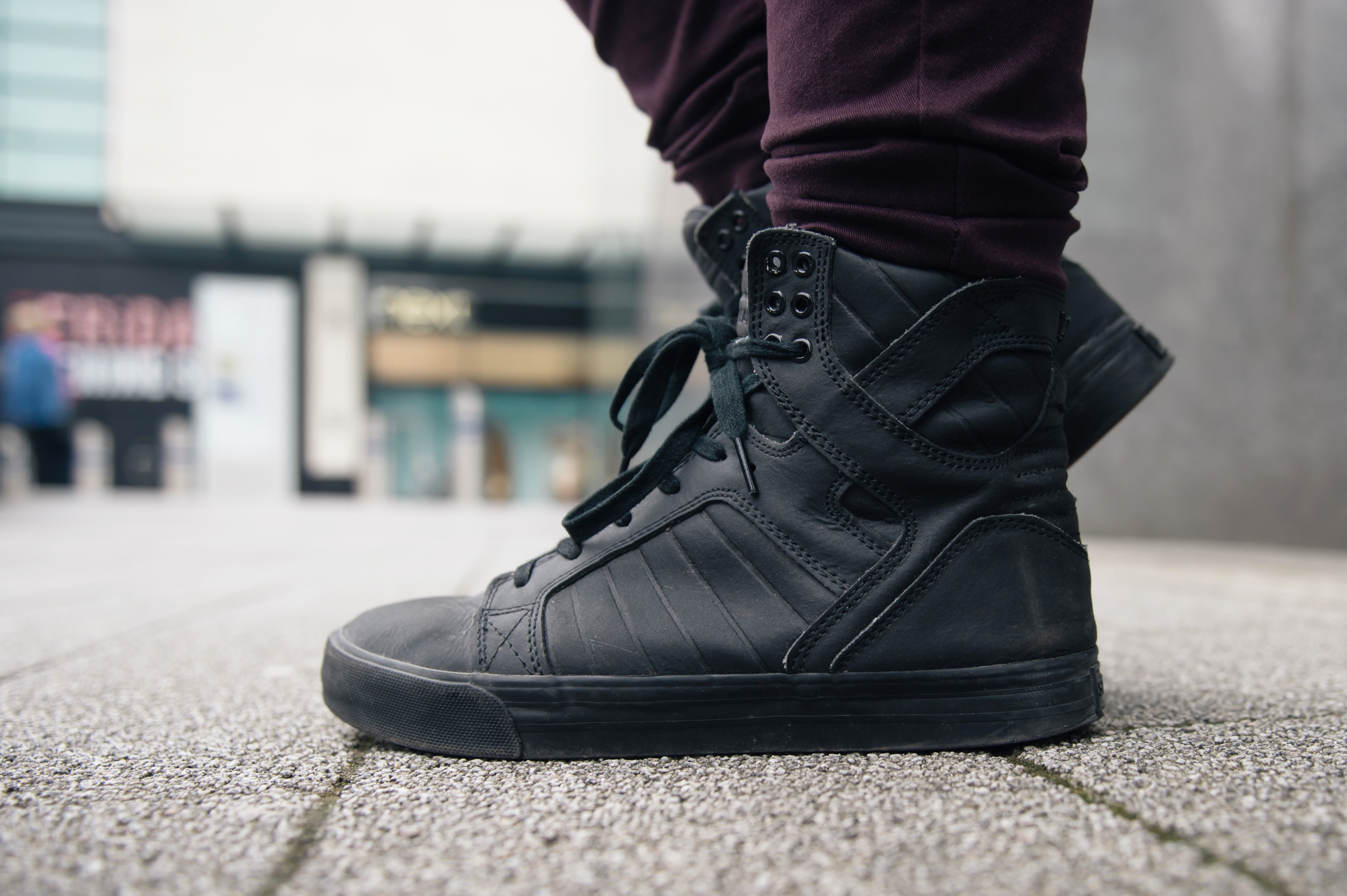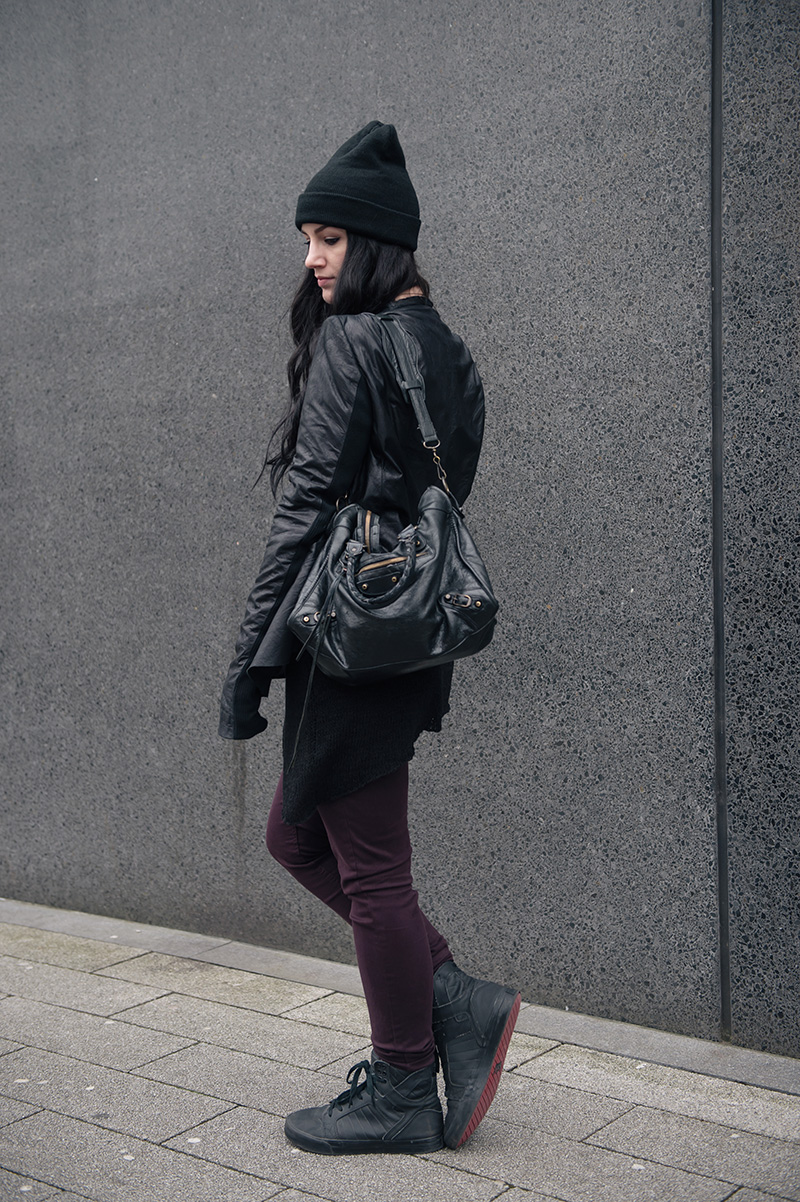 ASOS Beanie / Rick Owens Leather Jacket / H&M Asymmetric Jumper / Bvrnt Wood Necklace * / New Look Burgundy Jeans /
Supra Skytop TUF Sneakers / Balenciaga City Bag
I feel like I'm back in back in February with this outfit, just as we think it's warming up it's back to grey, windy miserable weather! I guess at least it's a good excuse to (hopefully!) get a last little bit of wear out of chunky beanies & knits before it finally warms up, right?
These Supra's from 2010 are one of my favourite pair of sneakers, I spent months trying to track a pair down in my size here in the UK & just as I was about ready to give up and order a pair from the US & deal with the hefty customs I found them! I've always loved the Skytop shape, and you know I love interesting textures to keep all black interesting, so of course I just had to get my hands on this completely mono-black pair made from a rubberised suede material giving them this unique, satin-like finish. Like all my Skytops they're comfy as hell & the red soles are a really nice touch too. If you want a pair yourself it seems these have been re-released with a few tiny variations, Revolve have got all sizes in!
This Rick Owens jacket was a bit of an impulse buy, I was looking for a lightweight leather jacket for the warmer weather & whilst browsing eBay I stumbled upon this beauty. Paper thin distressed leather, half lined in silk & a loose fit, it was exactly what I was looking for. The price seemed a little too good to be true at first, even if was slightly worn, but emailing the seller I found she had its receipt from 2004 & so even though it wasn't exactly cheap, it was still too good of a price to pass up! Plus I had an eBay voucher waiting to be used, so it seemed like it was meant to be! I always check voucher sites like VoucherBin UK for eBay or PayPal vouchers before I pay for anything on eBay, as they're often floating around if you check under the shopping categories & it's always nice to feel like you're saving even more, even if it's only £10.
Yes, I also finally got myself a pair of burgundy jeans after going on about them & introducing a little colour in that wishlist a few months ago! I have to admit, I've been wearing them quite a bit more than I expected to, the deep maroon shade doesn't feel so much like a colour, as crazy as that sounds & so I've found they fit into my wardrobe pretty effortlessly. I'll definitely be investing in a little more in the future!